Snapper Reef
North Shore, Cayman Brac, Cayman Islands
June 15, 1988
The last dive in the Caymans, a dive off the north shore of Cayman Brac in an area of large coral heads. It was one of the most abundant in fish.
Snapper Reef was a showcase of lush tropical reef growth around large coral heads. Mark didn't feel like diving after his experience with the tooth this morning, so I buddied with Kevin Leddy and his wife on this last dive.
I was fascinated by the schools of fish gathered around the coral heads.
| | |
| --- | --- |
| | A pair of sergeant majors in front of a lush green coral head. |
Bluestriped grunt down in a crevice in the coral reef.
The schools of fish were more abundant here than on any of our other dives.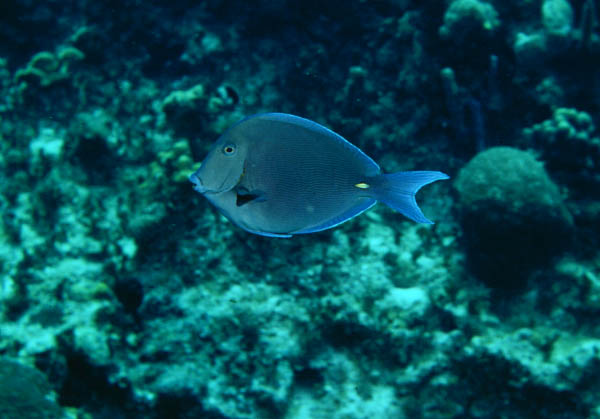 A lone blue tang in water so clear it seems to be suspended in midair.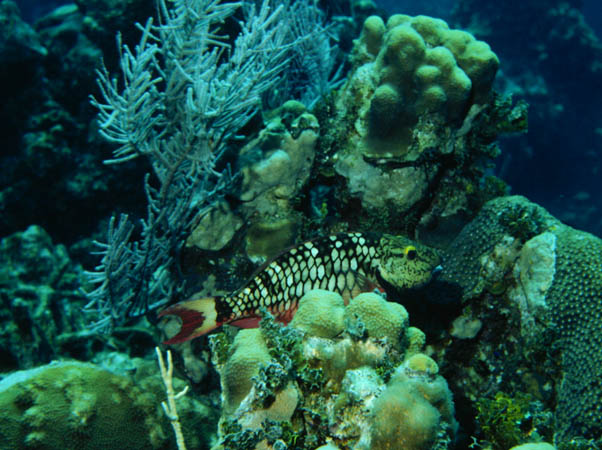 This juvenile phase stoplight parrotfish seems to be cradled by the reef.
| | |
| --- | --- |
| | The lovely rock beauty. It's rare to catch one out in the open like this. They usually just peek out at you from the shelter of the reef. |
One of several close-packed schools of fish we saw on this reef.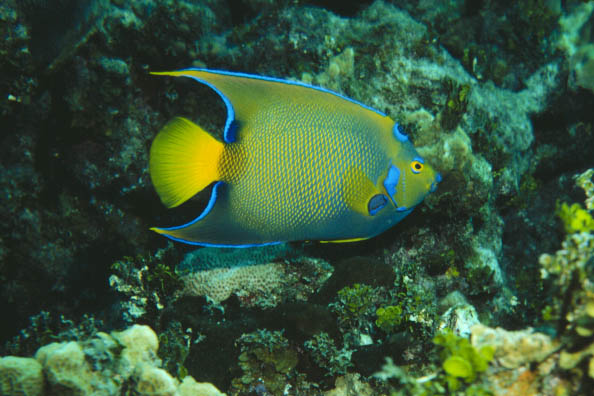 The regal queen angelfish.
Nice speciment of parrotfish - hard to tell if it is a developing stoplight parrotfish or just a green variation.
| | |
| --- | --- |
| | Another lovely speciment of queen angelfish out in the open water. |
This nice scrawled filefish was one of the more unusual sights of the day.
A bouquet of sponges.
| | |
| --- | --- |
| | Any doubt about why it's called a stoplight parrotfish? |
Perhaps a graysby or a coney? It's nestled between fire coral and a sea fan.
| | |
| --- | --- |
| | A scarlet scallop nestled in a crevice on a large coral head. It's the only one I have ever seen. It was about two thirds of the way up a towering coral head that must have been 12 to 15 feet high. |
This is one of my alltime favorites of my diving pictures. The exquisite blue tang in a lush setting of soft coral.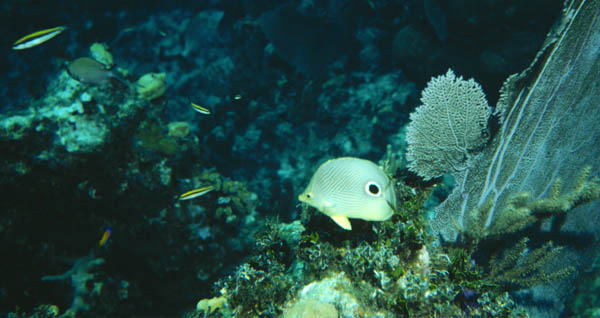 One of our old friends, the foureye butterflyfish in the soft coral.
The last school of the day, and of this memorable dive trip to the Cayman Islands.