Garden Eel Wall
North Shore, Cayman Brac, Cayman Islands
June 15, 1988
A wall dive to 90 feet on the north side of Cayman Brac
Mark by a huge sponge on the wall at about 70 feet. Soon after that he had intense pain from an air pocket in one of his teeth and had to go to the surface.
Gregory shows Mark a sea cucumber he picked up from this sandy section of the wall.
Coral and sponge attached to the precipitous wall at this depth. There was some black coral in the area which was pointed out to us by our guide, but I couldn't get it on film.




Shy rock beauty under soft coral.
| | |
| --- | --- |
| These purple sponges were on a sandy area. The terrain changed from steep cliffs to sandy slump areas. | |
| | |
| --- | --- |
| | Everything seemed kingsized on this dive. The huge sponge at left was over three feet high. Above is a huge sea fan. |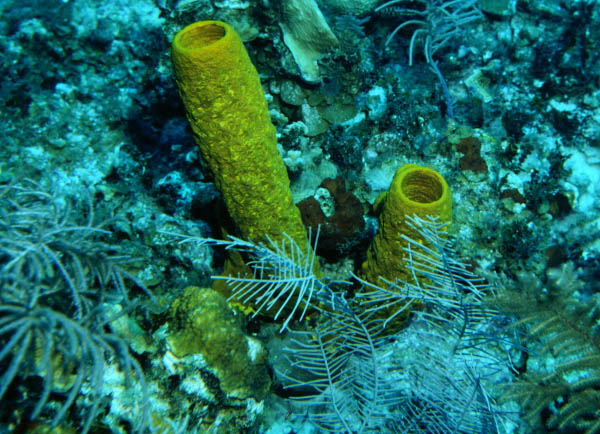 Sponge and soft coral bouquet.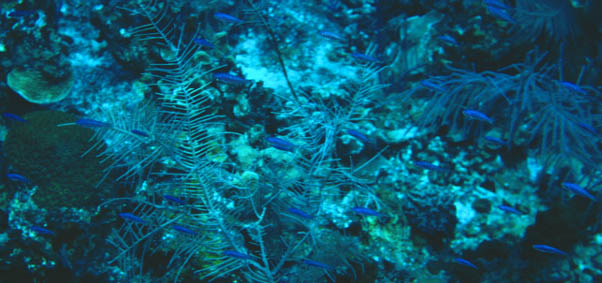 The ever-present blue chromis add tiny flashes of brilliant color to the reef scene.
A giant sea fan shows the unspoiled nature of the Cayman reef.
The relaxing undersea forest of the Caymans formed the background for all the beautiful fish we saw.