Last View of the Haystacks of Imst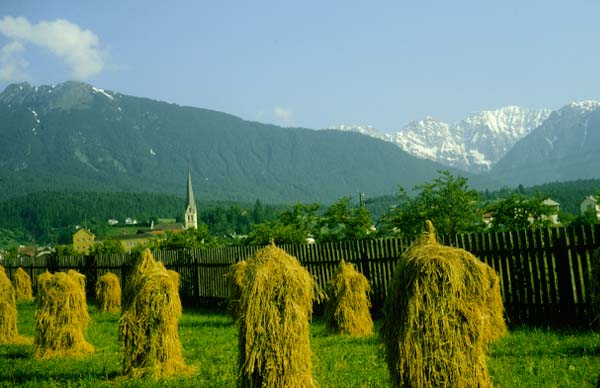 We were awakened to another beautiful day by the sound of the cuckoo - not a cuckoo clock but a real cuckoo. On the first day in Imst, Brenda heard it and wondered which of the distant houses had a cuckoo clock. Then we realized that we were in the land of the real cuckoo. We have heard them quite often since.
The snow-covered mountains have a particular charm early in the morning and late in the afternoon. When everything else is black, they seem almost to glow. We noted this most spectacularly in Lauterbrunnen but it has also been very striking in Imst.
We broke camp at Imst and drove to Innsbruck. There was quite a striking difference from the foggy, soggy, rain-soaked town we saw a few days ago.After again walking down down Maria-Teresian Strasse in Innsbruck, we headed out to the east. The Inn valley east of Innsbruck is very nice indeed. June 18, 1967