Village of Neumagen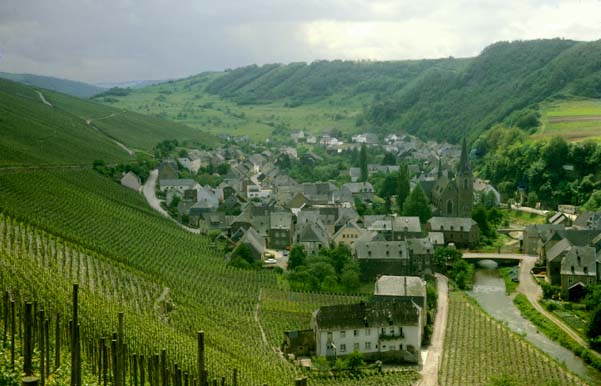 Neumagen, Germany was an amazing sight. Completely surrounded by vineyards, nestled on the Mosell River in a compact cluster with the church in the center.
After crossing into Germany (Customs was just a check of passport and green card) and crossing the Mosell River at Trier, we entered the vineyard country. On both sides of the Mosell, vineyards stretch from the water's edge to the tops of the hills.
The drive from Schweich to Bernkastel-Kues was the loveliest countryside that we have seen up to now. Dotted along the river are small villages with the characteristic church steeples. The roads were nice and the countryside quiet and inviting.
Just after crossing the Mosell and passing through Neumagen we climbed a steep winding road through the vineyards. We could see the lovely village and river below. We pulled off into a vineyard road and had a picnic lunch.
We drove on along the Mosell to Bernkastel-Kues which is a fairly good sized town, straddling the Mosell. It is obviously popular with the tourists. There were many attractive buildings of the bare-timber style known as Tudor in Britain. May 29, 1967