Why is the universe so old?
Ross argues that the 13.7 billion year age of the universe (as determined by WMAP) is the just-right age to support humanity. Over 20 elements are needed in the human body. They can be made only in the nuclear furnaces of stars. The early stages of the universe made only hydrogen and helium plus traces.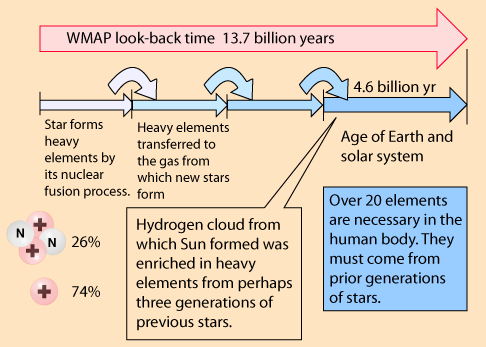 The essential heavy elements need to build up through at least three generations of stars.
Long-lived radioactive isotopes also need to build up. Uranium and thorium are critical to warming Earth and maintaining plate tectonics. Star furnaces make elements only up to 209Bi, the heaviest stable element. The radioactive uranium and thorium are made only in supernovae.
Dangerous events must subside.
Suns flaring subsides at about 4.5 billion yr
Bombardment subsides