First Baptist Church Christmas Programs 1981
The Concord Choir presents a Christmas Program entitled "Christmas Fever" on December 6. The spotlight is on Kathy Johnson, who is doing a reading. Left to right are Buzz Rowland, Audrey Floyd, Christi Shoun, Brett Skelton, Wendy Peal, Mark Nave.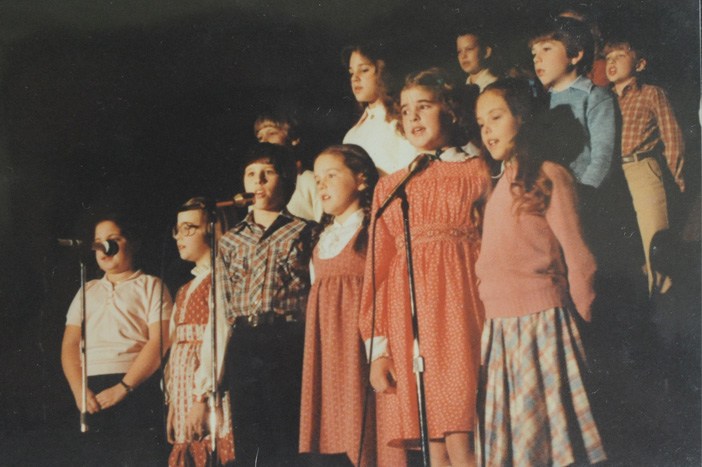 On the front row are Wendy Peal, Leigh Ridgway, Lance Tucker, Jennifer Martin, Christi Shoun, Elizabeth Brooks. Second row Buzz Rowland, Audrey Floyd, Mark Nave. Brett Skelton back right.
The Youth Choir presented a musical "A Child, A Royal Gift" on December 13. I can't name many of them, but on the back row are Randy Arnett, Huey Bratton, Andy Willoughby and Michael Scarbro. Jeff is in second row from back and Brian Hardie is at the left end of that row. Leslie Landers is dead center. Jean Melton left end of second row. Next to her is Burnett. Rignt end of second row is Kim Mann, and next to her is Jamie Hughes. Front row right end is Laura Knight.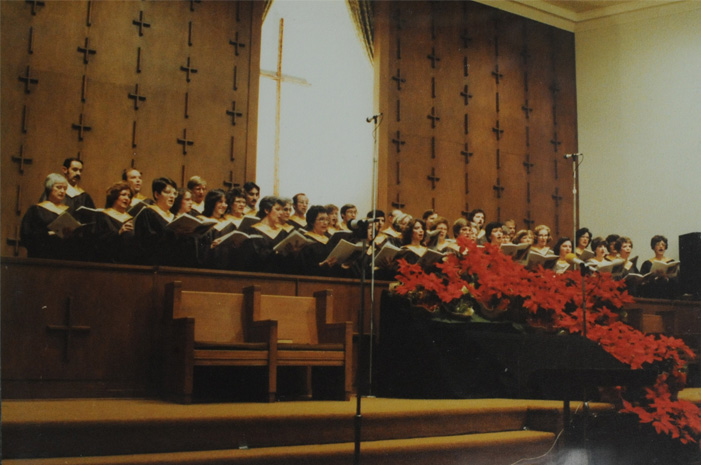 On December 20 the Senior Choir presented its Christmas Program. This picture was taken by Mark on the third row with a half-second time exposure, f4 and a blue filter.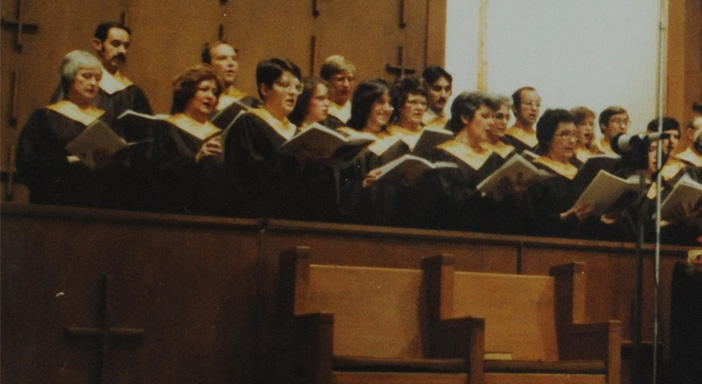 Zooming in to identify some of the choir members. Front row from left: Evelyn Holton, Sara Shiver,Cindy Marshall, Burnett, Gayle Hunter, Shirley Griswell. On middle row I can't make out the first person, Loise Lee, Elsie Daniell. Back row: Neal Hunter, Joe Poole, Steve Marshall, Huey Bratton, Rod Nave, Chan Garrett.
The right side is not as well resolved, so I can't make out too many. On the front row are Payne, ?, Davis, Ruth Floyd, ?, Vicki Skelton, Sara Payne, Jane Harkleroad. On the second row Carolyn Poole, Winkie Durand, Janie Ayres. I can't make out any more.
| | |
| --- | --- |
| Rod and Brenda with Lloyd and Elizabeth Ogburn. I can't quite be sure where it is, but it may be the old Fellowship Hall. | |
Index
1981