Jeff and Family Arrive from New Orleans
November 18, 2000
Jeff, Darla, Ashleigh and Jordan made the drive from New Orleans after Jeff's Saturday session at Riveroaks. They drove in rain and freezing rain all the way, arriving about 8 pm.
We were amazed to see Jordan running around so freely, when she was just mastering walking the last time we saw her. The big change with Ashleigh was her thoughtful speech. She can say anything, and is communicating her thoughts and observations clearly.
Grandmother Brenda was delighted to see Ashleigh. Ashleigh wanted to look down to see that her little house was in place, even in the dark and the rain.
Jordan and Ashleigh enjoyed being pushed back and forth on the beanbag by Darla and Jeff.
Ashleigh enjoyed pushing the beanbag around the den and kitchen area. Mark also pulled her around the house on it.
Ashleigh and Jordan had great fun with the riding toys we had for them.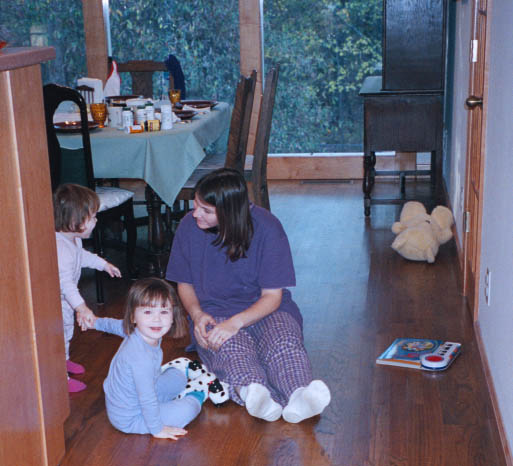 Ashleigh and Jordan enjoyed playing around on the large hardwood floor. Jordan at 16 months was just getting her balance up on her feet.