Christmas 2001
New Orleans Children's Museum, December 27
On Thursday we decided to take Ashleigh and Jordan to the Children's Museum. The Museum is built in an old warehouse in the Garden District. It is entirely a hands-on museum with science mixed in with all kinds of everyday skills development.
| | |
| --- | --- |
| | All of us enjoyed the exercise section, and Jordan is ready for anything. Jeff held her up to the bar and she upheld her monkey reputation. |
Surprisingly, the thing the girls seemed to enjoy most was the grocery store. It was set up at a child's scale and they could shop and bring groceries up to the checkout counter. Jordan tries her hand at the checkout counter as Ashleigh unloads her groceries.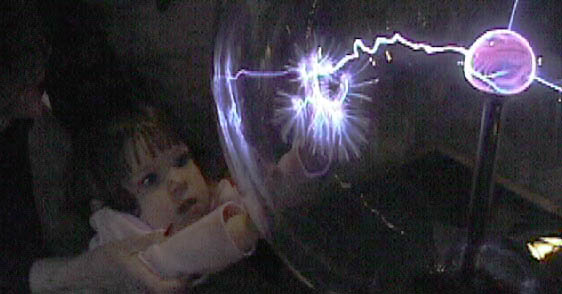 | | |
| --- | --- |
| | We were able to capture an image of the "aura" of fearless Jordan's hand on the plasma ball. There was such a variety of discharges that we stood there for several minutes, looking at the varieties of "lightning" in the ball. |
The Museum was a good afternoon's adventure. It was like an interactive school for young children. One of the features was a functioning television studio where you could stand in front of a blue screen and see yourself projected in front of a weather map or street scene to pretend being a reporter. All of it was designed for users under 4 ft tall.
Visit with the Moyles, December 28
On Friday we took Jeff, Darla, Ashleigh and Jordan to breakfast at the Cracker Barrel in Slidell and then went on to the Moyle's for a brief visit before heading back for Atlanta.
Tom, Debbie, Johnathan and Jessica were in from Corpus Christi, Texas, so we got to visit with them briefly. Jeff and Brenda visit with Tom in the Moyle's kitchen. Johnathan is growing fast - he is shown here at gift-opening time for them.
Jessica, Ashleigh and Jordan have another round of gift opening. Jessica and Ashleigh are great pals, so they soon disappeared together into the back room to play.
After a very pleasant 6 days in New Orleans with beautiful weather, we headed the van back to Atlanta. It is about 7 hours from the Moyle's.