Orvetta Owsley
August 17, 2001
Portrait of a life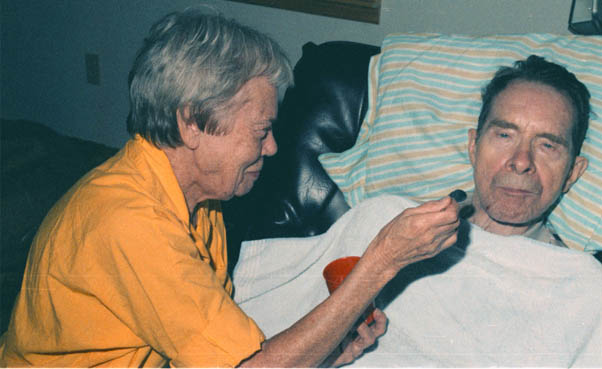 On the occasion of Orvetta's passing on August 13, 2001 at the age of 92, I repeat the tribute made on the occasion of her 78th birthday in August of 1986. This photograph was taken on that occasion.

Orvetta Owsley

Born: August 26, 1908

Died: August 13, 2001

This comes close to being a portrait of Orvetta's life, as I see it. She spent many years caring for my grandmother, Susie E. Owsley, and has provided the primary care for Frank. Always a strong and competent person, Frank has suffered from a progressive Parkinson's syndrome which has left him almost immobile. Bringing some inspiration into this sadness is the care and love that Orvetta has shown. I have not taken a picture for years which has so deeply moved me upon seeing it. It is sad to see our family members grow old, but the love and sensitivity and care shown at such times serves to remind us all of the deeper things of life. I found myself sitting there in tears, and it is through those tears that I write this tribute to my Aunt Orvetta.
This is some of the Owsley family gathered for lunch at the church after the graveside service for Orvetta. The service was held at the First Christian Church of Owensboro with Pastor Paul Whitlock and Rev. Niki Jorgenson leading in the service. The church provided a very nice meal for the family afterward. Pictured are Jane Owsley flanked by her youngest son Andrew at left, then Charles Owsley and his wife Jo(hidden) from Bowling Green, then at right Boots Owsley. Boots' daughter Barbara is facing away. Orvetta's oldest brother was Reginald, whose two sons are Charles (center of photo) and R.O. Boots is R.O.'s widow, and Jane is the widow of Boots' and R.O.'s son Mike. Boots was a faithful companion and helper to Orvetta during the last several years of her life.
The Feagan family were truly family to Orvetta, though not blood-related. Beulah (center) loved and was loved as a daughter to Orvetta, and their close relationship extended back to Beulah's very early childhood. Beulah helped and supported Orvetta in everything from business matters, clothing choices, medical care and support, and played a major role in making her final arrangements. We consider Beulah's great love and care for Orvetta to be one of the great blessings that God provided for Orvetta, a person whom herself had provided loving service to so many.
Pictured are Brad Feagan and his wife Carol Sue, Lisa Feagan Hunt, Beulah, Bill, and Bill Jr.
| | |
| --- | --- |
| We got to visit with Edgar during our two-day trip and have a meal together at the Moonlight Barbecue. His daughter Sherri, whom we had not seen for several years, came to the funeral ane we were pleased to get to visit with her. Sherri proudly showed us pictures of her six year old daughter. | Two of the Sisters from the Carmel Home came and had prayer with us with Orvetta at the funeral home. They are pictured here with Beulah. Orvetta spent a little over a year at the Carmel Home, and received excellent care. We were pleased that she could spend that last year at such a caring facility. |
Index
2001