Thanksgiving 2001
November 17-24, 2001
Thanksgiving and the visit of Jeff and Darla with Ashleigh and Jordan has become a much treasured part of our family tradition. Ashleigh at left is now 3yrs 8 mos old and Jordan is 2yrs, 3 months.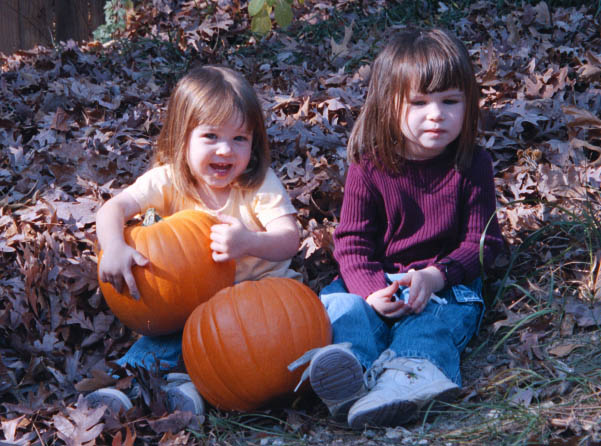 Sunday, November 18

Jeff and family arrived late on Saturday night and the girls were subdued and shy. But this morning they were up and lively. One of the joys of children this age is that they wake up each morning to a bright new world, with yesterday's cares completely gone.
| | |
| --- | --- |
| Ashleigh and Jordan love to be read to. But it's an open question who gets the most blessing out of it. It is indeed a privilege to hold those two tiny girls and read to them. | |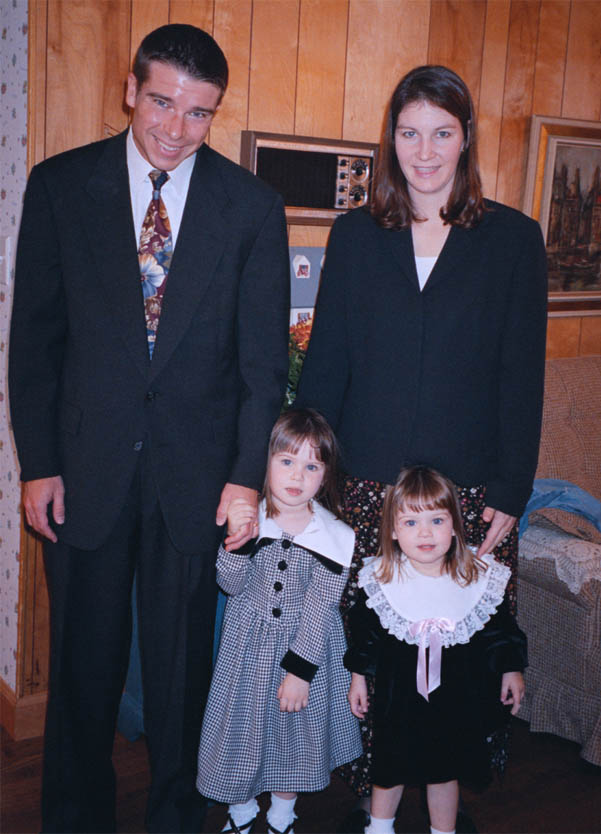 Jeff, Darla and the girls went to church with us on Sunday morning, and we managed to catch them long enough to get a family portrait in their Sunday clothes.
| | |
| --- | --- |
| | Marty brought the girls some Wicky Sticks, which seemed to be just that - brightly colored candle wicks which could be bent into all kinds of shapes. Ashleigh, with Marty's help, fashioned herself some glasses and earrings. |
| | |
| --- | --- |
| | The weather was chilly early in the week, but the sun was shining and the girls enjoyed playing in the leaves in the back yard. Ashleigh, Darla and Jordan were bundled against the cold and sitting in the sun at the back of the house. |
| | |
| --- | --- |
| | Jeff and Darla raked up huge piles of leaves in the back yard and they all had fun playing in the leaves. |
Ashleigh and Jordan were awash in a sea of leaves. Cindi came up and brought Frankie to play with them in the leaves.
| | |
| --- | --- |
| Cindi brought her tiny dachshund, Frankie, up to play, and Ashleigh and Jordan were delighted. Little Frankie seemed to be delighted too - most of the time. Jordan and Cindi took her into the play house and the expression on Jordan's face needs no interpretation. | |
Jordan and Ashleigh participated in the ceremony of raising the turkey flag for Thanksgiving.
The girls always look forward to playing in the playhouse. This trip, Jordan spent more time in it than Ashleigh.
Darla and the girls had laid out a play house with rooms in the leaves, and Ashleigh was organizing games to play in the leaf house.
With Johnathan's help, they had constructed a fort in the leaves. Darla helps them play fort.
Index
2001