From Fairfield Bay to Fayetteville
October 5, 2005
We drove back to Mountain View from Fairfield Bay and prepared to make the trip to Fayetteville to visit Mary and Bryan. Brenda and Suzanne work on lunch in their kitchen.
We acquainted ourselves a bit more with Bobby and Suzanne's house and then took off for Fayetteville.
We crossed the White River which runs by close to their house. It was surprisingly wide here to me. The crossing point is in view of where the Sylamore River runs into the White.
We followed curvy Hwy 14 through the Ozarks, a scenic but slow route.
I enjoyed the rural setting of pastures and hay land.
There were lots of interesting barns and I was interested in the cows in the cattle ponds along the way.
I was interested to see the cows and calves gathered in the shade of trees on this hot sunny day. In this picture, I also captured this cow with nursing calf off in a gully near the tree.
| | |
| --- | --- |
| | We met Mary along the way at Valley Springs, near where she grew up, and followed her on to Fayetteville. This was the first time Brenda and I had met her and we found her delightful. Bryan made it in from work and we sat around the apartment looking at photos of their trip to Greece and other photos. |
We went out to eat at Red Lobster in honor of Mary and Bryan and for fellowship with the family.
Brenda, Dorothy and Mary consider the menu at the Red Lobster close to Mary and Bryan's apartment.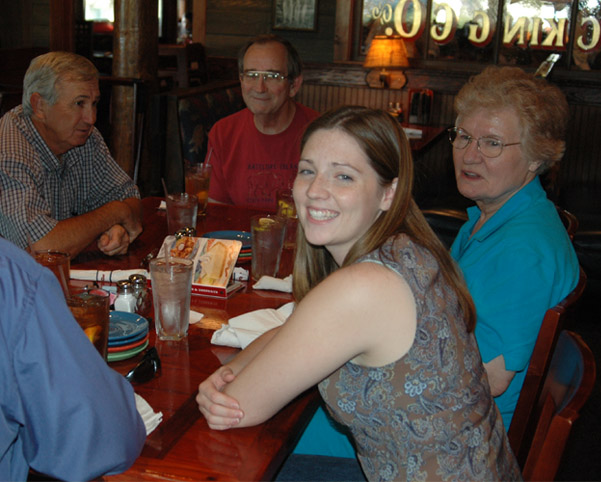 It was great to visit with Mary and Bryan and we look forward to the next time. After dinner we headed back on the three hour drive to Mountain View where we spent the night with Bobby and Suzanne.