Mirror Lake Drive
August 1, 2005
We were buoyed up by the experience at Provo River Falls and left to continue on toward Mirror Lake. Even in the sometimes pouring rain, the drive on up the mountain was enjoyable.
| | |
| --- | --- |
| | To the left is Teapot Lake, and it was attractive even in the rain and fog. Small patches of snow up on the mountains were the only remnant of the heavy winter snowfall of this area. The image below is over Mirror Lake. |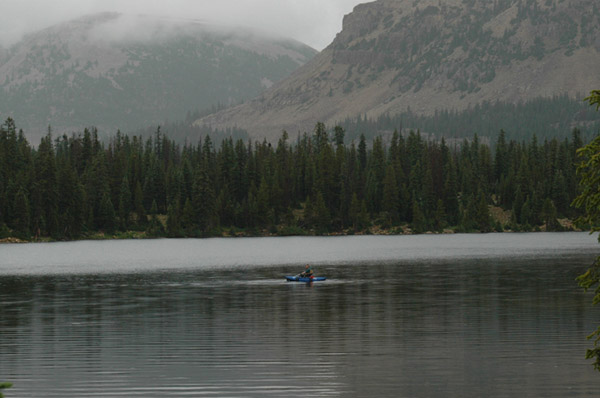 We finally reached our destination, Mirror Lake. It was a pleasant lake in this high mountain setting at about 10,000 feet. But it was really the journey to get there that was the greatest pleasure. It would be a good place to camp and fish, as one guy out in a kayak was doing.
We started back down the mountain and stopped at the Bald Mountain overlook. We could see a half dozen lakes and a green meadow below this overlook.

| | |
| --- | --- |
| | The green valley with meandering stream reminded me of Boundary Creek on the Canadian border. |
| | |
| --- | --- |
| | There were brilliant splashes of indian paintbrush at this location. |
| | |
| --- | --- |
| There were also bunches of this yellow flower among the rocks. | |
| | |
| --- | --- |
| | As we came back by Teapot Lake, we could see the mountains much better and this fisherman, who had been all but lost in the fog, could be seen quite well. |
A short distance past Teapot Lake, we got our only view of a deer on this days trip. It was a pleasant trip, with lots of surprising views.
Index
2005