Life in Pearl River and Slidell
After Katrina
September 5, 2005
After our interactions with Grace Memorial Baptist and with the arrival of Tom and the Marines, we went by to see how the cleanup was going at Jeff Moyle's Northshore durable medical equipment business. He drove us through parts of Slidell on the way.
| | |
| --- | --- |
| | We had been coming to terms with the damage in Pearl River - lots of tree damage and loss of power. But as we entered Slidell there was another dimension of sadness. After the wind damage there was the flooding by the tidal surge. This is an example of what we saw a lot - people just had to throw their ruined household furniture and possessions into the yard to prepare for ripping out the sheetrock if they were to salvage their houses at all. |
Jeff Moyle and his staff had been working feverishly for days to deliver oxygen and other supplies to hospitals and individuals who needed them. His business took about a foot of water and lost power. It was not as disastrous as the areas that took five or six feet of water from the storm surge, but it forced him to clean and disinfect everything. One bit of good news after their struggle is that they were able to get a hundred or so oxygen cylinders airlifted into the local military base. Some of those cylinders are shown above left.
Jeff Nave and I were planning to go back over to the Moyles to wrap up the tarping process, and Jeff Moyle drove us down Military Road on the way. This was one place where the storm surge did a surprising amount of damage.
The storm surge had lifted burial vaults from the cemetary and floated them to other locations. The ones above right and below were floated across Military Road and then across the creek there.
Of all these macabre images, the one above right spoke to me most strongly about the raw indiscriminate power of the storm. The vault is mixed in with the mangled remains of electric power poles and treetops.
September 6, 2005
| | | |
| --- | --- | --- |
| | On Tuesday morning Jeff Nave and I set out with Larry to help with the house of one of the Northshore Church members. This took us further south in Slidell to the area of more severe storm damage. | |
When we reached what had been a neat, strong family house, we found something that may not be repairable. Besides multiple trees on the house, it had flooded to about five feet in the storm surge. Jay and Perry had already worked on the house one day, and had pulled all the ruined furniture outside. They had also cut the fallen pines off driveway so that we could drive into it.
| | |
| --- | --- |
| | Pastor Larry McEwen of Northshore Church took roof duty and worked to remove one of the last trees from the roof. |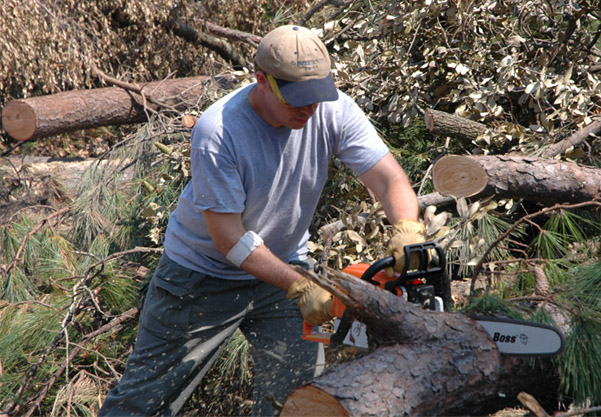 Jeff worked to clear a walkway around the house and then was cutting back the fallen trees that formed a deep jungle of debris about head high along the outside of the driveway.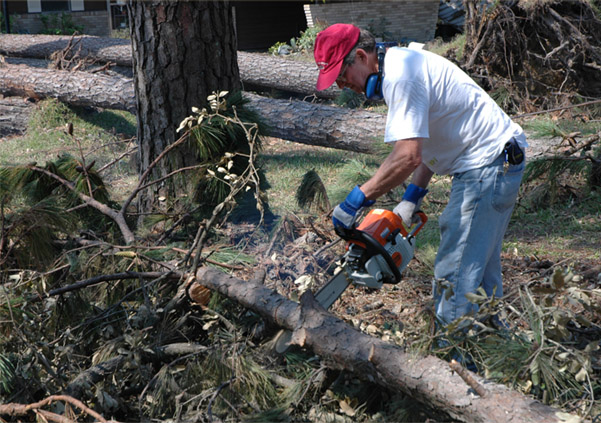 | | |
| --- | --- |
| As a small step toward clearing the front of the house, Rod sawed up what appeared to be a 40 ft pine tree. On closer examination turned out to be the top 40 ft of a 90 ft pine tree that had been lying across the driveway. It was good to be able to work in this setting, but we had the feeling that it was a very small step in a very long process. | |
While we were sawing, we watched a fuel plane and several helicopters overhead. This appears to be one of the CH-53 Marine helicopters we saw at Slidell Airport yesterday.
| | |
| --- | --- |
| | CH-53 Refueling |
We kept watching the plane and helicopter circling, and realized that we could see the trailing fuel lines and the helicopter positioning itself for midair refueling. Later we saw two helicopters refueling simultaneously. We wondered whether the air traffic control marines that we interacted with yesterday were helping to guide this operation.