Life With Hurricane Katrina Refugees
September 16, 2005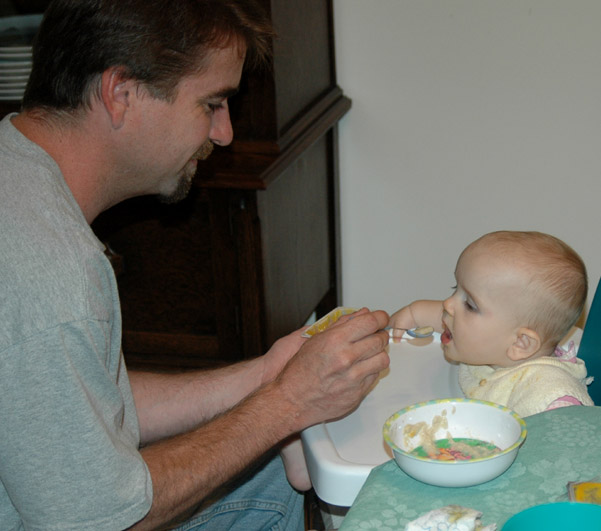 | | |
| --- | --- |
| Uncle Mark tries his hand at feeding supper to Elyse. Elyse is enthusiastic about her supper, and if it comes too slowly, she expresses her opinion about that quite loudly. | |
Ashleigh and Jordan have finished their baths, so they come out to check on Elyse and Uncle Mark.
Ashleigh and Jordan are excited at being given permission to watch a movie tonight.
They settle down to watch a Winnie the Pooh movie, "Piglet's Great Movie"
Grandma Brenda settles down at the movie with Elyse, who just likes the noise and being where the family is. Oh, and being held -- that too is important. But Grandma certainly doesn't mind.

When she tires of this, Granddad Rod gets a try at distracting her with the bathroom mirror - sometimes it works. She seems to be getting sleepy.
September 17, 2005
Ashleigh is given the task of entertaining Elyse while everybody finishes up breakfast. Both Ashleigh and Jordan do a great job of entertaining her.
| | |
| --- | --- |
| | Mark comes up to join us for breakfast, and we have a great family time this morning. |
Granddad Rod gets his turn to hold Elyse. She is in a good mood this morning. This is a great time to show off her two new bottom teeth.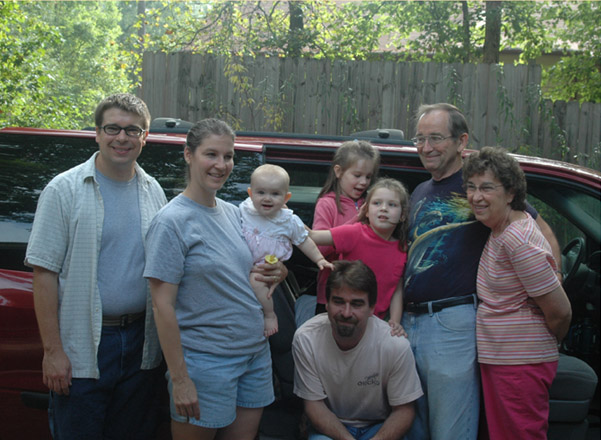 We gathered in a circle for family prayer as Jeff and family prepared to return to Pearl River, Louisiana. This will be the first time for Darla and the girls to return after the terrible hurricane Katrina. Jeff was going to wait and go back with me on Tuesday, but on Friday night it troubled him and he decided to go ahead home with his family. I was to bring his car down the following Tuesday and retrieve our van if we could get it running.
For the record, L-R are Jeff, Darla with Elyse, Mark with Ashleigh and Jordan behind him, Rod and Brenda.