From Teton Park to Park City
August 3, 2005
After the memorable Snake River raft trip, we headed back toward Park City, Utah. We got better views of the unusual color of Bear Lake.
| | |
| --- | --- |
| | We heard tales about local residents and long-time visitors making up bad tales about Bear Lake in t he hopes of dissuading too many people from visiting their private paradise. |
| | |
| --- | --- |
| We looped around the south end of Bear Lake in Idaho and headed back eastward toward Wyoming. | |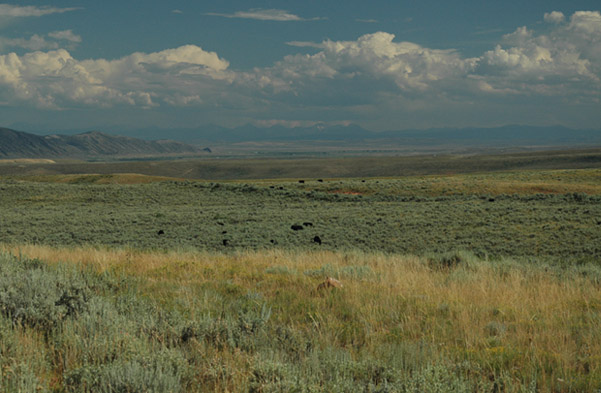 | | |
| --- | --- |
| Undoubtedly commonplace to the residents of the area, these views of the cows grazing in the sagebrush were remarkable to me. We got lots of long views in the southwest corner of Wyoming. | |
| | |
| --- | --- |
| At times the road stretched to the horizon in this open sky country. There was abundant hay in the lush irrigated valleys, but the mountains looked extremely dry. It was interesting to see antelope, but it was hard to preserve the wilderness illusion when you are looking at them through a barbed-wire fence and have utility poles in the frame. | |
After a very memorable two days to the Tetons, we made the trip back to Park City, Utah much faster than the trip up to Jackson Hole. The first time, I had to stop and look at things a lot. The trip back was just a relaxing ride.
Index
2005