Drive to the Tetons
August 2, 2005
We left about 5:30AM, before daylight, for the 270 mile trip to the Tetons. We were blessed by a beautiful sunrise over the rolling hills near Evanston, Wyoming on I-80.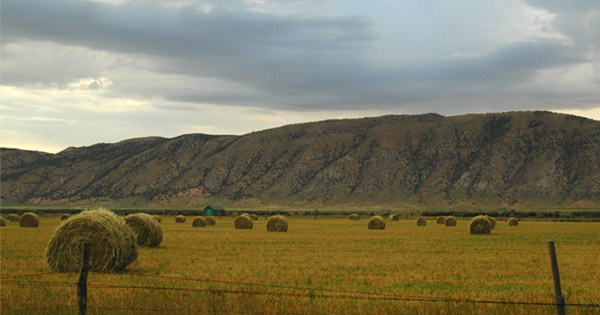 | | |
| --- | --- |
| We turned off I-80 at Evanston to the northwest on Wyoming 89. The southwest corner of Wyoming is hay and cattle country, and I love the sight of baled hay in the fields. | |
We stopped again in the rain on Utah 16 near Randolph, Utah because I was intrigued by the green irrigated hay fields and the dry mountains behind them.
The presence of an irrigation pump and the irrigation flume above right reminded me of my work in the rice fields of Jackson County, Arkansas as a teenager. We then drove into the town of Randolph and stopped at a small store and gas station which reminded me of the Burgess Store in Diaz. So it was a bit of a nostalgic area.
| | |
| --- | --- |
| | We ran into and out of heavy thundershowers. It was intriguing to be able to see a thundershower moving across the sagebrush landscape. This was on Utah 30. |
| | |
| --- | --- |
| We had chosen this route to take to go up the west side of Bear Lake upon the recommendation of a lady we met at Provo Falls. The thundershowers you can see across the lake subdue the legendary turquoise color of the lake, but the color was still notable. | |
| | |
| --- | --- |
| | Still driving through periods of rain, we drove back over from Utah into Wyoming. Utah 30 changed to US 89 and we would follow it all the way to Jackson. The cloud formations on the green hills of Wyoming were beautiful. |
| | |
| --- | --- |
| The wide open rolling green hills of southwestern Wyoming were exhilirating. | |
| | |
| --- | --- |
| | The groves of white-trunked aspen were remarkable and beautiful to me. No doubt they are commonplace to the local residents. |
| | |
| --- | --- |
| We approached Jackson from the south through Afton. In this area there was a flat valley surrounded by low green hills. We were back in hay country again. | |
As we approached Jackson we followed the Salt River and then the larger Snake River. Close to Jackson we saw lots of rafters on the white water portion of the Snake below Jackson.
| | |
| --- | --- |
| | We fought our way through the traffic of Jackson to the north end and went to the beautiful visitor center for the Teton Park. It maintains an active marsh with lots of birds. |
The bird-filled marsh opens up from the north end of the visitor center into the south end of the Teton Park. We were very impressed with the visitor center and the personnel were very helpful to us as we sought to find housing for the night and to schedule a float trip for tomorrow.
The folks at the Jackson Visitor Center did such a great job that you could imagine that you were right out there with the animals.