Snake River Float Trip in the Tetons
August 3, 2005
The Snake River flows through the valley in full view of the magnificent Grand Tetons.
| | |
| --- | --- |
| | We have our life vests on and are ready to launch. On this beautiful morning, there were a half dozen rafts in front of us waiting to launch. |
| | |
| --- | --- |
| Besides the rafters, there were a number of fishing boats out on the Snake River. These were fly-fishermen. | |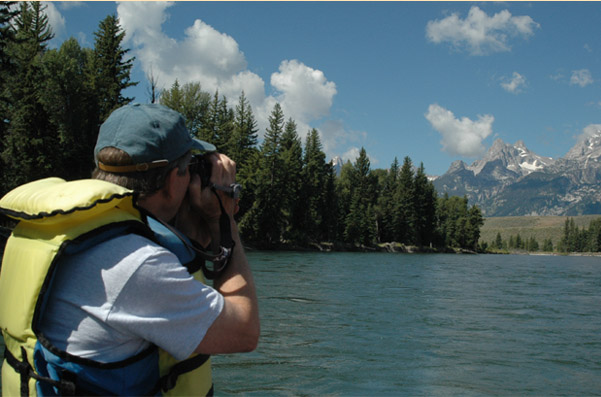 Rod manned the video camera while Brenda shot still shots.
Brenda afloat on this beautiful morning in the Tetons. It was luxurious to just float down the river with this magnificent view.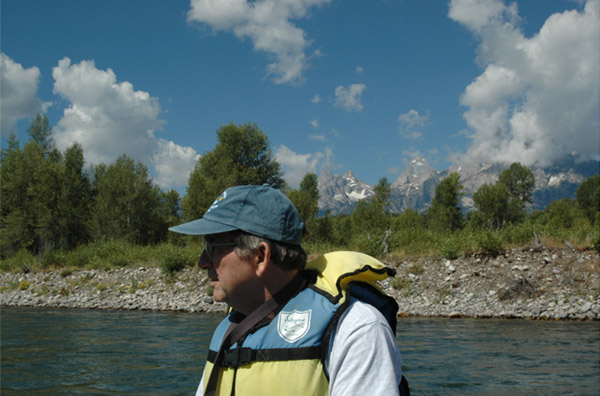 The Snake River is on the glacial plain in the valley next to the peaks. The rocky soil on the bank is part of the glacial morraine.
At left above is an adult bald eagle high in a dead tree and an immature eagle on a limb below it. We saw four or five bald eagles and two ospreys. At right above is a pair of Canada geese with three young. We also saw diving merganser ducks.
The river and the wildlife alone would have made it a rewarding trip, but in addition we had these magnificent peaks always standing above us.
| | |
| --- | --- |
| We came upon this osprey that had caught a suprisingly large fish. Brenda was quick on the trigger and caught him carrying away his lunch. | |
| | |
| --- | --- |
| | Pete was our guide, controlling the raft with 14 passengers with these long oars. Most of the time he kept the oars active, guiding us in the deepest parts of the winding, shallow river. He would turn the raft around often as a part of the maneuvers. |
| | |
| --- | --- |
| There were calm times when Pete could tell us stories about the Park and its history, or show us wildlife. | |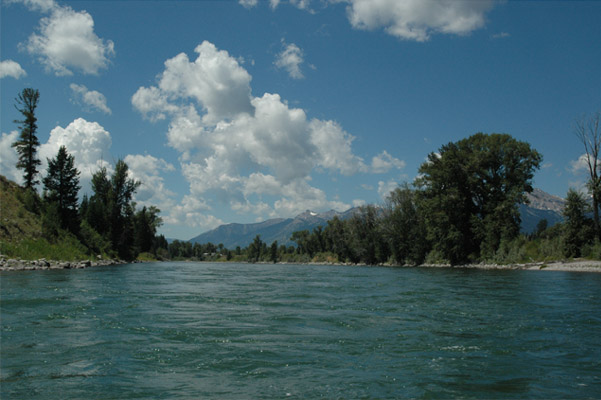 Just the Snake River itself made a beautiful setting.
| | |
| --- | --- |
| | Near the end of the 10 mile float trip was the nearest thing to rapids we encountered. It was for the most part just a comfortable float. |
With the rapids came the view of the low, green hills which told us we were nearing the south end of the park and the end of our memorable float trip on the Snake River.