Thanksgiving 2005
Tuesday, November 22, 2005
| | |
| --- | --- |
| | Ashleigh and Jordan had great fun piling up the leaves with the wheelbarrow. Then they started carrying each other and dumping into the leaf pile. |
| | |
| --- | --- |
| Playing in the leaves is a fall treat for these New Orleans girls. The abundance of leaves this year made it easier to make big piles. | |
| | |
| --- | --- |
| | Jeff joined the fun, roughhousing with the girls in the leaves. |
Somehow Jeff got talked into letting Jordan and Ashleigh try to dump him in the leaves.
| | |
| --- | --- |
| | Ashleigh was also quite willing to help Grandma Brenda with cleanup in the yard. |
Wednesday, November 23, 2005
Jeff, Darla and Rod took a 2 1/2 hour Segway tour of Atlanta, compliments of Marty.
Here we posed in front of the Coca-Cola Museum in Underground Atlanta.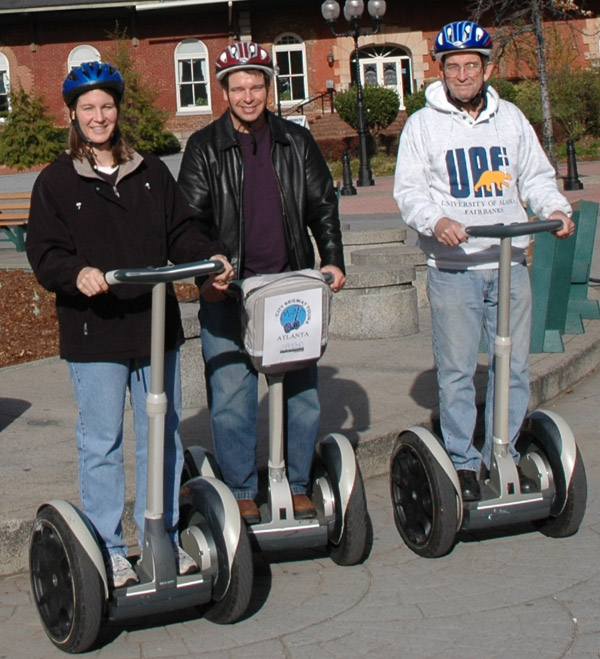 We had traveled several blocks, crossing streets and handling ramps and grades, so we were fairly comfortable balancing on the Seqways by this time.
| | |
| --- | --- |
| | At the beginning of our tour with City Segway Tours, we were checked out on mounting and dismounting by our friendly tour guide and watched a training video. |
| | |
| --- | --- |
| We were given a little time to practice and get used to the controls on the brick pedestrian mall of Underground Atlanta before taking off down the sidewalks. | |
We rode past the gold-domed Capital building and down to Turner Field. There we got this view of the Atlanta skyline. From Turner Field we went back north past the Capital and Georgia State University, Grady Hospital, Sweet Auburn district, and then over to the Georgia Dome and Phillips Arena before heading back to Underground Atlanta.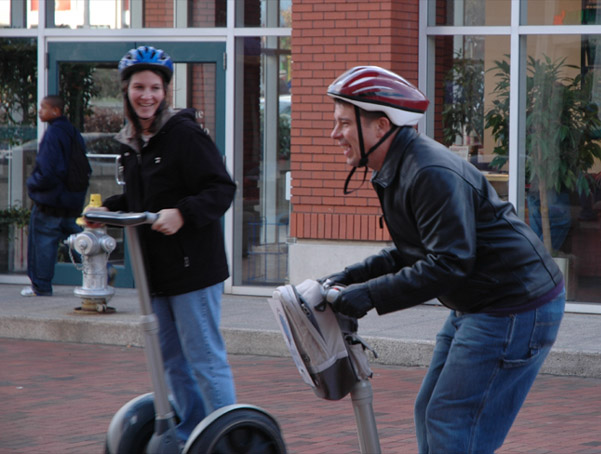 Back to Underground Atlanta where we were given a few minutes to just ride around on the brick plaza. By this time we had been over some surprisingly challenging terrain with ramps, sidewalks under repair, grates and other rough areas. The Seqways were stable and generally easy to manage over a variety of surfaces.
We had spent over two hours on the Segways, and we figured that amounted to over five miles of travel around the city.

At the end of our trip, Jeff and Darla rode their Segways up the sidewalk and into the door of the tour center.
| | | |
| --- | --- | --- |
| Meanwhile at home, Elyse has mastered crawling, even in the forward direction. Last time we saw her, she could only crawl backward! | | She was walking all over with this toy walker. She'll be walking soon! |
Index
2005