NOBTS Damage by Katrina
The direct storm damage by Katrina to the New Orleans Baptist Theological Seminary in New Orleans was reasonably light. But when the levees failed, the entire campus was flooded, with water reaching 8 feet in depth at the back of the campus. This flooding did major damage to nearly all the buildings on the campus. The only buildings that were not flooded were the Student Center and the buildings on the very front of the campus.
This photo of the Leavell Chapel on the NOBTS campus is representative of the flooding that occurred after the failure of the levee system in New Orleans. This was taken by the NOBTS Security officers on August 31. We are told that they took photos from a canoe.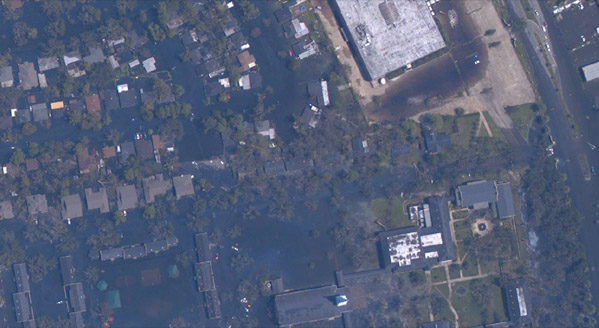 This shows flooding on the campus. The Chapel is about bottom center of this photo. At top right is the Student Center. The front of the campus didn't get much water, but it got deeper as you went toward the back of the campus, left in the above photo.
Jeff and family had moved from the seminary campus to Pearl River in November of 2004. All the places they had lived on the campus were flooded in the aftermath of Katrina.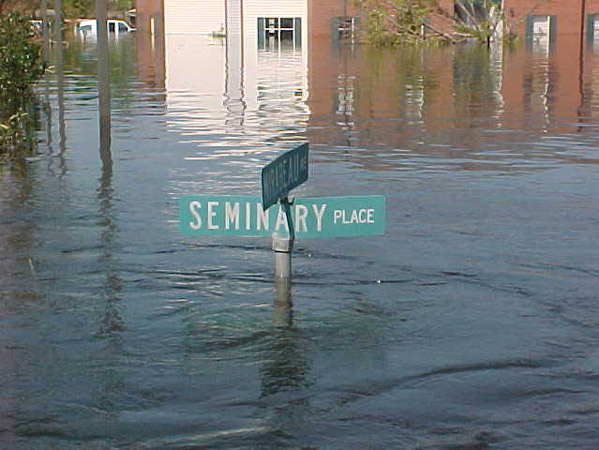 This photo speaks volumes to us since we are intimately familiar with this street intersection. Jeff and family lived just to the right of this photo in the Alaska Apartment, and then moved a block down the street into a duplex which was also subject to about this amount of water.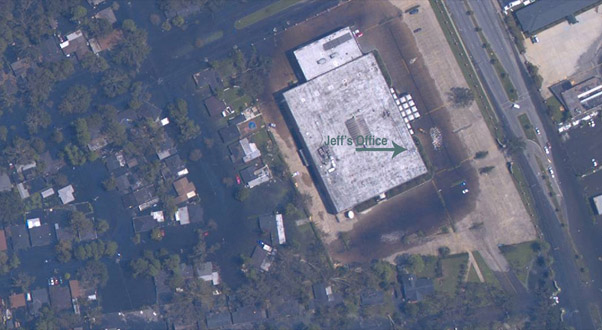 Jeff was fortunate all the way around, since his office in the Student Center was in one of the few unflooded areas on the campus.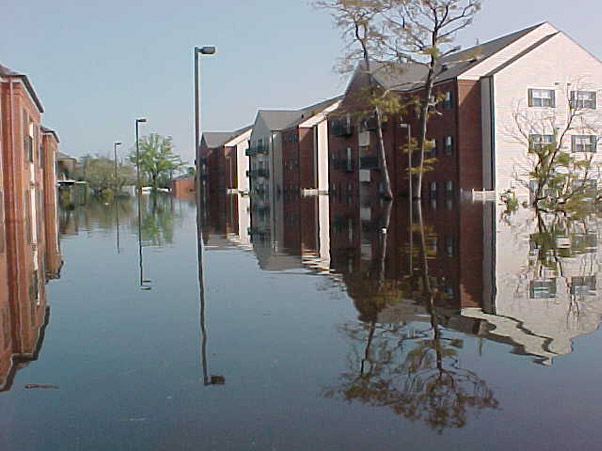 These are some of the new apartments on the back side of the campus. The flooded up into the second floor.
These are some of the older apartments toward the middle of the campus, close to the Chapel. These last two photos were also shot on August 31 by a Campus Security patrol from a canoe. A few days later, the last eight security officers on the campus made their escape from rising water by lining up cars behind a front-end loader with its bucket down. The tractor plowed through the water with the bumper-to-bumper cars right behind it in a wild dash to the I-10 expressway. The tractor had to be left behind, but all the officers made it out safely.