Celebration with Shirley and Return to Newport
October 6, 2005
After our day of exploration, we looked forward to Shirley's arrival from Little Rock. We went out to eat together and planned a further celebration of her birthday.

Suzanne, Shirley and Brenda by the stair in the Lassiter cabin.
| | |
| --- | --- |
| Dorothy joins the group as we let Shirley come down from upstairs after we had prepared for the party. | |
| | |
| --- | --- |
| | The ladies had gotten a cake and some gifts, and managed to surprise Shirley a little bit I think. |
| | |
| --- | --- |
| We had a good time at dinner and at our party, with lots of clowning around and conversation. | |
October 7

We all spent the night at the cabin and were greeted by a beautiful morning. It had turned cool and there was just a hint of fall color on the mountains out the front of the cabin.

Bobby and Suzanne returned to Diaz and Shirley went over to Fairfield Bay to spend Friday night with us. We had a good visit with lunch at a restaurant on the golf course, and enjoyed a beautiful sunset with a bright crescent moon and star.
October 8

Saturday began with a beautiful sky of puffy white clouds. We prepared to return to the Newport area.
We drove toward Newport on Hwy 14 which goes through Oil Trough. There we got this nice view of the White River.
| | |
| --- | --- |
| It was interesting to see the apparently benign coexistence of the river, the herd of cows and the power plant across the river at Newark. | . |
| | |
| --- | --- |
| | . |
In this place where I spent my whole childhood, eveything was nostalgic. We went out to Dorothy's house on the hill and took her down to eat lunch at the little restaurant that now sits at the corner. The view above left is from there north along the Hickory Grove Road. A short distance up that road was our baseball field where I played all the way through high school, catching for Blount Hohn at pitcher and playing with all the Roberts boys. At right above is the railroad grade crossing that I knew so well as a child. All the roads were gravel then.
Visit with Junior Burlison and Betty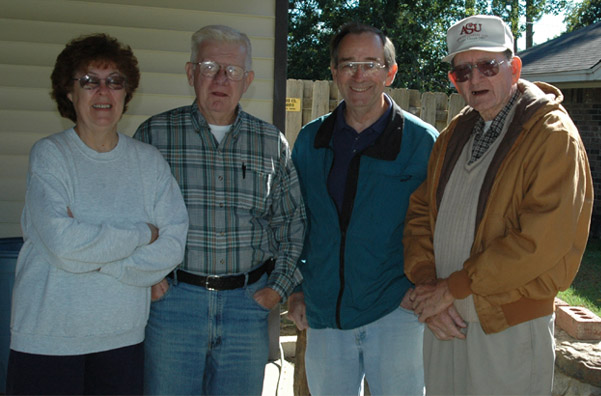 The nostalgia really kicked in when we got to visit with Jr. Burlison and Betty. I had hoped to get to see them, and we had been able to get Sonny Burlison's wife on the phone and she got us in touch with Betty. We drove over to visit with them briefly as they were working on Jr's house to get it ready to sell - he having moved to a smaller place. This is Betty Burlison Ray and her husband Jack Ray with Rod and Jr (Lloyd Wright Burlison, Jr - but I always knew him as just "Junior").
| | |
| --- | --- |
| Of all the men I have ever known, there is none that I would be prouder to stand beside than Jr. Burlison. Strong as an ox in his young years, and even stronger in character, he was one of my most important role models for what it meant to be a Christian man. | . |
| | |
| --- | --- |
| The only other time that Brenda had been with any of the Burlison family was at Mother's funeral in 1986. I was glad for her to get acquainted. | . |
We must have stood there and talked non-stop for the better part of an hour. I hated to take them away from the work they were doing, but this reunion had been a long time coming. You hear a lot of people complain about the traumas of their early lives and how they were hurt or disappointed by people - but I feel that this family was a very powerful force for good in my life.
A vivid memory of my early teen years was watching Emma Lee Burlison walk up the dirt road between their house and ours carrying a cup of sugar. The thing that caught my attention was that it was heaped up, and she couldn't walk down the road with it without spilling some of it. She had borrowed a cup of sugar from us earlier, and was bringing back a bigger cup, with it heaped up rounded over to the point of spilling. To satisfy my curiosity, Mother explained to me that Emma Lee took seriously the verse in the Bible that she took to mean that if you borrowed, you should return full measure, heaped up. Somehow that stuck indelibly in my memory as an example of character and is still there over 50 years later.
Luke 6:38 says "Give, and it will be given unto you. A good measure, pressed down, shaken together and running over, will be poured into your lap. For with what measure you use, it will be measured unto you."
The example of Emma Lee was invaluable to me, but I had other good female role models in my Mother and Aunt Pearl. What I desperately needed was a good male role model. Last year when Betty wrote to me to ask for a "story" to contribute to a birthday celebration for Jr, I returned a card with the following:
"Dear Junior,
I wish you happiness and peace on your birthday. I remember your part in my life with fondness and gratitude. Along with the strength of character that was such a good model for me, I remember admiring how strong you were physically. When I was probably 14, I remember being out in the woods with you and probably Philippe and Roy Lee. We were cutting down some trees with a two-man cross-cut saw because we needed firewood and we didn't have any money to buy any. With your strength on one end, about all I was doing was trying to hang on and keep the saw straight. That's probably the last time I used a two-man cross-cut.
It's good for a boy to have a man like you on the other end of the saw. You were a person I knew I could trust. You had dealt with me always with kindness and generosity, and I always saw you seek to do good for people and not wrong. Your example has been with me all my life to kind of help me keep the saw straight.
May the Lord enrich your days with joys and remembrances and the celebration of the blessing of life."