Knees In the Sand
Children's Camp, First Baptist Mableton, at St. George Island, Florida
Tuesday, August 1, 2006
On Tuesday after lunch, we headed for the public beach on the Gulf side of the island. It was just few blocks away. We understood that this was Angel Hawkins' first time to see the ocean. She certainly seemed to enjoy playing in the surf. Stephen Jones also seemed to have fun challenging the waves. The kids all seemed to enjoy the surf and Russ stayed out there with them the whole time. He got off a few good kid tosses.
| | |
| --- | --- |
| | It was neat to see Angel celebrating this new experience in her life. |
Steven Hawkins, left, tries a board in the waves. Michael Haire takes on some rather active breakers.
Sometimes they just got buried in the waves. Quentin Davis seemed to really relish the experience of being in the waves.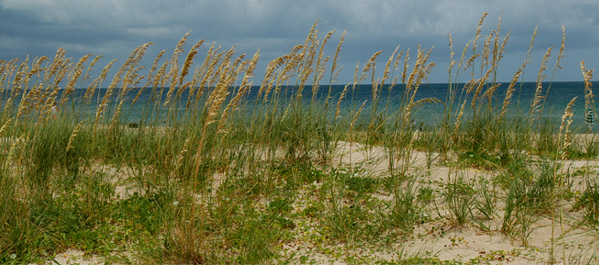 | | |
| --- | --- |
| | The dunes were lined with the slender stalks of the sea oats. These are federally protected plants which themselves act to protect the dunes. Their roots go very deep to find fresh water, and they are very tolerant of the salty environment. The white-flowered vine at left also helps to protect the dune by forming a ground cover of long runners. |
| | |
| --- | --- |
| The rising of a typical Florida afternoon thundershower urged us on toward the next item on our agenda, a visit to the ice cream parlor! | |
We descended upon Aunt Edy's ice cream parlor and stretched 30 kids around the shop. They were surprisingly polite and well-behaved. Of course, we had 8 adults with them and had talked to them about being a Christian witness by how we behaved, but we were proud of them. The owner commented to us that it was the best organized group that he had seen, that he had had families with three children that caused more disruption. We interacted with several families that were in the shop when we arrived, and though they joked with us about having to keep up with so many kids, they seemed very appreciative that the adults seemed to care about the behavior of the children.
| | |
| --- | --- |
| | Olivia Morris and Nala Anderson with their ice cream choices. This is on the porch of the upstairs ice cream parlor, in view of the ocean. |
Index
2006