Knees In the Sand
Children's Camp, First Baptist Mableton, at St. George Island, Florida
Wednesday, August 2, 2006
| | |
| --- | --- |
| Note his huge right claw and the tiny left one. | If you get up early in the morning, you may encounter creatures that have been up all night, like this fiddler crab. It has crawled all the way from the bay to the location of the boys at the bottom of the stair. |
| | |
| --- | --- |
| The flowers seem fresher and more colorful early in the morning. We have been studying about prayer as "asking God" and "thanking God". So I thank God for the flowers, and even the fiddler crab. And I ask for safety and a good experience for the children. | |
After breakfast and morning Bible Study, the morning recreation was divided between volleyball and kayaking.
Cabins 2,4 and 6 were assigned first to volleyball. Chael Brooks serves for Rod's Cabin 6 while teammates Michael Haire and Tanner Rowan look on. A high ball to Russ at left with his Cabin 4 team. At right, Timothy Aldridge serves for Cabin 6. Russ is up high on defense for his team, but Cabin 6 prevailed. Olivia Morris serves for the girl's Cabin 2 team against Cabin 6.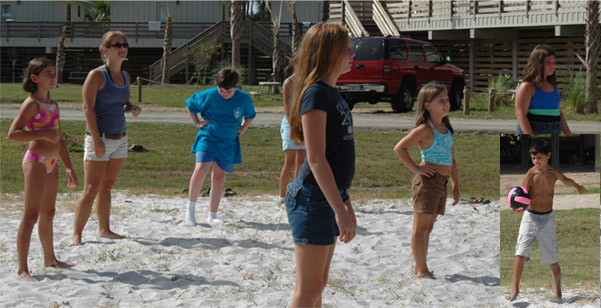 The Cabin 2 team ready to receive the serve from Cabin 6.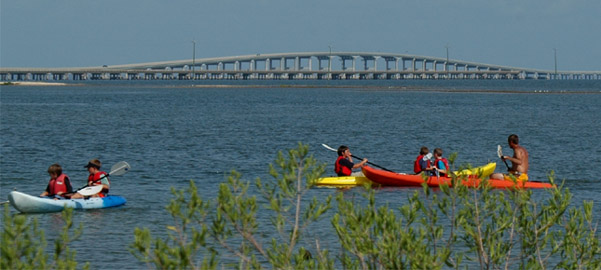 The other morning recreation activity was kayaking for Cabins 3,5 and 7. We rented kayaks for use on the shallow bay. It was hardly waist deep anywhere in this shallow area. The bottom is covered with oysters, and there are almost always oyster fishermen in the area.
| | |
| --- | --- |
| | The other cabins got to kayak in the afternoon, and I found it very enjoyable. |
These guys were happy to be back in the surf, riding the breakers. This was a relaxed time for playing in the waves for two good buddies like Madeline and Taylor.
Don't these guys know they are about to be wiped out by a monstrous wave?

Steven Hawkins and Stephen Jones show us something about the exhiliration of free play. To me there is in that an element of praise for the Creator who made it all. Russ is back into throwing away kids. Here he tosses Daniel and Mason.
| | |
| --- | --- |
| Besides being thrown away, kids start disappearing under the sand. Marissa covers up Haley. | |
They buried Mason, but he managed to dig himself out. Kind of scary - nobody wanted to be hugged by sandboy. Finally they ran him into the surf to rinse off.





Michael, Connor and Jaclyn taking on breakers. It was a relaxing afternoon on the beach, and after ice cream we headed back to camp.
Index
2006