Knees In the Sand
Children's Camp, First Baptist Mableton, at St. George Island, Florida
Thursday, August 3, 2006
| | |
| --- | --- |
| | After breakfast, we loaded up and drove to Wakulla Springs for swimming and a picnic there. |
| | |
| --- | --- |
| | We were told that the water in the springs is from 68 to 72°F all year long. Fed from deep underground, the water is crystal clear. We didn't have to be told that it was cold. Some took their time wading in, but I liked Chael Brooks' method - he just jumped in from the 15-foot platform. That way you can't change your mind. |
| | |
| --- | --- |
| Chael again launches off the high platform. It looks even higher from there because you can see through the clear water all the way to the bottom. Big splash, but Chael survives another jump! | |
There goes Tanner Rowan off the great height! Michael Haire watches from the water below.

This interesting 2 foot garfish hung around in the water while we were jumping.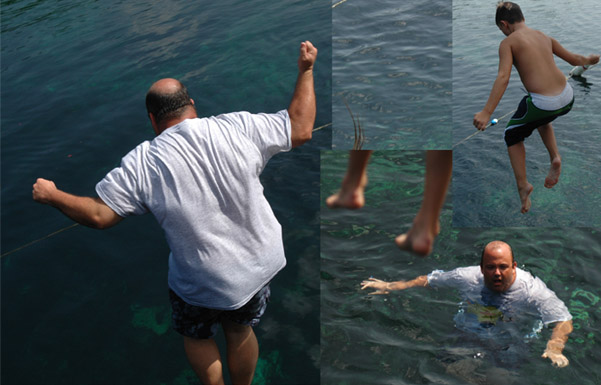 Russ jumps with a satisfyingly big splash, and then stays clear of the feet of Ricky Powell who jumped right after him. Here come the girls, launching out into space off the high platform. Of course they looked much more graceful than us guys. Jaclyn Ashworth on left and Olivia Morris on right.

We had a picnic lunch on the grounds of the Wakulla Springs Park.

Out of some peculiar skills demonstrated at lunch, there arose a burping contest, with James Herring representing the boys and Haley Trace representing the girls. With a divided decision from the judges, James was declared the champion burper. But this decision will remain controversial. However, everyone agreed that the two contestants had developed their dubious art to a remarkable degree.
We had a little more time to swim and play on the dock before heading back to camp.
| | |
| --- | --- |
| | Olivia demonstrates a nice gymnastic jump from the dock. |
Index
2006