Thanksgiving Day
November 23, 2006
We very much enjoyed the relaxed family gathering on Thanksgiving day. It is always something we look forward to, and perhaps we gave thanks particularly this year for the absence of major crises since Thanksgiving 05 was overshadowed by Katrina and its aftermath.
We got everyone together for a family photo since the camera needed to be put away for more important things like eating. The above gets our whole immediate family, including Rod who is usually behind the camera, but I like the one below better because it includes Brittany and Caroline who are much prettier.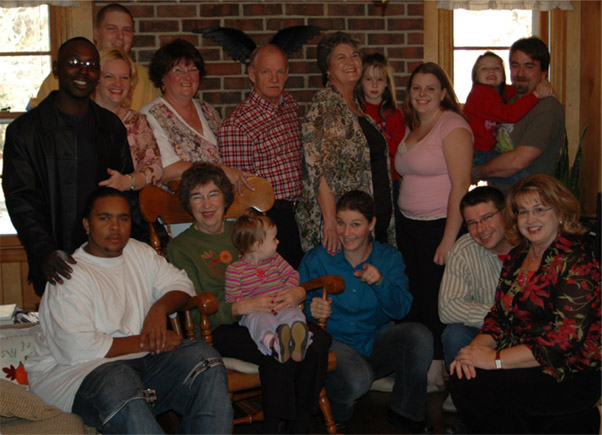 In back L-R are Darnell and Stacy with Matthew behind Stacy, Denise and Roger, Sherry, Ashleigh,Brittany ,Jordan and Mark. In front are Darnell and Stacy's friend Chance, Brenda with Elyse, Darla, Jeff, and Sherry's friend Caroline Gill.
| | |
| --- | --- |
| | Jordan and Ashleigh started the day having breakfast with Uncle Mark. |
Then the girls were in a "princess" mood, so Grandma helped them get out the princess outfits and dress up. But then Elyse didn't want to be left out of this process, so Brenda had to find something for her to put on. It certainly didn't fit her, but she didn't seem to mind - she just wanted to be involved.

By this time the ladies had collected all kinds of wonderful dishes, so the cameras were abandoned for the Thanksgiving meal.
Jordan and Ashleigh latch onto Uncle Mark to eat with them, and Elyse latches onto Mom for a time of comfort during all this activity.
| | |
| --- | --- |
| | Ashleigh hams it up in response to a beautiful array of desserts. This tier of three wonderful pies was brought by Denise, and Sherry brought the delicious pumpkin cheesecake. They were all appreciated. |
| | |
| --- | --- |
| Ashleigh and Jordan look forward to face painting by Aunt Sherry. Mark below with his two nieces painted as cats. | |
| | |
| --- | --- |
| Mark and Elyse by our Thanksgiving tree in the dining room. Elyse enjoyed all the activity. | |
| | |
| --- | --- |
| | Little Elyse was fascinated by the Karaoke performances of Stacy, Brittany, Matthew, Denise and Roger - the whole bunch of them have gotten really good at it. |
Index
2006