Christmas Day 2008
| | |
| --- | --- |
| | We waited until after 8 to join Jeff and family at their house to give them a chance to have Santa and read their Christmas story. Jeff and Darla had been up late preparing for Santa. We took our gifts and enjoyed a time with the girls. |
| | |
| --- | --- |
| Elyse is excited about her "Bitty Baby" and its chair and table. | |
| | |
| --- | --- |
| | Elyse was just super cute with her baby and the tiny bear that came with it, like her own bear. |
| | |
| --- | --- |
| Jordan and Ashleigh seemed to find a lot of joy in opening their presents, but not more than our joy at being there with them for the process. | |
Jordan likes the fancy girl things, but also celebrated a tool kit she had asked for.

A lover of reading, Ashleigh takes a moment to savor a gift book. Jordan celebrates a gift from her stocking.
| | |
| --- | --- |
| | Elyse receives some warm fuzzy gloves and hat and gives us some priceless moments. Jordan enjoys the process with us and celebrates her doll and accessories. |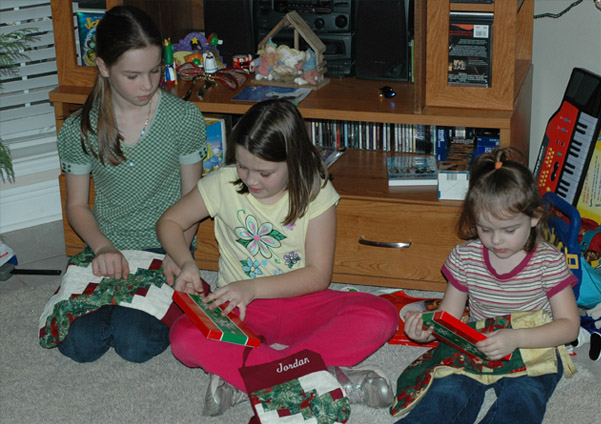 | | |
| --- | --- |
| | Part of the Christmas tradition is the giving of stockings. The girls each got a DVD movie in their stockings, and they were happy about that. |
| | |
| --- | --- |
| Grandma and Granddad also get stockings, and the girls watch intently as Brenda opens her stocking. | |
Granddad also got a movie in his stocking, and the girls are interested in seeing what he got.

After Ashleigh watches the opening of the stockings, she zips outside to try out her new RipStik. We were amazed at how well she could balance on it.
Index
2008