Athabasca Falls
July 27, 2009
Traveling northward from Sunwapta Falls, we were following the Athabasca River on our left, a strong glacial river that flows northward toward the Arctic Sea. If that weren't strange enough, it takes a sudden left hook turn and the entire river pours over the Athabasca Falls. You can see a car on Hwy 93 in the background to give some size perspective.
| | |
| --- | --- |
| | From our first viewpoint beside the river, we could see the approach of the road and the river at the base of the mountain. We could see the sharp turn of the river and the drop over the ledge. |
As we moved on around to the side of falls themselves, we could get the full view and dramatic roar of the Athabasca Falls.
| | |
| --- | --- |
| | It's always interesting to me to see what happens after the falls. Here is the incredible turbulence and violence of the water as it storms down the narrow rock gorge. |
| | |
| --- | --- |
| The sound of the churning water was dramatic as it rushed through the narrow passage. | |
| | |
| --- | --- |
| | With the sun behind me, I was seeing my shadow and was tracking the locations at which I should be able to see a rainbow. When I got to a position where I expected it, Elyse and Ashleigh were already there. |
Darla went down into the heavy spray, and then Jeff with the girls. They were telling me that the rainbow was there, but you had to walk down into the heavy mist from the falls to see it.

The mist was incredible. You could just see a continuous cloud of water droplets in the air.
| | |
| --- | --- |
| Plunging into the mist, I had to shoot quick before the lens got covered with spray. But it was certainly worth it to get a picture of the rainbow in the mist of Athabasca Falls. | |
| | |
| --- | --- |
| | The Athabasca Falls certainly put a lot of vapor in the air, so it produced a nice rainbow. These shots are enhanced by the fact that I had a polarizer on the lens and rotated it to get the most intense colors. |
| | |
| --- | --- |
| After the river storms its way through the gorge, it suddenly emerges into the open and spreads into a wide river flowing northward. | |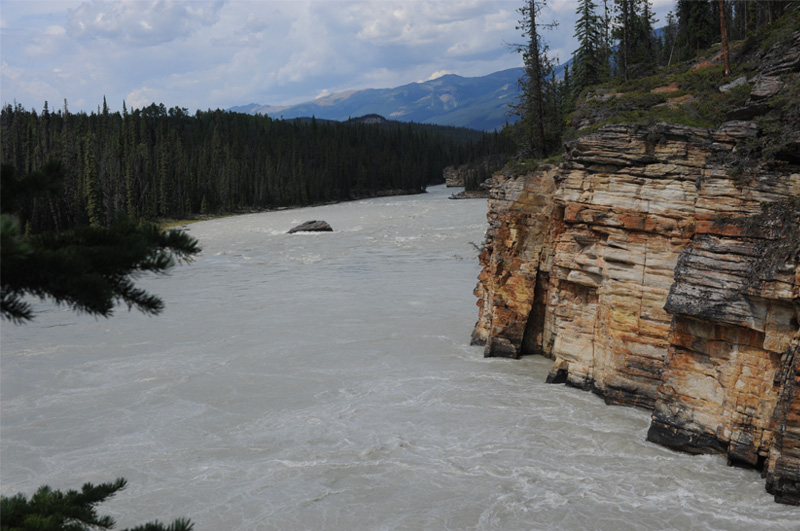 | | |
| --- | --- |
| | We followed the footpath down to the rocky bend of the river as it turned upon exit from the gorge. The girls all enjoyed playing on the big rocks there. |
Jordan really got into jumping around on the rocks.

Jeff tried his hand at juggling some of the rocks, and was pretty successful.

As you can see below, this rocky playground was very close to the place where the Athabasca River came boiling out of the rocky gorge and reestablished its flow toward the north.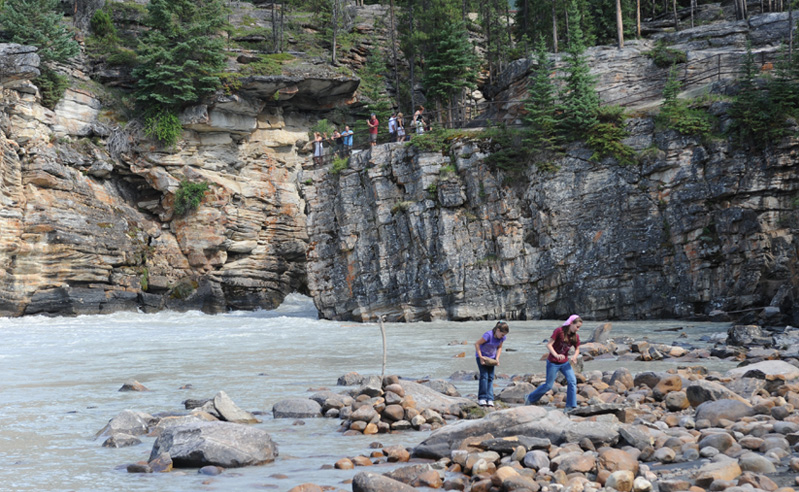 | | |
| --- | --- |
| | Mark and the girls explored the bank of the river on the side opposite the outlet from the falls. Elyse was quite proud of herself for getting on a big rock by the river. |
| | |
| --- | --- |
| Jordan and Elyse on the river opposite the place where the water from the Athabasca Falls emerges. | |
| | |
| --- | --- |
| | We had cautioned the girls about the danger of the river and about the slippery rocks. This was one time when Jordan took it to heart and was very careful to make sure that Elyse was safe. For all the times when sibling rivalry is bound to happen, this was one time when Jordan was extraordinarily caring with her younger sister. |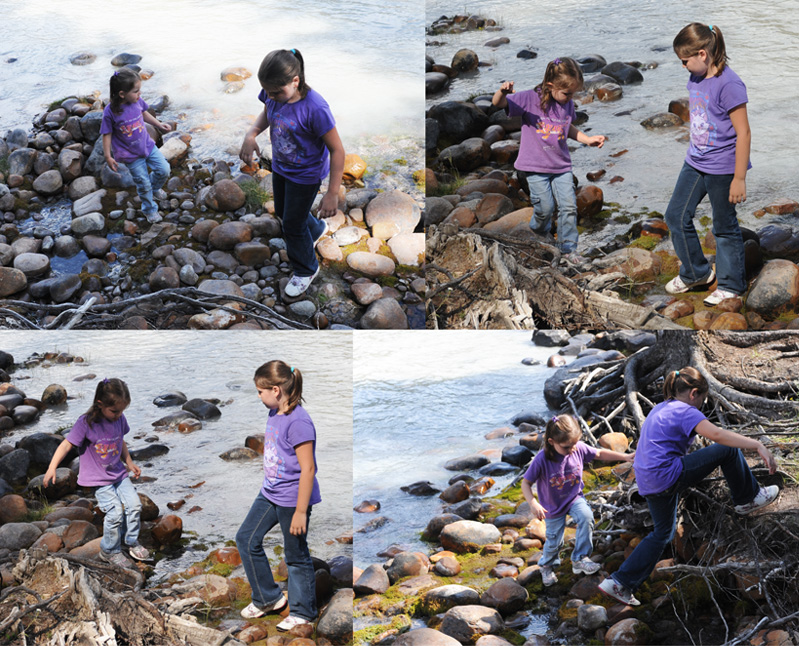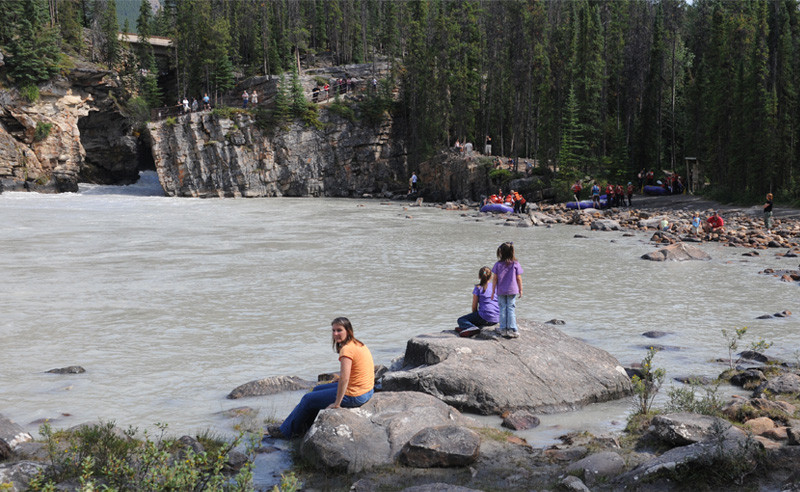 | | |
| --- | --- |
| | We felt quite fortunate to be there when a group of rafters came to the river below the falls and launched into the river. It was interesting to see them navigate around a big rock that was in the middle of the river a short distance down. |
| | |
| --- | --- |
| | Ashley and Jordan found a rock that gave them a great view of the rafts coming down the river. |
| | |
| --- | --- |
| Actually, we all had very good locations for the viewing of the start of the rafting adventure. That included the folks on the observation trails for the Athabasca Falls up on the rock ledges. Visiting this area below the falls was an unexpected blessing - we didn't even know it was here. | |
| | |
| --- | --- |
| | We drove on to Jasper and had our final adventure for the day - a blinding rainstorm that hit us as we approached our accommodations. It was amazing - we wound up soaked, but feeling very blessed from the experiences of the day. |
Index
2009