Lac Beauvert
July 28, 2009
We picked up sandwiches in Jasper for our supper and headed to Lac Beauvert, which is only a short distance from Jasper across the Athabasca River. Mark had taken us to this lake briefly before after he had explored it one evening.
| | |
| --- | --- |
| We were privileged to see both mule deer and elk on our way to our supper spot. | |

We saw the deer when they crossed the road as we were heading northward into Jasper. The elk were in a triangle of grass at the spot where the extension of the Jasper main street intersected Hwy 16 NE of town. With the number of tourists in Jasper at this time of year, the elk could be assured of a lot of attention, but they pretty well ignored us.
| | |
| --- | --- |
| | These are the forest-skirted mountains as seen from the point where we saw the elk. |
| | |
| --- | --- |
| We traveled just a few hundred yards on Hwy 16 south and then crossed the Athabasca River on this small bridge to get to the lake. | |
| | |
| --- | --- |
| | Our supper spot was the end of the road at the south end of Lac Beauvert, almost opposite the large club that was on the opposite side. |
| | |
| --- | --- |
| The lakeshore was a quiet and peaceful place after a busy day of exploring. | |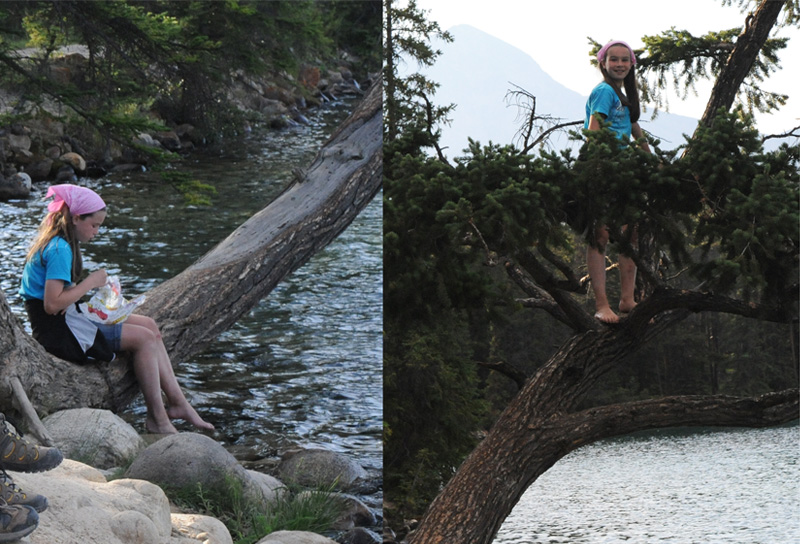 Ashleigh ate her supper on the trunk of a tree that grew out over the water, and then proceeded to climb the tree.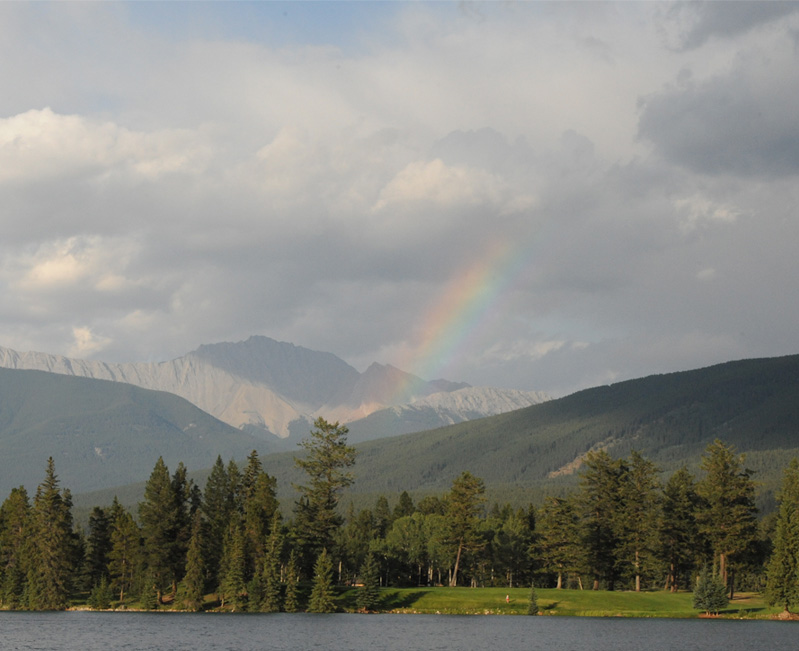 We were treated to the signt of a rainbow over the distant mountains to the northeast where we had been watching the clouds building.

It was interesting that because of the light color of the mountains, you could clearly see that the rainbow was between us and the mountain. You can see the colors, particularly the red, extending across the mountain.
| | |
| --- | --- |
| The low bright sun that was shining on the rainshower to produce the rainbow was also shining directly on the girls as they explore the rocks along the lake shore. | |
Lac Beauvert was a beautiful place for the girls to play around. They didn't go out in the water very far because it was ice cold!
Index
2009