Trail Alongside Moraine Lake
July 23, 2009
| | |
| --- | --- |
| From the moraine end of the lake, we walked back by the lodge on the way to the trail beside the lake. The main attraction there was the cute squirrels. | |
We headed down the trail that follows the side of Moraine Lake.
| | |
| --- | --- |
| | The trail stayed close to the shore, and although the canoes looked inviting, the trail was for us. |
| | |
| --- | --- |
| Ashleigh and Jordan, in particular, were exited about running ahead on the trail and exploring. It was fully understandable, so the adults sort of looked on amused as they ran up the trail. | |
Ashleigh and Jordan found a fascinating multi-cascade creek running down the mountain and were excited about following it upstream.

Elyse was also very much interested in playing in the creek. It was cold, clear water running over moss and rocks.
Jeff and Darla got interested with the girls, so they followed the creek a considerable distance up the mountainside. I caught them as they were coming back down together.
Brenda had passed us and was up ahead lying on a bench, but we didn't know that, so were set up for the story below.

When I came down from the creek, I saw Brenda lying on a bench with her hat over her face, as she often does, so I snapped two or three pictures of her with the blue water behind her. But then I realized, "That's not Brenda!" so I erased the shots. Then Darla and the girls came down the hill and the girls ran up to the lady calling "Grandma!" excitedly, and were embarrassed when the lady raised up and it wasn't Grandma! She was very good natured and amused by it, and then I had to admit to them that I had made the same mistake.
| | |
| --- | --- |
| | I had gotten Jeff and Darla to stand still for a picture above, but with the girls it was not so easy. They were very polite when we met people on the trail as shown at left, but when they trail was clear, they were off and running to find the next stream or other point of interest. |
My first thought upon seeing these two pictures of Ashleigh was that we needed just a feather to put in her hair and she would look like an Indian princess.

But it was a brief tranquil moment, and then they were off again!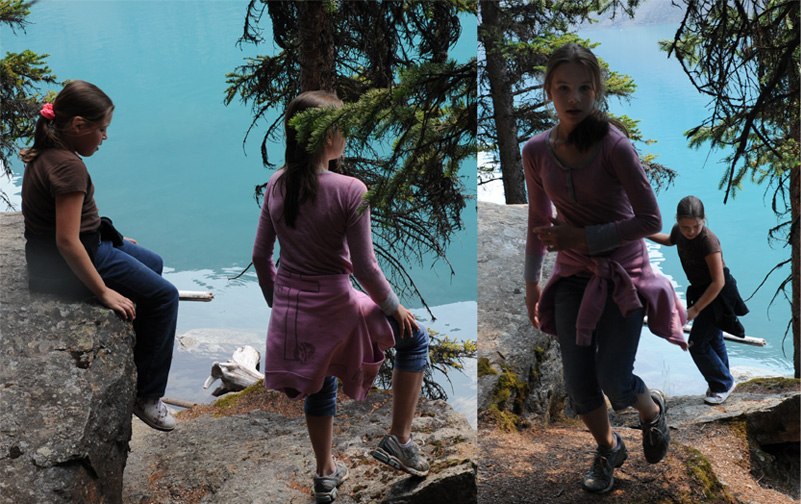 Elyse gets to spend some time with Uncle Mark, and he shows her how to take a picture with his camera.
Index
2009