Sunwapta Falls
July 27, 2009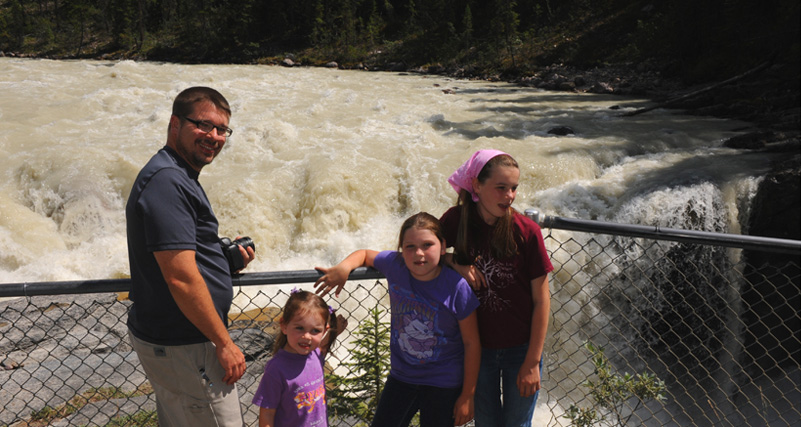 Driving north from the Athabasca Glacier, we ate lunch at Bubbling Springs and then found Sunwapta Falls. Sunwapta means "turbulent river" in the Stoney Indian language, and it was certainly true here. The river has its origin from the Athabasca Glacier, which we had just visited.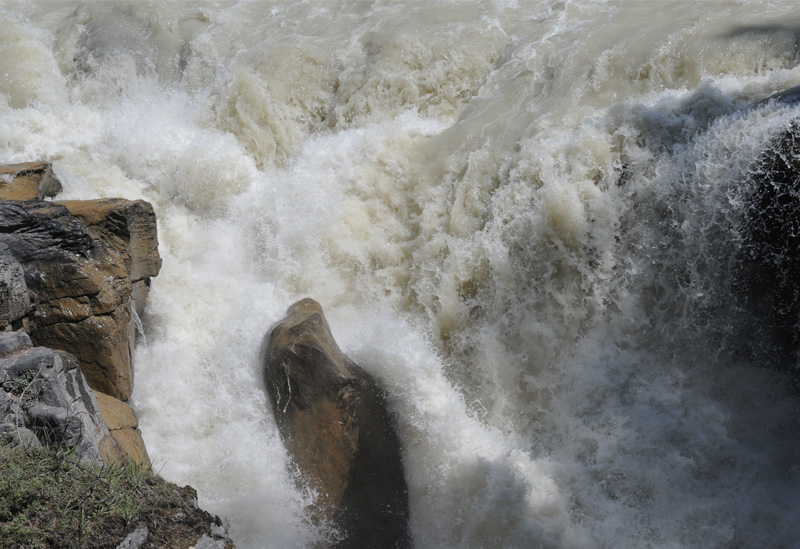 Yes, I think you would say this is turbulent, living up to its name Sunwapta.
| | |
| --- | --- |
| | This is the left branch of the river approaching the falls. Two comparable rivers converge at the falls. |
The thought that about twice this amount of water is about to go over one waterfall gives you some impression of the power of this waterfall.
The views above show the right branch of the Sunwapta River plunging over the falls. The two branches come together and both feed the dramatic falls. Note just the hint of a rainbow below the falls. The right image above shows a little more of the mountain setting of the falls.
These views show the downstream flow from the falls through the narrow rock-walled gorge. We continually had difficulty with the fact that here, "downstream" meant north - rivers flowing northward just seemed wrong!
This was a relaxing visit and Jeff and Elyse and the rest of us just hung out in the parking area for a bit before we hit the road again.
| | |
| --- | --- |
| | We are back on the road again through the mountains. We enountered a few mountain goats. They looked strange because they had shed most of their winter coats, but had fringes hanging on. |
There were lots of majestic vistas along this wide-open highway.The Sunwapta Falls are about the halfway point between the Columbia Icefield and Jasper.
| | |
| --- | --- |
| | We proceeded northward from Sunwapta Falls and stopped off at an overlook with a great view of the Athabasca River. |
| | |
| --- | --- |
| These times of stopping at overlooks gave us all time to walk around, and Elyse enjoyed playing with her stuffed bear. And it gave Grandma Brenda time to play with Elyse. It was just as well that this was the only bear we saw on this outing. | |
| | |
| --- | --- |
| | Further north the Athabasca was getting wider and stronger, and then it took a sharp left turn to the Athabasca Falls. |