The Road to Mt. Edith Cavell
July 26, 2009
After breakfast we headed up the road to Mt. Edith Cavell. We stopped at a turnout on the road for one of the spectacular mountain views and took this picture.
| | |
| --- | --- |
| A little earlier along this road is one of my all-time favorite streams, shown at left. It rushes down a steep slope over large round boulders - nearly the perfect mountain stream! | |
| | |
| --- | --- |
| | Even though the Mt. Edith Cavell road is narrow, rough and twisting, it gives great views of the unspoiled forest. Soon we saw the high peaks with their glaciers. The diagonal strata with patterns of snow and glacier identify this peak as Mt. Edith Cavell. |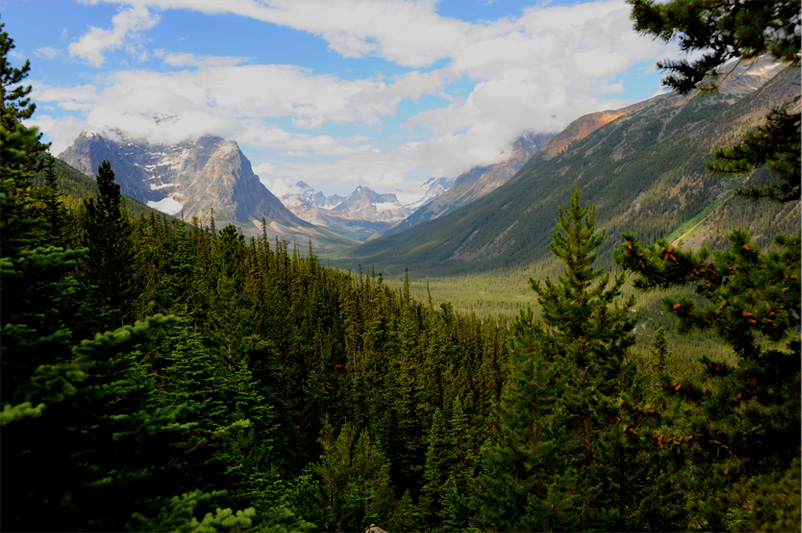 | | |
| --- | --- |
| | Then we reached the views of this idyllic mountain valley and spent several minutes there in awe. This is where the family picture above was taken. In the bottom of the valley was a blue river, shown at left. |
| | |
| --- | --- |
| We drove on up the rough crooked road and began to get views of the glaciers hanging on the side of Mt. Edith Cavell. | |
| | |
| --- | --- |
| | Ot was surprising to see these glaciers just hangind on the steep rock wall. You can get just a hint of blue in the one on the right. |
Seeing this kind of ice and snow and steep rock walls is a big deal for a southern boy. We don't see this kind of thing very often.
Index
2009