Going-to-the-Sun Road
July 22, 2009
| | |
| --- | --- |
| Driving north from Missoula, we reached the shore of McDonald Lake at Apgar about 10:45am. This is the beginning of the Going-to-the-Sun Road. Everyone was ready for horseplay on the shore. | |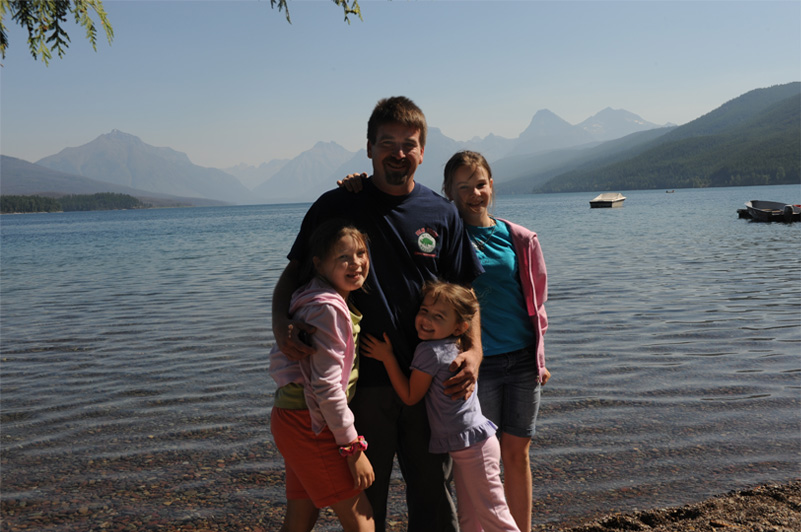 | | |
| --- | --- |
| The lake was beautiful, but the Apgar area was crowded with people and vehicles, so we soon opted for the wooded road along McDonald Creek. | |
| | |
| --- | --- |
| | Ah! It's much more peaceful out here, driving along the shore of McDonald Lake! |
| | |
| --- | --- |
| The girls want to wade, and Elyse is trying to persuade Uncle Mark to wade with them. | |
| | |
| --- | --- |
| | Jeff has jumped in earlier to test the water, and now the girls are wading out toward him. |
| | |
| --- | --- |
| They didn't stay long in this cold mountain-fed Lake McDonald, but it was exhilirating to be able to get out of the car and explore a bit. | |
| | |
| --- | --- |
| | Ashleigh found a tiny waterfall cascading down the opposite side of the road. It was true wilderness, looking like no human hand had ever touched it. |
As we continued upstream on McDonald Creek, the water got swifter and rougher. The rapids and low waterfal here were very beautiful.

We stopped and explored the overlooks on another set of falls a bit further along, as shown below.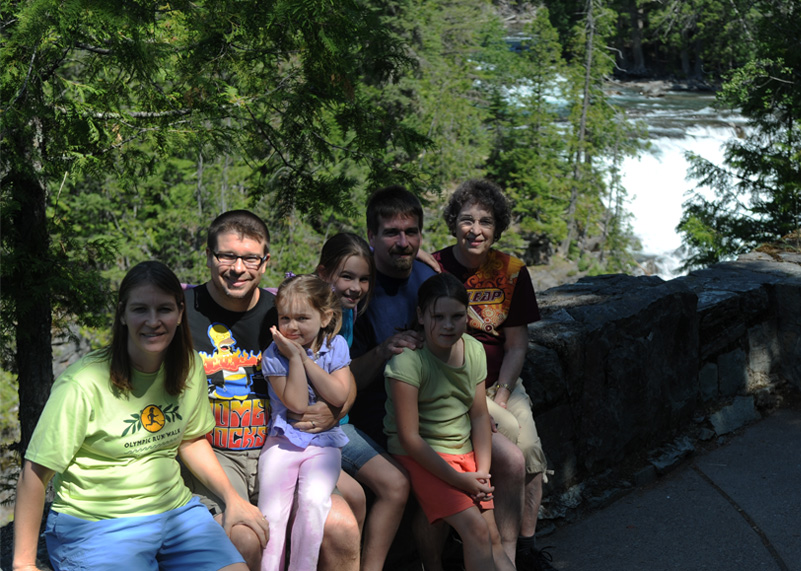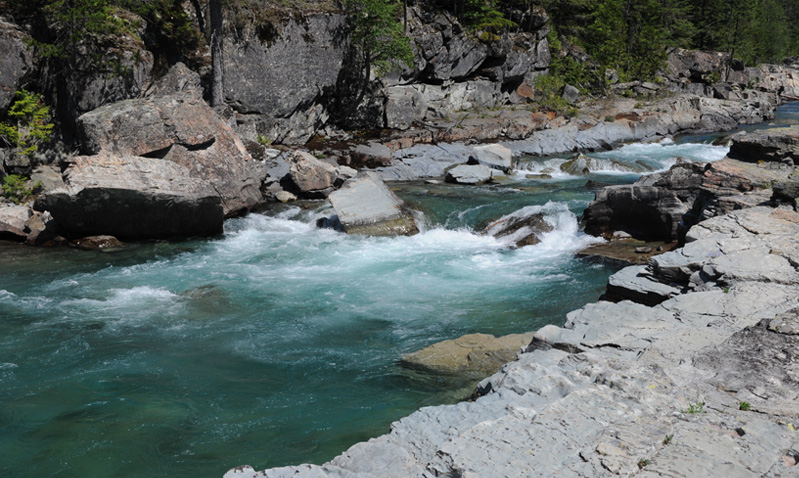 The ruggedness of the rocky terrain and the clarity and color of the water made the rapids very beautiful.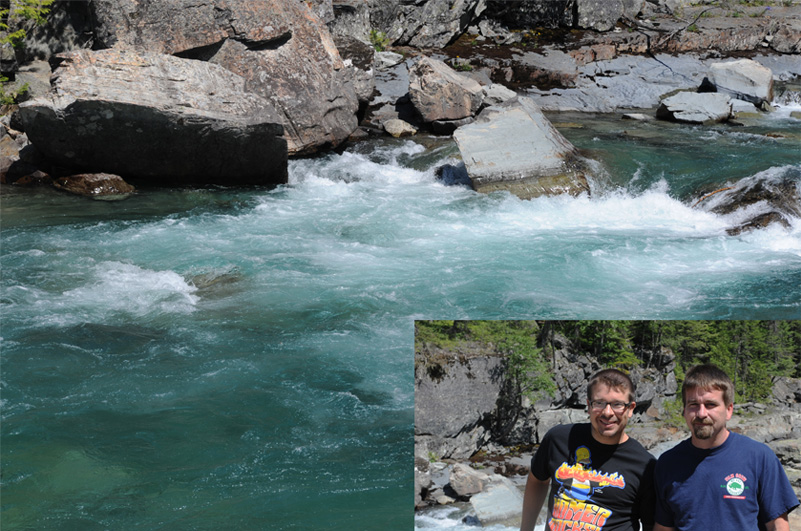 It was great to just hang out in the presence of these spectacular rapids. The sound was soothing, and the air was clean and refreshing.
The stream begain to calm down and widen out, so we found a place in a little picnic area for lunch beside the McDonald Creek.
| | |
| --- | --- |
| | After lunch beside McDonald Creek, which is a shallow rocky stream at this point, Jeff and Darla and the girls played in the stream for a while. |
| | |
| --- | --- |
| | We heard a few yelps when the girls stepped into the water because it was so cold, but they soon adjusted and played for quite a while. The rocks are multi-colored and the water is very clear as you can see below. Later we saw some of the colored mountains that produced them. |
| | |
| --- | --- |
| This was a hard place to leave because the girls were having such a good time. We had pushed the schedule this morning from Missoula just to preserve time for activities like this for them. | |
We continued on a relatively flat route alongside McDonald Creek for a time before starting the climb toward the part of the road that is cut into the side of the mountain.
Index
2009