Jeff and Family Arrive
November 16-17, 2012
| | |
| --- | --- |
| | The leaves had changed colors and the back yard was covered. This heightened our anticipation of the arrival of Jeff and family for their Thanksgiving visit. They arrived late Friday night, Nov 16. |
| | |
| --- | --- |
| | Jordan and Elyse were out after breakfast, raking trails in the leaves in the back yard. Elyse had told a friend that her grandparents did not rake their leaves before they came for Thanksgiving, and she was saying that as a good thing. They have enjoyed playing in the heavy leaffall in our back yard. They really had a great time in the leaves in 2010 |
| | |
| --- | --- |
| Marty arrives with a fancy cake and quickly draws a crowd of girls. | |
| | |
| --- | --- |
| | Jordan and Ashleigh hamming it up with the cake. |
| | |
| --- | --- |
| After lunch the girls wanted to go to Sweetwater Park so Rod took off with them to the trail along Sweetwater. They all scrambled up this popular rock near the beginning of the trail to the old Factory. | |
| | |
| --- | --- |
| | They tore off down the Sweetwater trail to the first place where they could climb out on the "factory shoals", the rock ridges which make up the bottom of the Sweetwater Creek along this stretch close to ruins of the old Civil War era Manchester Mill. |
| | |
| --- | --- |
| | They continued "rock hopping" down the creek toward the Factory. |
In some places it took rather adventurous leaps to clear the water channels, as Jordan demonstrates below.

In other places, the water streams were deep and under rock ledges, so that you had lots of rock to walk upon out in the middle of the creek bed.
| | |
| --- | --- |
| | Jordan and Ashleigh reached the old Factory from the water side by walking on the rocks of the shoals. |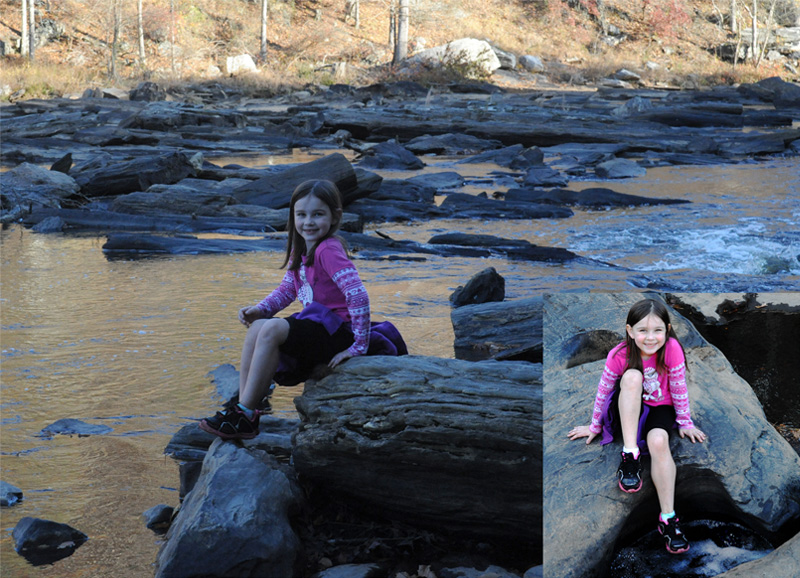 The low sun and the red trees gave red reflections on the smooth areas of the water around the rapids.

Ashleigh and Jordan go bounding along the rocks by the rapids.
The left photo of Jordan above is out on the little island in the middle of Sweetwater Creek. The mid-air shot of Elyse is on the way back in to shore near the Factory.
| | |
| --- | --- |
| After a bit of roughhousing and clowning around on the shore, I did manage to catch this nice trio. | |
| | |
| --- | --- |
| | As we approached the trailhead on our way back, the water was calm and mirror-like. But the process of truing to get a picture of this trio was anything but calm! But it's ok with me if every photo is preceded by a wrestling match. |
| | |
| --- | --- |
| Here is a trio photo during one of the lulls in the horseplay. And there are no apparent bruises. | |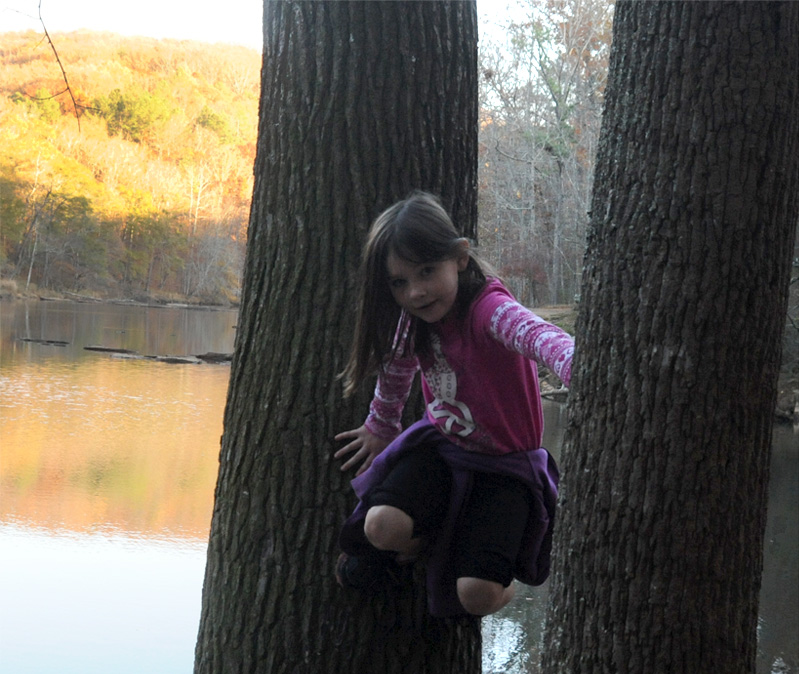 | | |
| --- | --- |
| As we neared the end of our journey for the afternoon, things settled down to some relatively calm tree-climbing. We were blessed to be able to be out in God's creation on such a beautiful afternoon. | |
Index
2012