Off to Pearl River for Christmas
December 21-26, 2012
We made the trip to Pearl River on Friday, December 21 and settled in to our accommodations at Abita Springs. On Saturday the 22nd we shared with the girls some early gifts from us and Aunt Sherry, mainly accessories for their bear collection.

Here Ashleigh, Jordan and Elyse are clowning around with the gifts and the wrapping material.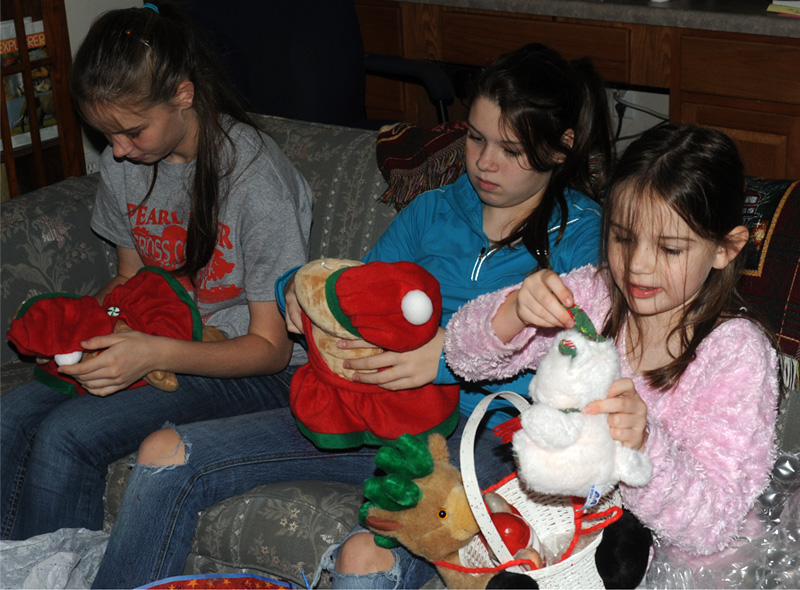 | | |
| --- | --- |
| | The girls are very busy here with Christmas wardrobes for the bears and others. It definitely feels like Christmas! |
| | |
| --- | --- |
| In the afternoon, the girls made decorated Christmas cookies, one of the family's Christmas traditions. | |
| | |
| --- | --- |
| | Friend Madison from up the street joins Ashleigh and Elyse in the cookie decoration process. |
December 23, 2012
Elyse went with us to spend the night in Abita Springs, and we enjoyed a night of watching movies and playing games.

Elyse likes to join Granddad Rod when he shaves in the morning, and pretends to shave. I think she just likes to play with the shave cream.
| | |
| --- | --- |
| When we returned to Pearl River in the afternoon, Jordan and Ashleigh wanted to explore the bayou north of Pearl River. Ashleigh was inclined to take pictures and Jordan was inclined to pose, so we enjoyed the time setting up some shots. | |
| | |
| --- | --- |
| | Jordan hangs out over the bayou and we resist the temptation to tickle her. |
Index
2012