Jeff and Family Arrive for Thanksgiving
November 23-25, 2013
| | |
| --- | --- |
| When the thick carpet of leaves forms in the back yard, it tells us that it is about time for the visit of Jeff and family. This time they came on Saturday, Nov 23, since the girls had school on Friday. Arriving about 7:30pm and Elyse, Jordan and Ashleigh are in the kitchen for a snack. | |
November 24
This was a special day at church with the ordination of Chris Barbee, our Minister to Youth.
| | |
| --- | --- |
| | The laying on of hands and prayer by the ordained men of the church. In front of Chris is his father, Don Barbee and behind him his father-in-law Tony Mode. Standing to right of Tony are Ryan Williams, Keith Weaver, Max Hardie, David Golden, Chris Ebert, Waymon Story, Jon Rowland, Chris Ayers, Alex Daniell. Kneeling is Buck Altshul. |
| | |
| --- | --- |
| Pastor Stephen Byrd presents the certificate of ordination to Chris and Amy. | |
| | |
| --- | --- |
| | We were proud to have Jeff and family at church with us. |

In the afternoon, Jordan and Elyse experimented with taking video clips with their phone and patching them together for a continuous video.
On Sunday evening, we went to Thanksgiving Around the Table at church.
November 25
Jordan, Elyse and Ashleigh in front of the Bradford pear tree in the front yard.

Most of our leaves had fallen already, witness the 6" of leaves in the back yard, but this pear tree was still in full color and provided a good backdrop.

Of course you had to have a bit of clowning around, as shown below.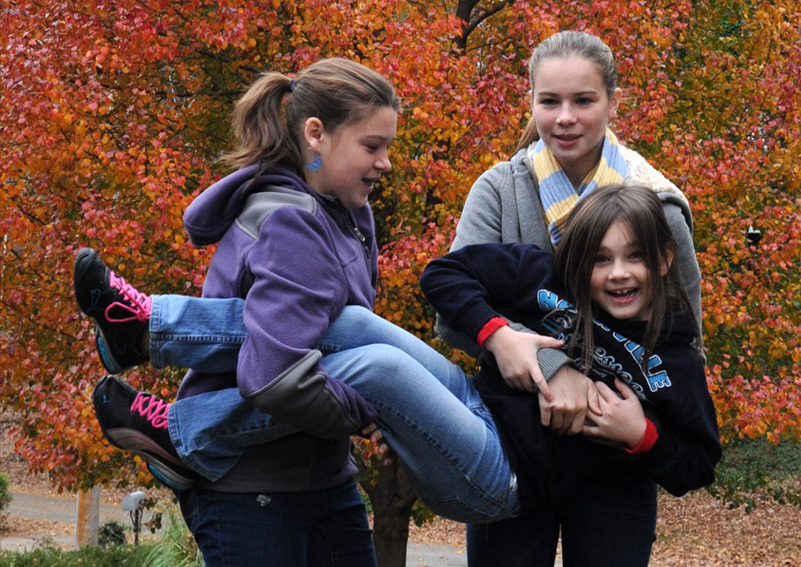 Index
2013