Summer Activities
2014
Stranded on the feeder

July 20. A day or so ago I saw a much larger bird hopping along behind a smaller, sparrow-looking bird and thought it strange. Things started coming together when I saw a very small bird getting suet to feed this much larger bird. Repeatedly it fed the big one. I didn't get to the camera fast enough to record it, but apparently the little bird had enough of this feeding routine and had left. I'm presuming that this is a cowbird chick that the small bird has raised to this size. He hung around on the suet feeder for quite a while, hoping his benefactor would return. Other birds were coming and going while he sat there.
This elegant hawk flew into the back yard while Mark was visiting on August 10. The yellow pattern and black tip on the beak resembles the picture we have of a marsh hawk in the Audubon book. From the Birds of Georgia book the nearest match is a Broadwinged Hawk. The other suggestion that Robin Ford made was that it is a juvenile sharp-shinned hawk. It was about a foot high.
| | |
| --- | --- |
| With the coming of August, the girls are back in school, Darla is teaching biology at Pearl River High School where Ashleigh and Jordan attend, and all are involved in soccer. Elyse poses on the benches that Jeff has just made for the soccer field. | |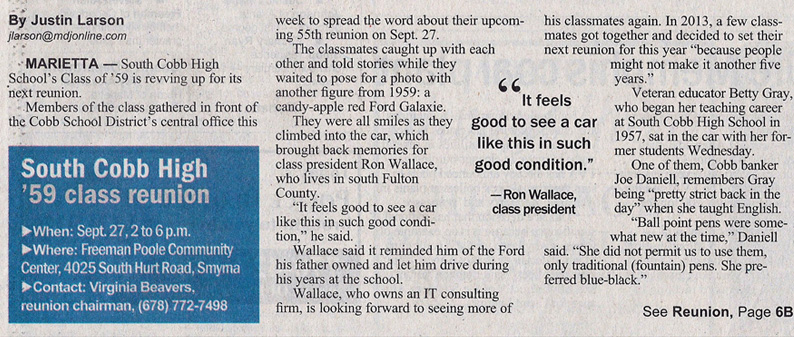 Brenda is on the planning committee for the South Cobb High School Class of 1959 reunion this fall. She and cousin Marie Ergle Lewis have spent a good bit of time with Virginia Beavers in the planning for the event. She gives Joe Daniell the credit for coming up with this idea to publicize the event and for making the connections to make it happen.

They got together on Wednesday, August 20 to stage this, with the enthusiastic support of Betty Gray. It was published in the Marietta Daily Journal on Friday, August 22.
Index
2014