Ashleigh's Mission Trip to New York and Ecuador
June 13 - July 21, 2016
On Monday, June 13 Ashleigh flew from New Orleans to New York City for training and ministry in preparation for their trip to Quito, Ecuador. As a part of their week they visited several places of worship including a mosque, a Hindu Temple and a Sikh Temple. Ashleigh's team consists of Allison, Ashleigh, Jaymie, Jenna, Rachel and Sara. On June 18 they wrote "Even though we have just begun, we have already grown in our walk with Christ and expanded our comfort zones. We have tried new foods, new evangelism tools, and experienced new cultures. Please keep us in your thoughts as we adapt to the culture we will be a part of and that we lean on God for all our strength and discernment." Our understanding is that they spent most if not all their time in Queens, which is reputed to be one of the most multi-cultural areas in the U.S.
This was on their first day in New York, in Queens with these two men whom they met on the street. This is the group that was picked up together at the airport. They spent the day together, exploring. At left is Rachael and third from left Ashleigh who were part of the same team to Ecuador. The girl 2nd from left and the guy in back were on girls and boys teams to Ecuador. The guy and girl at right (Andrew and Bethany) were going to India. The Indian man at right had only been in the country for six months or so - the red dying of his hair and beard was to indicate wisdom. It wasn't clear whether it was wisdom claimed or wisdom aspired to. The man in center was a longer-term resident, about 2 years, and spoke English well.
| | |
| --- | --- |
| | Ashleigh with her team on June 15. Jenna, Jaymie, Ashleigh, Allison, Sara, Rachael. Sara was the team leader, having participated in the program last year. |
| | |
| --- | --- |
| Rachael and Ashleigh with a woman they met at the mosque when they went there for the breaking of the fast of Ramadan. Note that they are barefoot by requirement. It was a big area with a screen to separate the men and women. There were sheets laid out with dates and water, with which they broke the fast of Ramadan. Then there was a time of prayer. | |
| | |
| --- | --- |
| | Ashleigh and the two girls teams with the other ladies of the Mosque. The boys team met with the men. The dates and water broke the fast, then they had their time of prayer. Ashleigh noted that they had arrived about 6:30 and it was now after 9:30. They were with the women in prayer, and the boys team got to go to the mosque where the men prayed. After the prayer time they had a full meal. |
Ashleigh said they did use some technology and had a screen showing the men at prayer which could be seen from where the women were praying. There was also an intercom over which the men did the call to prayer in the mosque. After the prayer time the men and women went to separate sides and had a meal of chicken and other foods.
Ashleigh commented that one of the women there wore the full burkah, and just lifted it up when she was there with the women.
The mosque used to be a church, and they were told about all the adjustments that had to be made to this church to make it into a mosque. It was interesting that the women did not have to wear head coverings there.
Ashleigh commented the the young woman in the center of the picture was very friendly and that she had talked with her. She was the sister-in-law of the Immami who led them around and was very articulate. Ashleigh said "I think that of all my experiences of the trip, this experience in New York was the most profound to me. Because during that trip I really felt like a call to the Middle East, to the women. So I think that is what I am going to be doing, to go to the Middle East, so I think I'm going to start learning Arabic."
They sat down with this young lady, who was a college student and very intelligent. They told her about their program and that they were going to other countries to study cultures. They were not allowed to say they were missionaries. They asked her a lot of questions about Islam and she said a prayer for them in Arabic. They shared with her that they were followers of Christ. She had a lot of questions and was very well versed in Islam. She had been taught how to refute arguments and asked them all the basic questions like how you can have a Trinity, what's the role of Mary, do you believe in Mohamed, do you believe in his divinity, where is God to you, etc., and could articulate her position. Ashleigh said "a lot of the girls left shaken because it was hard to see her passion for a lie. But we hope that our ability to answer those questions left her shaken too." "Overseas, they are taught that this is Christianity, it is evil, this is what they are going to try to tell you, and this is why it is wrong."
| | |
| --- | --- |
| This appears to be on the subway, so even there they got to meet folks of different nationalities | |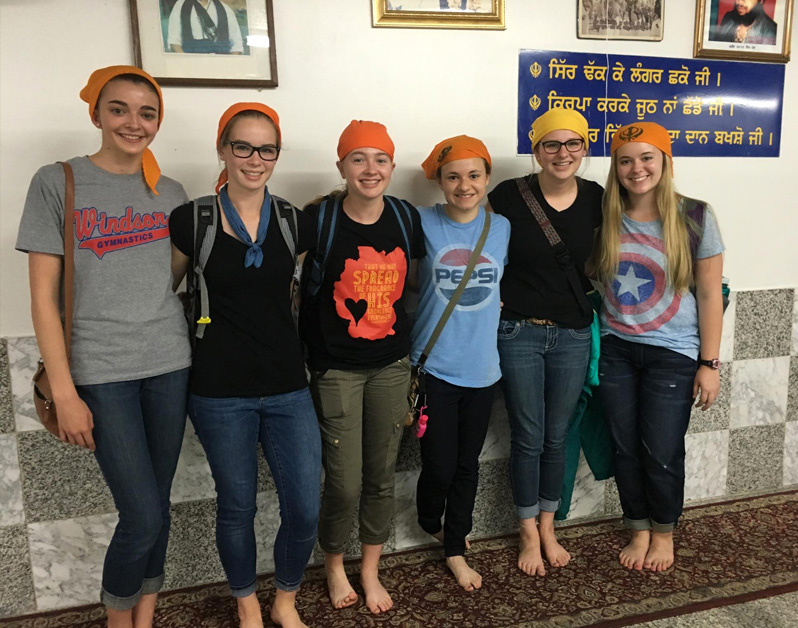 This is in the Sikh temple where they had to wear head coverings and take off their shoes. Jenna, Ashleigh, Jaymie, Rachael, Allison, Sara. June 16.
This is the combined group at the Sikh temple, June 18. Both the guys and the girls had to have head coverings, so the guys were given turbans. Everyone is barefoot. The lady in center was very casual and walked them around and explained things to them. She gave them some food that was like corn flour with brown sugar rolled into a ball. They were taken into a large kitchen where a bunch of ladies were cooking, and all twenty of them sat on a mat by the wall to observe.
| | |
| --- | --- |
| There are all kinds of indications of new experiences in New York, and some of them are culinary. | |
| | |
| --- | --- |
| | Jaymie, Allison, Rachael, Sara, Ashleigh and Jenna in the Ft. Lauderdale Airport on June 18, 5:20pm. Having finished their New York time, they were on their way to Quito, Ecuador and had a five hour layover in Ft. Lauderdale. |
This is a view of Quito, Ecuador, from the roof of the 8 story apartment building where they were housed with the family of the architect who had designed the building. They arrived in Quito about 3am and this photo is at 7:10am.
| | |
| --- | --- |
| This is a photo at church on Sunday morning after their 3am arrival. The lady in the center is a missionary from a church in Missouri who was there for a week. Sara, Ashleigh, Jenna and Rachael. June 19 | |
Another view of Quito from the roof of their apartment building on Monday, June 20 at about 10am. Ashleigh remembered Quito to be about 42 miles long and 5 miles across, so this gives a view of nearly the full width of the city.
| | |
| --- | --- |
| | Jaymie, Allison, Rachael and Ashleigh playing with the kids on the street. They had been warned about pickpockets, some of whom were children, so they emptied their pockets in the church before they went out on the street. June 22. |
| | |
| --- | --- |
| Ashleigh and Rachael on the street in Quito, June 23 | |
| | |
| --- | --- |
| | Ashleigh playing soccer with this boy and his sister. This was a family that Ashleigh got to know for two weeks. Mario Jose and Chris. Ashleigh was impressed with the Dad, who would come out every day and coach the boy in soccer. |
He would always spend time with his daughter to do exercises, etc. Ashleigh was impressed with his relationship with his daughter, who was very shy. It was an extraordinary example of fatherly care.
| | |
| --- | --- |
| In this Bible encounter on the grass, Ashleigh told the story of the talking donkey in Numbers, which they had never heard and found very interesting. The lady with her translated as added to the story.I understood the lady's name to be Maria Jose. June 23 | |
| | |
| --- | --- |
| | Ashleigh by large graffiti on a wall close to where they were staying. Graffiti is a major tradition in Quito. This was close to Pastor Patricio's house. |
| | |
| --- | --- |
| They did spend some time at the big Parque de Carolina. They started a soccer game with three friends who wanted to play against the Americans. | |
| | |
| --- | --- |
| | While playing, a man and his two sons came by and Ashleigh asked "Quieren jugar con nosotros?" The man replied, "Yes, we speak English." and joined the play. They were from California. |
| | |
| --- | --- |
| They got ice cream cones from Burger King and were very excited about it, but claimed that the ice cream was not nearly as good as they got at home. It was Ecuadoran ice cream. Ashleigh, Allison and Jaymie. | |
Sara, Jenna, Allison, Ashleigh, Rachael and Jaymie at Pastor Patricio's church. That was their second Sunday there. They had never seen a church like it. It was a little church that met outside under a shelter on folding chairs. July 3.
| | |
| --- | --- |
| | This is the bus station they used in the mornings. They used public transportation to reach their mission locations. They were usually standing up, squashed in the crowded buses. Ashleigh noted that at least it was cool there -- it would have been more unbearable if it was hot. |
"We walked to this bus station, which was La Coca, and took a bus to another bus station. There we took another bus to a bus stop which was within walking distance of where we would be working. So it took about an hour every morning to get to where we were going." I understood that their working locations were close to Pastor Patricio's church. She also said it took another 30 minutes to get from Pastor Patricio's to the Real Audiencia where they were going to work.
| | |
| --- | --- |
| This is in Real Audiencia where they worked for two weeks. One week they worked by themselves and then another with another group. July 6. | |
| | |
| --- | --- |
| | At night the architect, Julio, with whom they were staying took them downtown in Quito. She said that there was nobody out on the streets. It was freezing cold and they had the streets to themselves. All she could say about this location was that it was "one of the cathedrals" since there were so many of them. They were very beautiful.July 6. |
July 7
Another of their bus rides on Ecuadoran public transport, and they were back in Real Audiencia to work with the children.

These are well-constructed homes, so it is apparently one of the nicer parts of the Quito area.
This is all of Ashleigh's group plus a couple from the boys group as I understand it. The boy's team leader was Becker, at the left, who had done mission work in the Middle East, Egypt,Portugal and Mexico. They are gathered with the children of the neighborhood and their translators: one in mid front (Lise?), and on the left is Mailyn, who was one of my translators last summer.
Ashleigh told the story that Becker would put his hair into two little buns, and that the children loved him. They called him cachitos, something like the word for two little buns.
| | |
| --- | --- |
| | Ashleigh worked mostly with the boys group. This is part of the Vacation Bible School group. They are singing a song which Ashleigh learned in Spanish. |
These buildings are apartments, and with the dense housing we commented that little parks like this were the only places they had to play.

But Ashleigh countered that they also played in the street. She had seen boys hide behind the dumpster and wait for the propane truck to come slowly down the street with its warning horn. When it passed,they would run out and catch onto the rear of it and ride.
| | |
| --- | --- |
| Ashleigh told the story of this girl bringing and handing out Reese's, and that they asked her where she got them because they do not have them in Ecuador. She said her grandmother had gone to China and brought them back from there - so they were eating American Reese's from China in Ecuador. | |
| | |
| --- | --- |
| | Team members Jenna, Ashleigh, Rachael and Sara. Sunday, July 10 |
Ashleigh is by the door of a cathedral that they passed when they were walking to the Indian market where they bought most of their sourvenirs. Allison, Jaymie and Ashleigh with their translator Andres. Andres lived in the United States for two years as an exchange student. She told his story that his parents had sent him to the United States with the hope of improving his lifestyle and he accepted Christ while in the US.
| | |
| --- | --- |
| | Ashleigh with graffiti in her neighborhood. We commented that their graffiti was more artistic that ours, but Ashleigh said that there was also a lot of graffiti that was defacing monuments. |
Jaymie, Rachael, Sara, Allison, Jenna and Ashleigh. Making use of the graffiti to stage a creative team picture.
Earthquake!
I'm not quite sure where it fits in the sequence of these things, but on July 11 at 9:01 and 9:11 there were earthquakes of magnitudes 5.9 and 6.2 which had epicenters near the coast but were felt in Quito. Ashleigh describes feeling their 10-story building swaying and that they could see the mountains move back and forth before their eyes as the building swayed significantly. After the first shock they ran down seven flights of stairs, but found out that it was better to be on the roof. They were back on the roof or near it when the second shock hit as I understood it.
| | |
| --- | --- |
| | The team at one of the cathedrals they walked by. Jaymie, Jenna, Rachael and Allison back, Sara and Ashleigh front. |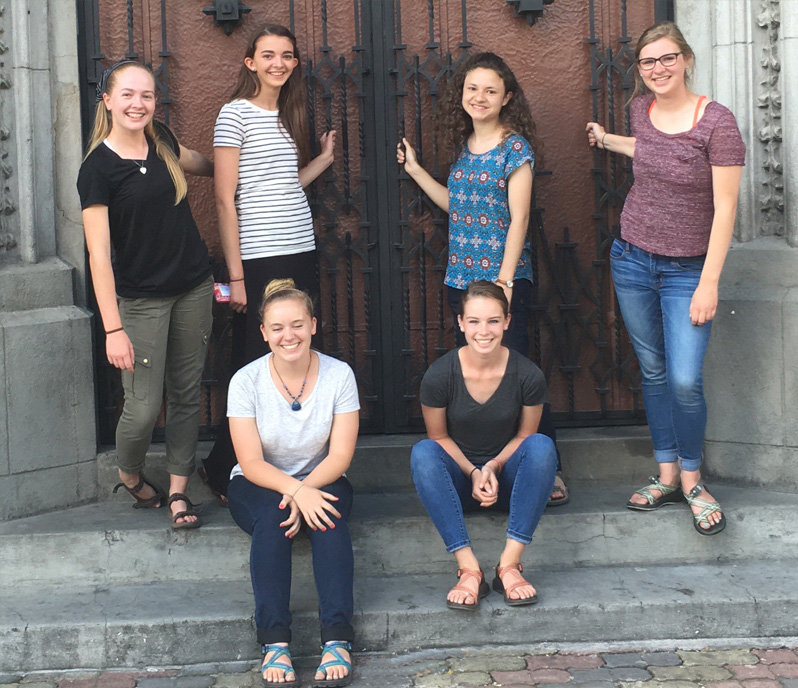 The team with one of the walls that is really artistic.

This was a part of the day they had to tour downtown Quito. They paid to go in to tour one cathedral. July 11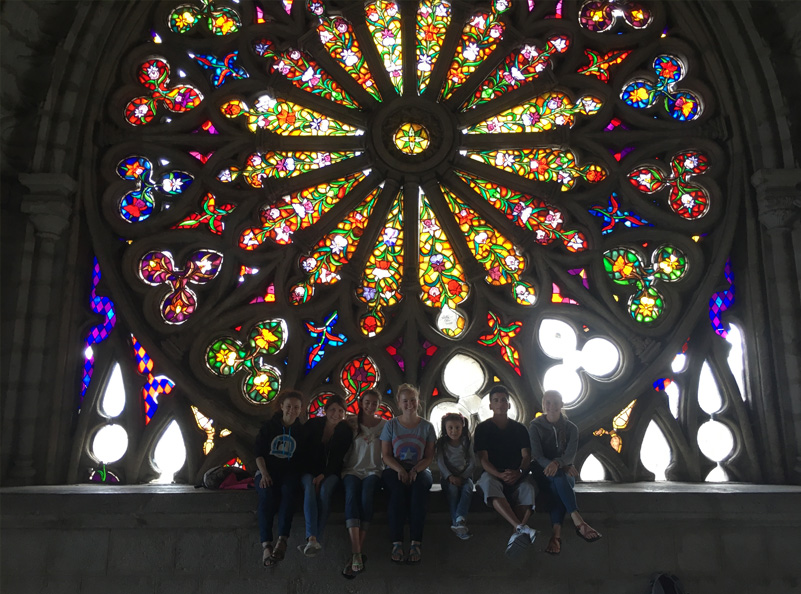 | | |
| --- | --- |
| Ashleigh at the pinnacle of one of the cathedrals. | |
Ashleigh with translator Lie and her daughter Luciama who really loved Ashleigh and wanted to hold her hand.

From the pinnacle of the cathedral to deep in the jungle! The next day, July 12, they were taken down into the jungle. You can hardly imagine a more drastic scenery change in a day's time!
| | |
| --- | --- |
| On July 12 they were taken down off the mountains into the jungle to a place called Mindo. It is described as a mountainous watershed at the junction where two of the most diverse ecoregions on the Earth meet. | |
| | |
| --- | --- |
| | This is like dropping them off the west side of the Andes Mountains down into a totally different world! Quito is splattered out on a mountain ridge at over 9000ft, and to get to Mindo, you head west toward the Pacific and drop off the edge. |
| | |
| --- | --- |
| And speaking of dropping them off the edge, that's exactly what they did! They gave them rappeling instructions, harnessed them in, and dropped them over this waterfall. | |
| | |
| --- | --- |
| | But they did all survive. And from the looks of those beaming faces, they seem to be thriving. It appears that all three mission groups participated in this adventure. There is a village down here along the stream. |
| | |
| --- | --- |
| On July 14 it is back to the mountaintop and the big city of Quito. | |
| | |
| --- | --- |
| | And for Ashleigh it is back to work and back to her group of boys. This was her last day with this group of boys that she had played soccer with for two weeks. |
| | |
| --- | --- |
| Ashleigh with team member | |
| | |
| --- | --- |
| | Ashleigh with two of her soccer players. |
On July 17 Ashleigh and her team got to visit the volcano valley again.
This is a GoogleEarth view of some of the main points visited around the sprawl of the city of Quito on the mountain top.
Upon their return from Ecuador, twelve of them came through Ft. Lauderdale and had a five-hour layover. So they all, with their baggy Ecuadorian pants, just sacked out in a heap on the floor of the airport and slept. They drew some stares and comments.
| | |
| --- | --- |
| | They got a little time to sightsee in New York, including the Brooklyn Bridge. July 19. |
| | |
| --- | --- |
| Ashleigh was quite moved by the World Trade Center Memorial. The square stone opening into which the water flowed was designed so that you could not see its bottom from any angle - to give the impression of an infinite abyss. | |
| | |
| --- | --- |
| | She asked this New York policeman if she could take a picture with him, and he agreed with some reluctance. |
| | |
| --- | --- |
| In the evening there was Times Square. | |
| | |
| --- | --- |
| | Ashleigh and team together again: Jaymie, Jenna, Ashleigh, Allison, Sara and Rachael. Then a shot with all three teams together. |
| | |
| --- | --- |
| Ashleigh with a Jackson Pollock painting. | |
Index
2016