Wedding of Laura Nave and Dan Erck
October 29, 2016

| | |
| --- | --- |
| On Friday, October 28, we flew to Denver for the wedding. I don't believe we have ever seen the Atlanta Airport so busy. Above, I was watching one plane park at a gate, another moving behind it, a plane taking off on the right runway and one landing on the left runway. The landing plane has just touched down - you can see two puffs of smoke behind him from the wheels touching. | |

Mr and Mrs Dan Erck
The unique wedding of Laura and Dan was held in a hangar of the Rocky Mountain Airport. Their friends and family are much involved in costume events, both medieval and modern. The wedding was a combination medieval dress and modern Halloween costume party.
This was the first time we had seen Philippe, Vicki and the family since our trip to Denver in 1997.

Philippe's costume was a monk's robe, which he covered with an apron with a skeleton pattern when he assumed a major role in the cooking later.
The corner of the hanger was set up with the sound system and a large photo display on a simulated spider web in keeping with a general Halloween theme. One of the photographers is there setting up one of his slave lights. He had slave lights set so that he could light the entire hangar when he took a picture at any point - pretty impressive.
| | |
| --- | --- |
| This big photo display on a spider web had a collection of pictures of Laura and Dan. Lots of preparation went into this--they must have had a lot of help from family and friends. | |
| | |
| --- | --- |
| | For access to the dressing rooms upstairs they had a stair netted with spider web with large spiders. |
| | |
| --- | --- |
| The creation of this wedding cake has to have a story behind it as well. It certainly represents a lot of creative effort. | |
Each of the tables was decorated with a framed photo display of Laura and Dan. And there were at least 22 tables!
| | |
| --- | --- |
| | Dan's Grandma Maston made one fantastic Minnie Pearl! The costume was perfect. She even had the price tag hanging on the had, one of the real Minnie Pearl's trademarks. Most of the folks there were too young to fully appreciate what a great Minnie Pearl she made - she even had the sense of humor to carry it off! |
| | |
| --- | --- |
| Grandmother as Minnie Pearl and Dan's aunt as the guy in the striped suit! | |
| | |
| --- | --- |
| | I'm guessing that this is Red Riding Hood and a small wolf, but that's as far as I can get in interpreting this theme! |
Julie Erck, mother of groom, with puppy.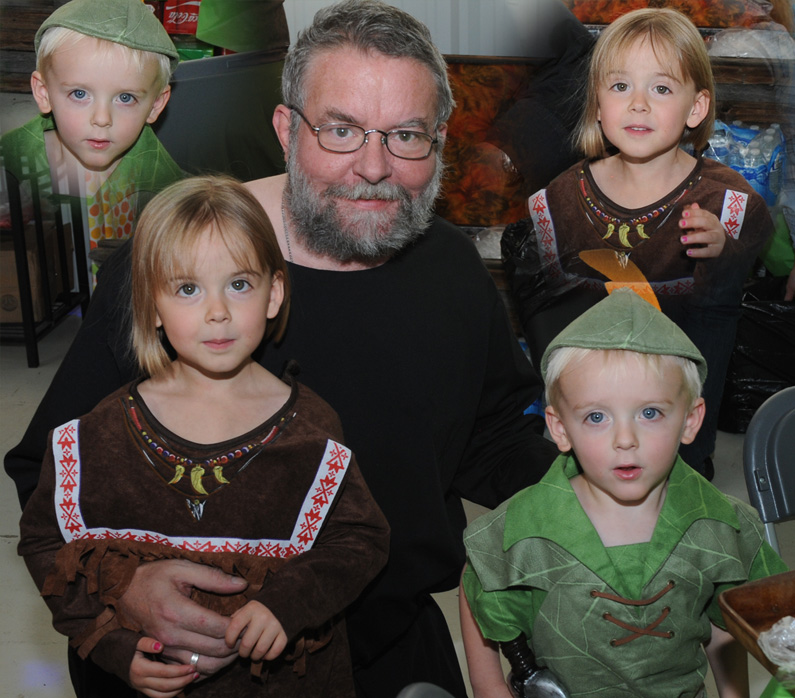 An example of the setting and the variety of costumes.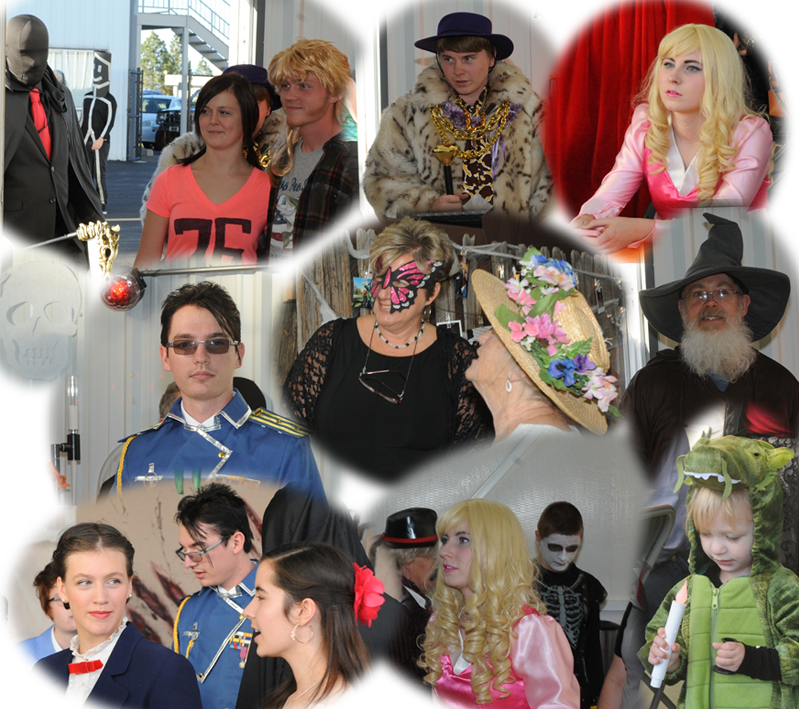 That policeman is just standing there, and this has to be considered child abuse! Actually, this was the most kid-friendly wedding I have ever been to.
We enjoyed meeting Nick Schweiger for the first time and spending time with he and Amanda and Philippe. Amanda and Nick regularly participate in events where they dress in authentic medieval dress. We asked whether they did any studies associated with the gatherings and Amanda's characterization of the events as being for "grins and giggles". There are some connections with groups across the country. Amanda directed us to Sca.org, The Society for Creative Anachronism which is self-described as "an international organization dedicated to researching and re-creating the arts and skills of pre-17th-century Europe."
We were also pleased to get to meet Vicki's brother Ben Grillette who had come up from Texas. He looked so convincingly like a gunslinger of the Clint Eastwood type western movies that I got him to pose accordingly.

He teaches math at the college level there, haven gotten a Ph.D. in math. We talked about the stress of the tenure process in today's university and the challenges of teaching.





Below, Amanda and Nick spend some time with the groom as time approaches for the ceremony.
Index
2016