Thanksgiving Day
November 24, 2016
| | |
| --- | --- |
| One of the anticipations of Thanksgiving for the girls, and indeed for all of us, is seeing Uncle Mark. He has been working 12 hr days on a movie project and only got today off. So he gets joyfully mobbed when he arrives. | |
| | |
| --- | --- |
| | The brother interaction is of a bit different sort. Jeff shows Mark his modern light model Glock. We turn out to be a well-armed family with Jeff's interactions as Chaplain of the Slidell Police Department and his experience with the Police Academy. Mark has always had guns, and works in an industry subject to creative attempts at theft. |
| | |
| --- | --- |
| | Jeff goes from guns to knives and carves the Thanksgiving turkey. Thanks to the hard work of the ladies: Brenda, Darla, Sherry, Ashleigh, Jordan and Elyse, we have a beautiful table set for Thanksgiving. |
Elyse, Jordan, Ashleigh and Uncle Mark are the first to the table, but the rest of us are not far behind. This frame is extended upward to show the charcoal still life on the wall, one of Ashleigh's art assignments in her art course at Pearl River High.
My agreement for the Thanksgiving table picture is that it will be brief and then I'll put the camera away. Sherry, Darla, Jeff, Brenda, Elyse, Jordan, Ashleigh and Mark.
Of course, Elyse has been bitten by the drama bug for some time now, and that extended the photo session momentarily.
After dinner, Aunt Sherry engages Jordan and Elyse in a game of UNO. They are joined by Chris Suarez, who is visiting from Boca Raton where he is attending high school for his senior year. I was off reviewing one of Ashleigh's physics tests with her - she is taking the introductory physics course and is having some very hard exams, tougher than I gave!
I was keen on getting some Thanksgiving family pictures, and this is the first round, but it is missing Ashleigh.
We chased down Ashleigh, and engaged Chris to take the photos to get me in it, and also to get Marty in, whom we claim as part of the family. Back: Ashleigh, Jordan, Elyse, Mark. Front: Jeff, Darla, Sherry, Brenda, Rod, Marty. Thanks to Chris!
| | |
| --- | --- |
| | It was good to include Chris in our Thanksgiving celebration. We miss him since he is off in Boca Raton for school. Rod and Chris have worked together so much over the past three years that he is also like a member of the family. |
It was a blessing to have a time of relaxed fellowship in the afternoon.
We staged a couple of shots with Mark before he had to leave. Ashleigh and Jordan with the Worldchangers soccer ball. Soccer is something the three of them have in common.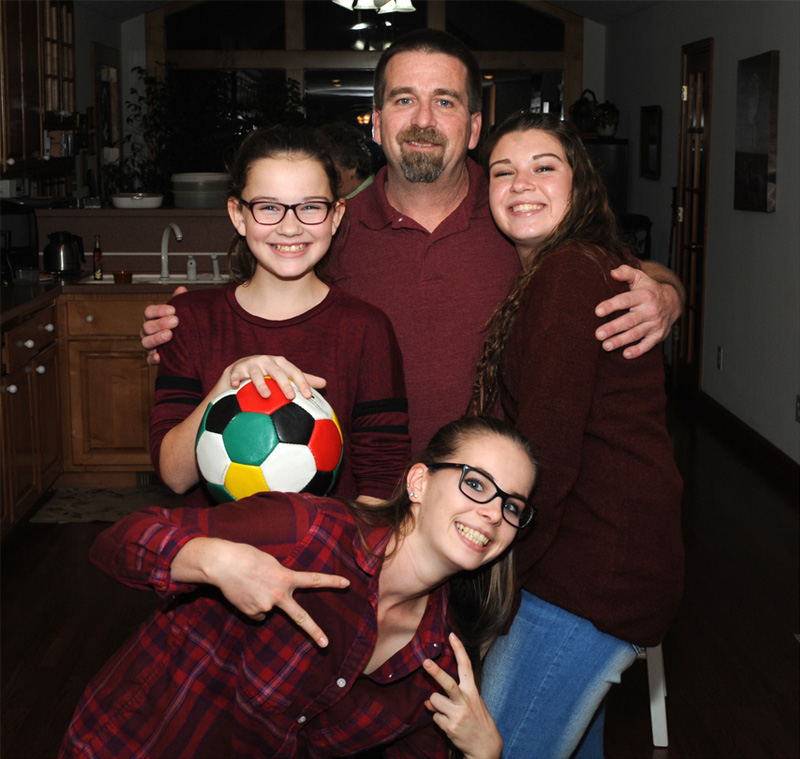 We collected Elyse, and now we have four soccer players in the picture!
It was good to get a shot of Mom and her two sons, Jeff and Mark. It was a blessed day.




Index
2016