Ashleigh in Alaska
Ashleigh is on top of a high mountain in Alaska while Jordan is on top of a high mountain in Quito, Ecuador. Ashleigh took this picture from the top of Cecil Rhode Mountain, which was in view from the Grizzly Ridge location where she was staying for the summer. In view is the Cooper River and the small town of Cooper's Landing. Grizzly Ridge is on the near side of the river. Ashleigh and a couple of friends made this hike to the top of Cecil Rhode about halfway through her stay in the Cooper's Landing area. They did this hike on July 21.
A pretty neat place to have lunch. They had brought peanut butter and jelly sandwiches with them. Behind Ashleigh, the upper Cooper River widens into Cooper Lake.
Ashleigh had a spectacular view of the snowcapped mountains on her flight into Anchorage on June 1.
| | |
| --- | --- |
| | This was a view along the first hike they took. It is on a trail called Skyline. They had just reached a height at which the snowcaps could be seen.June 3. |
| | |
| --- | --- |
| Hillery, Jared, Jenna and Austin, with Ashleigh in front. They were all part of the team with Ashleigh. Jenna worked at the Princess Lodge just around the corner on the river and the others worked at Grizzly Ridge. Jenna worked as a "barrista" at the Princess Lodge, meaning that she made coffee. | |
| | |
| --- | --- |
| | One of the things that comes with mountain hiking is rain. This is a view from the Skyline Trail. I pointed out to Ashleigh the image of the mosquito in this picture, and she had seen the pictures of mosquitoes labeled "Alaska state bird". |
| | |
| --- | --- |
| Having been caught out in the rain, they built a campfire to warm up a bit. | |
They were wet and cold, so when they found this little grove of trees, they decided to build a campfire. They had a lighter and some toilet paper, so were able to get a fire started. They had a pack of marshmallows which were old and stale, but nevertheless remembered this as a positive experience.
A little warmth and a little food could get them back in the mood to enjoy the dramatic mountain scenery. Ashleigh was nibbling on some prepared noodles, which she said were terrible, but with a bit of warmth and food they could enjoy this majestic view.

The lake below appears to be part of Cooper Lake and the waterways in the distance perhaps are inlets that open to the sea beyond. Ashleigh thinks one of them is Kings Bay.
This looks down on Cooper's Landing with the bridge that crosses Cooper River at that point.
| | |
| --- | --- |
| | |
You certainly get the impression that this was an active outdoor experience for Ashleigh, with hiking on steep mountain trails and fishing in rushing streams. At left above, Ashleigh is suited up with full waders for her second fishing trip on June 17. On her first fishing trip she didn't have full waders and she fell, filling her waders with water. Ashleigh went fishing five times to get full use of her fishing license which she had purchased. She fell three times. On the fifth trip she actually hooked a salmon, but she wasn't expecting it and when it started flipping she said "It freaked out, I freaked out, and it got away!". On June 14 she made the hike up this mountain with her co-worker Breit who was a dishwasher at Sacketts. He was the only one who could get off to join her on the hike. It was so foggy they could hardly see anything from the top. This is a hike in the Chugach National Forest called Slaughter Ridge. There were about five named hikes and they wanted to do them all.
| | |
| --- | --- |
| | To take this picture, Ashleigh is standing in this shallow area of the Russian River, which is where they did all their salmon fishing. June 16. |
| | |
| --- | --- |
| These four join the gathering for fishermen in the river. Jared, his cousin Jacob, Brett and Ashleigh. | |
June 17. Ashleigh went fishing with two friends, but when this bear appeared, they decided to postpone the rest of their fishing trip.

What we heard was that Ashleigh was setting up her camera to take a picture of the three of them. One of them said "Ashleigh, look up!"
Ashleigh went fishing with Jared, his Mom and older brother Jud. June 30.
Ashleigh in front of Sacketts BBQ on her last day of work there, August 9.
Ashleigh's daytime work at Sacketts involved food preparation and service. There were more ordinary foods like this big pot of barbecue sauce, but also things like this experimental pizza.
| | |
| --- | --- |
| | Ashleigh did a lot of baking at Grizzly Ridge, which had a kitchen with a large oven. She made a lot of cookies, etc., and is shown working on a cake for their "Christmas party" on July 26. They wanted to have a big party there at Grizzly Ridge to invite the people from the area that they had worked with or interacted with. A number of those who worked at Princess Lodge came over. Below is the register where she worked at Sacketts. |
| | |
| --- | --- |
| | One of Ashleigh's duties was to create the "Beer Board" |
| | |
| --- | --- |
| She also did the main menu board. It turned out that she was the only one who could write it so that people could read it. | |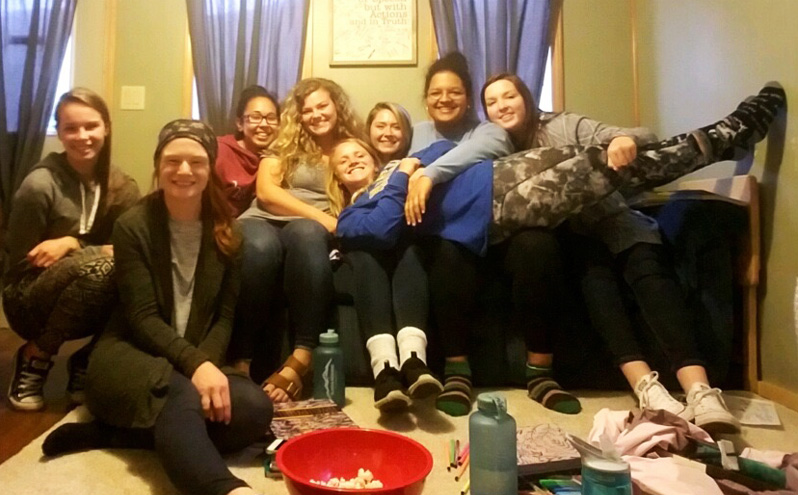 Gathering at Grizzly Ridge. Ashleigh, then Allison who lives there fulltime with her husband Dakota in their first year as managers for Grizzly Ridge.Then Paige, a 16-yr old native-Alaskan girl who came to work with them. Then Hillery and Emily who roomed together and then Jenna who was Ashleigh's roommate. Elisa on the right. Haley is stretched out across them.
| | |
| --- | --- |
| | A lady came by Grizzly Ridge with two adult dogs and a litter of six pups in her car. She was trying to transport them to the other side of the Kenai Peninsula to where her husband was. The pups made a big hit, but the lady was struggling to get them into her car - they kept sticking their paws in the door, etc. Ashleigh, Hillery, Haley, Paige. |
| | |
| --- | --- |
| | Their last hike to Juneau Falls. They took along Bella, Allison & Dakota's dog. Emily (Ashleigh's roommate) and her friend Emily who stayed with them the last week. That Emily had worked with the mission project to a particular group who were there fishing, but was staying because she was transferring from LSU to the Univ of Alaska Fairbanks. |
On June 29 Ashleigh sent this from her visit to Exit Glacier near Seward, Alaska.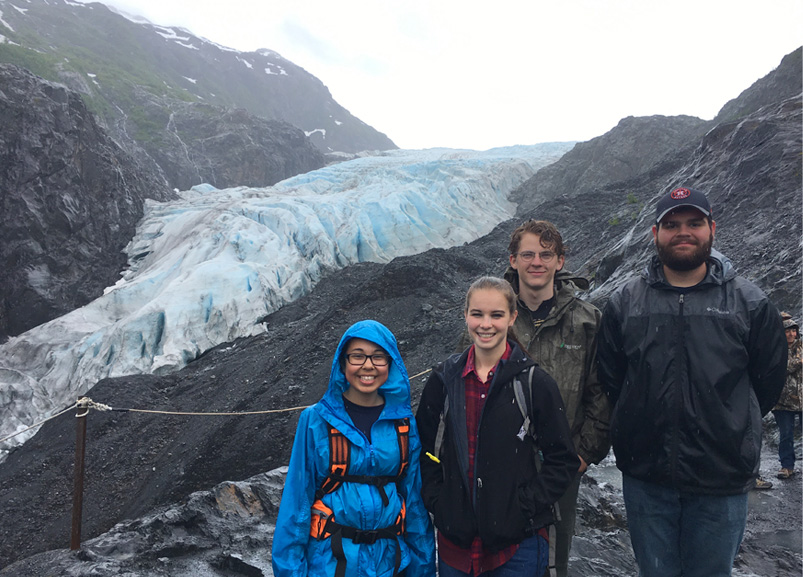 Paige, Ashleigh, Jared and Brett at Exit Glacier.
Paige,Jared, Ashleigh, and Brett are joined by Jared's father, Mark Robinson, who is the BCM Director for the state of Louisiana.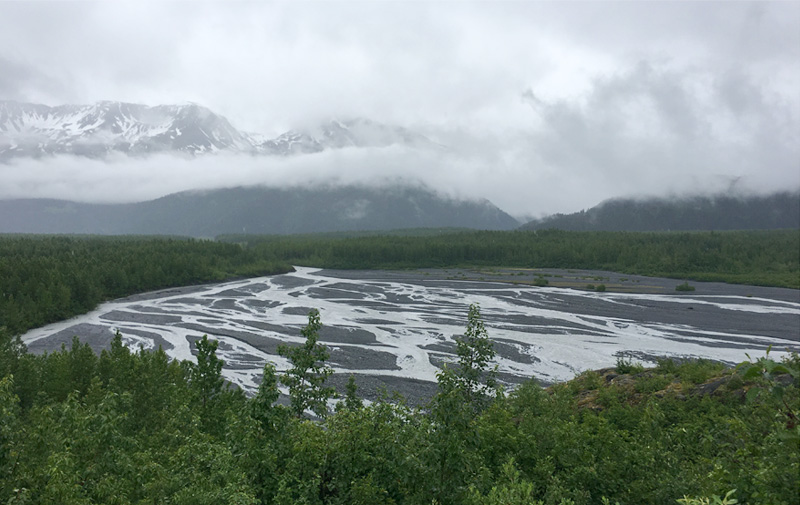 This "braided river" is from Exit Glacier, which has receded greatly.
Dylan, Ashleigh and Jared. They had biked up to Princess Lodge to bother Jenna while she was working, and stopped by the Cooper River. Dylan had also worked at Grizzly Ridge but was about to leave, two weeks before the others. July 14.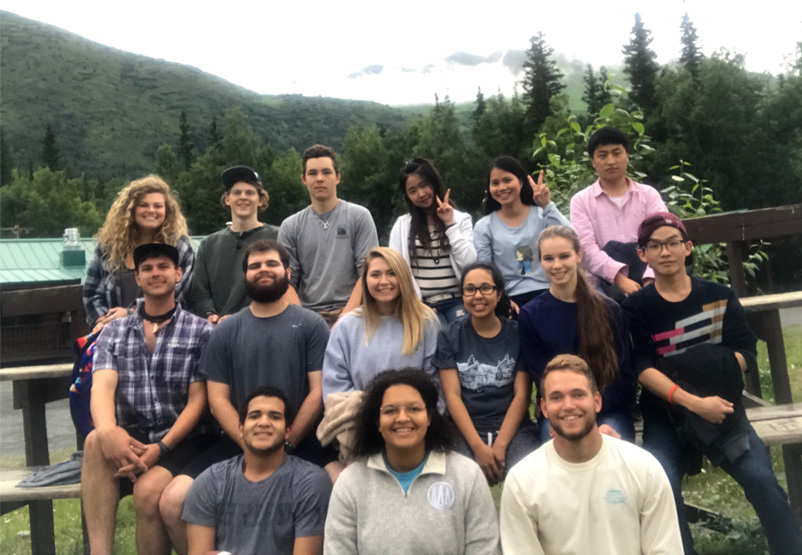 Thee was a small baseball field across the river from Grizzly Ridge and they would go there to play kickball. They included four Chinese students who were working there at Princess Lodge. They had to explain baseball to the Chinese students first so they could then tell them about kickball. Back row: Hillery, Jared, Gideon, three of the Chinese. Second row: Matt,Brett, Jenna, Paige, Ashleigh, Chinese guy. Front row: Josiah, Emily, Dylan. Except for Jenna and the Chinese, who worked at Princess Lodge, all of them worked at Grizzly Ridge.
| | |
| --- | --- |
| | Ashleigh sent us this sketch of her surroundings near Grizzly Ridge, the place where she is staying. From the sketch, it appears that Grizzly Ridge is visible in her mountaintop photo below. Sacketts is the place where she is working. |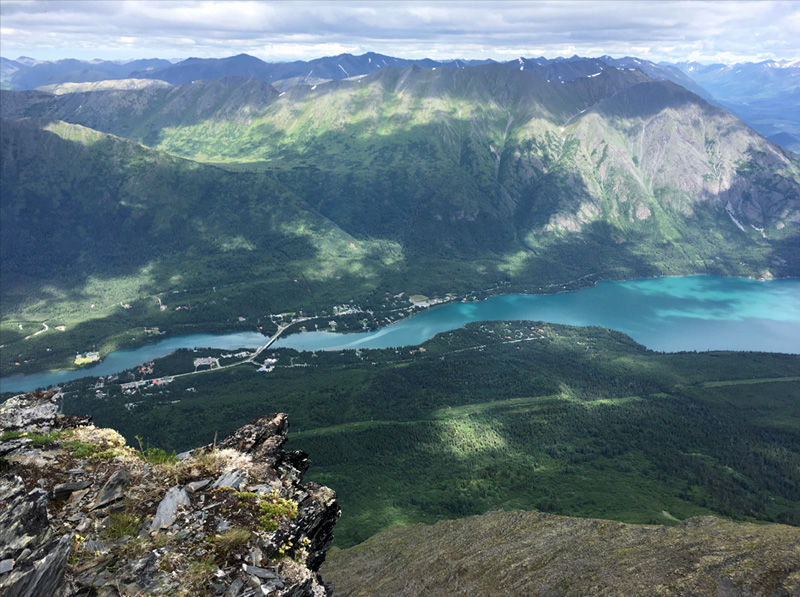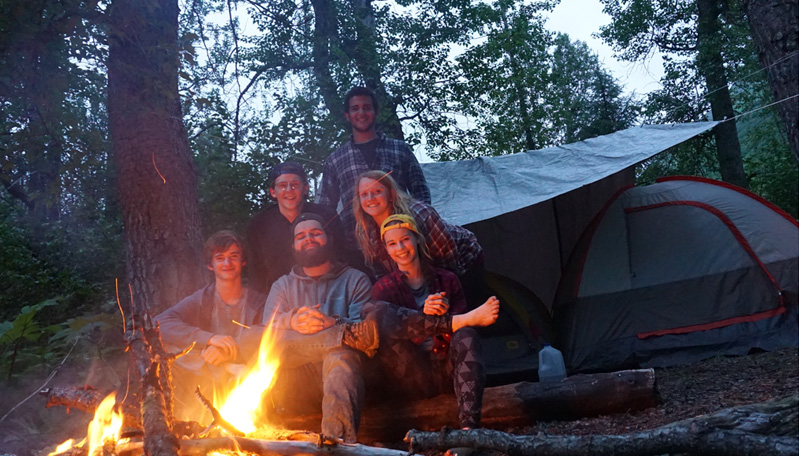 As I understand it, this was on a two-day hike, so they spent the night in the Alaskan wilderness.
They made it to their point of pickup, and had plenty of cellphones, but no cellphone service, so they had to wait for pickup.
Just the day after Jeff and Darla returned from their Alaska visit, Ashleigh climbed the mountain behind Grizzly Ridge on July 21 and sent us this amazing view down on Cooper's Landing.
| | |
| --- | --- |
| Great views of the mountains and Cooper Lake,and also the company of a mountain goat. | |
Index
2017