Scuba Diving at Buck Island, St. Thomas
June 1, 2000
Wreck Dive!

You don't think of a ship wreck as a thing of beauty, but the steel hull of a sunken vessel forms a good platform for new coral growth. These new hard corals form a good backdrop for the banded butterflyfish at left and the gray tang at right.

As Mark and Rod continued on this wreck dive off Buck Island, they encountered many of their old friends from the Florida Keys moving in and out of holes in the old ship.
Below is a wider view of part of the hull and the new growth it supported.
| | |
| --- | --- |
| | This spotted moray eel on the wreck was the only moray I was able to get a shot of. We saw four on the wreck or in the surrounding reef. One of the others was a spotted moray almost the same size as this one. The other two were tiny eels, almost the size of a finger, and they were down in holes on the reef. |
| | |
| --- | --- |
| We cruised over the midsection of the ship, which appeared to be filled with a jumble of rocks, like the ballasts of the old sailing ships. | |
| | |
| --- | --- |
| | This sergeant major was hanging around this hole in the hull of the ship. There was an amazing variety of textures and surfaces on the hull as different kinds of growths gained a foothold. Seeing the fish on one side and then the different lighting on the other side of the hole gave a strange feeling of depth to the scene. |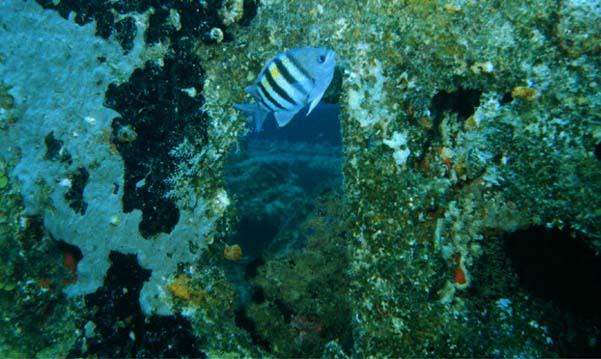 Index
2000
St. Thomas