RAs to Bent Tree
July 10, 2004
Continuation of the RA trip on which we invited the boys from our Spanish Vacation Bible School.
This one didn't get away. The proud fisherman displays his catch of a bream from the lakebank.
Jason Brice pitches to Mitchell, with Andrew, Michael and Jacob Long involved in a whiffleball game on the beach.
| | |
| --- | --- |
| | Lunchtime brings the traditional peanut butter-and-jelly sandwiches, topped off with Brenda's brownies. |
This was the catch of the day, a nice trout. I think this is the first time a trout has been caught on one of our trips.
Michael Callihan and Andrew Brice at left, and Kevin Lopez at right above are part of our regular RA program. They enjoyed excavating sand on the beach.
A portrait of the photographer seems appropriate. Javier Lopez took all the other pictures in this set. Thanks, Javier.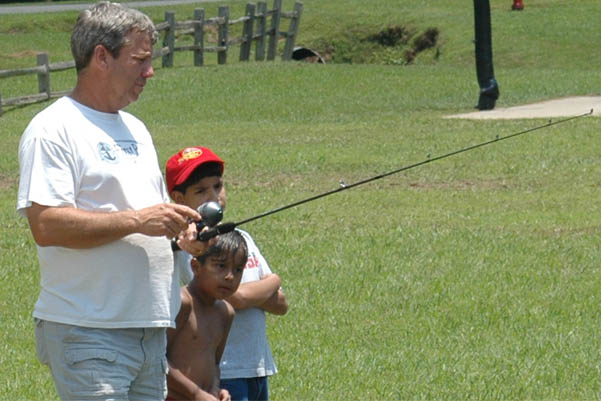 Johnny Huffman, our fishing coach, worked hard to keep all the rods and reels operational. He got to fish a little, but not much. Mostly he was helping the boys.
| | |
| --- | --- |
| | This was an extraordinarily large bream bed, over a yard across. It was just a few feet offshore, and was mostly gaurded by the light-colored bream here. The darker fish just showed up at this time - couldn't tell whether it was a mate or an interloper. |
| | |
| --- | --- |
| The afternoon brought a lively game of football in the water. | |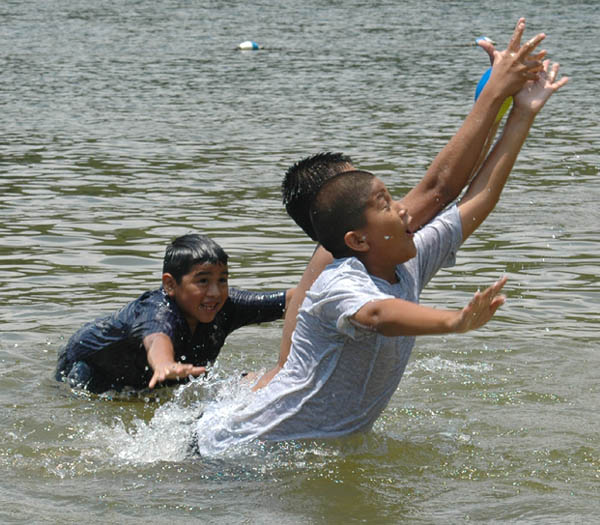 | | |
| --- | --- |
| Jason makes a pitch on the beach. Mitchell takes a swing. Pretty nice place for a ballgame. | |
As a final event before heading home, we drove around to the other side of the lake where this stream runs over the spillway to the falls. We wanted our Hispanic friends to be able to see this area.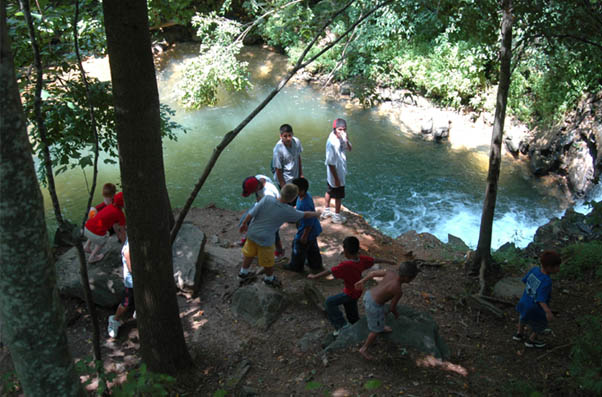 We showed them the pool below the falls where we have jumped from the dirt bank. It is such a neat place, but there was a serious injury here since our last trip when someone jumped from the rocks beside the falls. The area was closed as a result.
| | |
| --- | --- |
| | We made our traditional last stop for pictures at the dam. The deer above was seen on our way toward the gate for our trip home. |