Georgia Tech BSU Alumni Gathering
January 17, 2009
Nancy Bonds was our gracious hostess for the January gathering of the Georgia Tech BSU alumni group on Saturday, January 17.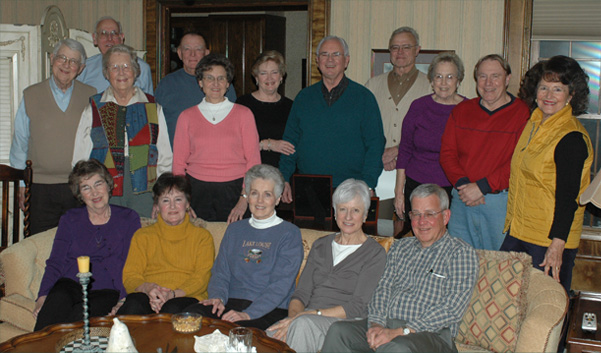 We had a nice dinner in Nancy's lovely house and a great time of fellowship. We gathered the group for this photo after dinner. Back L-R: Warren and Sue Woolf with Aubrey Bush behind them, Don and Betty Hammonds, Nancy Bonds, Norman Petty, Jim and Mary Tanner, Frank and Babs Gudger. Seated L-R: Brenda Nave, Carol Bush, Barbara Petty, Becky and Laddie Rollins.
| | |
| --- | --- |
| | As long-time friends will do, the ladies jumped right into conversation in Nancy's den. |
| | |
| --- | --- |
| Sue chats with Laddie, Norman and Don. | |
| | |
| --- | --- |
| | Laddie with Warren. We always count it a wonderful privilege to have a time of fellowship with Warren and Sue. |
We had great conversations around tables in the kitchen and the dining room. There were some wild tales told, and Brenda had to check on the table in the dining room to make sure we hadn't missed any great stories.
We gathered the group near the end of this great gathering of college-era friends. Some of us have known each other for more than 50 years. We should have sung "Blessed Be the Tie That Binds" since we have been bonded together as brothers and sisters in Christ for many years, and could count over four hundred years of marriage represented by those shown here.
Index
2009