Jeff and Family Visit
February 20-24, 2009
Part of our family pattern now is to praise the Lord for Mardi Gras! Before, we hardly noticed Mardi Gras, but now it usually brings us a visit from Jeff and family because things tend to shut down in New Orleans to provide that window of opportunity. They arrived on Friday evening, February 20.
This is a family group picture just before their return trip on February 24. Our last family breakfast together before they return is usually one of our great times of fellowship and reflection on the visit.
Saturday, February 21
| | |
| --- | --- |
| | Mark was able to join us for breakfast, but got ambushed by Elyse on the way to the table. |
| | |
| --- | --- |
| Elyse is certainly wide awake and ready for breakfast this morning! | |
| | |
| --- | --- |
| | Marty brought his new cat up for the girls to see. The girls were certainly happy to meet the cat -- I can't say for sure about vice versa. |
| | |
| --- | --- |
| Darla gathers the girls on the couch for a story. | |
| | |
| --- | --- |
| | Aunt Denise and Aunt Sherry came over on Sunday afternoon and all the ladies got into a game of UNO. |
Monday, February 23
| | |
| --- | --- |
| Rod, Ashleigh and Jordan head over to Sweetwater Creek for a walk. We watched the ducks and then headed down the trail toward the Factory. | |
Factory Shoals

The trees across Sweetwater Creek were still bare. The water was running quite high, certainly compared to their 2008 hurricane trip,and you had cascades stretching all the way across the creek.
Ashleigh was interested in climbing, and Jordan was interested in jumping. I was interested in seeing them do what they felt like doing and having the freedom to be creative about it.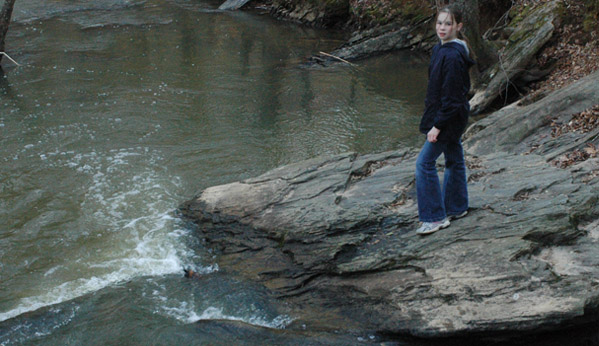 Tuesday morning found us in our group hug for family prayer as they prepared to head back toward Pearl River. It was a joy to be together.
Index
2009