Summer Odyssey of 2013
June 16-22, 2013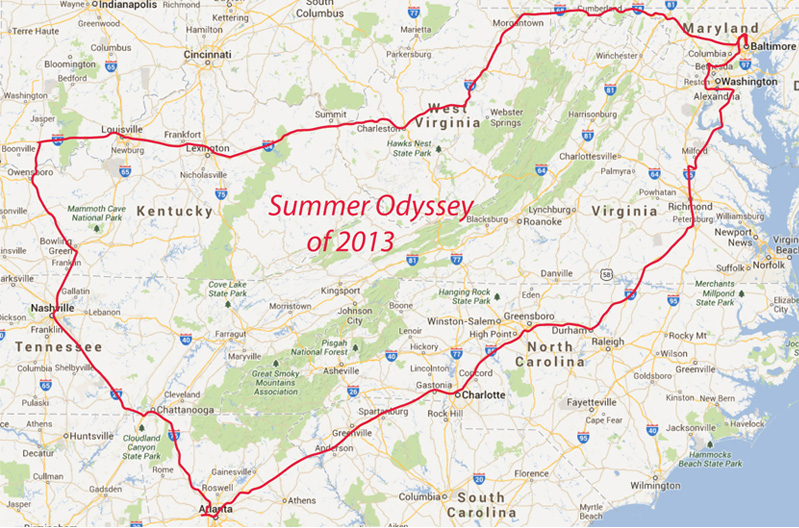 Rod had wanted to return to Washington, DC, this summer to collect some more photographs of mineral samples at the Smithsonican Museum of Natural History to further develop the mineral survey in HyperPhysics. Then the plan arose for a multi-generational mission trip from our church to Baltimore for the "City Uprising", and it was timed such that we could do the two things back-to-back. That raised the attractive possibility of visiting Boyd and Leslie Moore in Richmond, VA and Clayton and Ellen Teague in Gaithersburg, MD. Then we heard from Rod's niece, Sherri Nave, that she was planning her wedding in Owensboro, KY for June 29. This was timed so that we could leave Baltimore and make it on time, plus it might be possible to visit with Ron and Linda Jones in Louisville, KY on the way. So developed the plan for our Summer Odyssey of 2013.
Leaving home on Sunday, June 16, we drove to Durham, NC for the night and then proceeded toward Washington, DC.
| | |
| --- | --- |
| We stopped by for lunch with Boyd and Leslie Moore in Richmond, VA. This was the first time we had seen Boyd, or "Tex" as we knew him at Georgia Tech, in probably over 30 years. They introduced us to the area known as Church Hill where their church is located, and we were very interested in knowing about their involvement there. | |
We drove to the Teague's in Gaithersburg, MD on Friday, June 21 and had a great time visiting our old friends of 50+ years. Ellen fixed a lovely lunch, we went out to dinner, and talked non-stop through lunch the next day and past 3pm.


Index
2013