Arriving at Disney World
May 25, 2013
We stayed around Pearl River until about noon the day after the memorial service on the 23rd, visiting with family and saying goodbye to the out-of-town family who were returning home. We then made the 640 mile drive to Orlando and Disney World, arriving a little after midnight. We were staying at the Bonnet Creek Resort close to the Disney theme parks. Above is the view from our 9th floor room the next morning, a view of a luxurious golf course.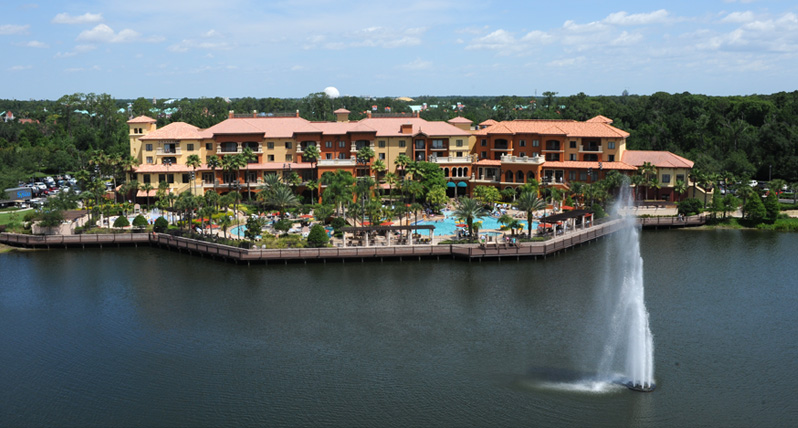 This is a view from the window of the rooms where Jeff and family were staying around the corner from us. Their view was in the opposite direction, with the Epcot ball at the horizon. The buildings of Bonnet Creek were arranged around this small lake. The building in view houses the visitor center. We took it easy this day, going to the half-dozen swimming pools around the lake of Bonnet Creek, but then decided to meet Darla and Jeff's friend Lorie at Disney Village.
Disney village is a large collection of shops and entertainment locations designed to indulge one's fantasies. Jordan and Elyse were interested in the motorcycles and then Grandma Brenda joined in that fantasy.
| | |
| --- | --- |
| | This was our group for the exploration of Downtown Disney. We had a great time poking around the shops and various entertainment locations. |
| | |
| --- | --- |
| | It appeared to me that the girls were more excited about the Lego store than most of the other locations. They had made all kinds of characters out of Lego blocks, and had an unbelievable array of Lego blocks. |
Elyse got so engrossed in assembling the mini-lego figures that Brenda and Rod stayed behind with her to watch her.

When she was finally satisfied with that play, we had to text the others to see where to meet them. They said to meet them by the dragon, but the dragon too was made of Lego blocks just off the pier in the lagoon.
| | |
| --- | --- |
| There were various musical groups and entertainment in Downtown Disney, like this youth orchestra. | |
There were lots of theme shops highlighting various famous Disney characters, like this one whose name I can't remember.

But true to his impish character, there was an occasional jet of water from his mouth to wet the passersby.
Brenda gets in the Disney spirit with Mickey and Minnie Mouse.

The rest of our crew went bowling at a new bowling establishment named "Splitsville". We arrived back at Bonnet Creek near midnight, so it had been another long day.
Index
2013