Jeff and Family Visit
February 10-13, 2013
| | |
| --- | --- |
| | Jeff and family rolled in after 2am on Sunday, December 10 since Ashleigh was involved in a tournament soccer game with Pearl River High School on Saturday afternoon. On Sunday afternoon, Rod and Elyse got out in the yard and Elyse climbed the Bradford Pear tree. She was keen on taking pictures, so we spent time in the yard doing that. It was a good thing we got in a little outside time, because it rained most of the rest of the time they were here. |
Elyse was all fired up about taking closeup pictures of the flowers in the yard, so it was a kind of "Please don't throw me in that briarpatch!" situation for Granddad.

The flowering quince had some nice blooms, and there was another kind of jonquil in the back yard to complement the nice yellow ones from the front yard shown at right.
| | |
| --- | --- |
| | By the time we got around to the miniature jonquils in the side garden, Elyse was ready to be distracted to turning over rocks to look for roly-polies and other critters. |
| | |
| --- | --- |
| It was good that we got in some outside time, because in the late afternoon the promised rain started. One thing the rain didn't hinder was gathering on Grandma and Granddad's bed to watch a movie in 3D with the 3D glasses to sync with the 3D Bluray player. | |
Monday, February 11, 2013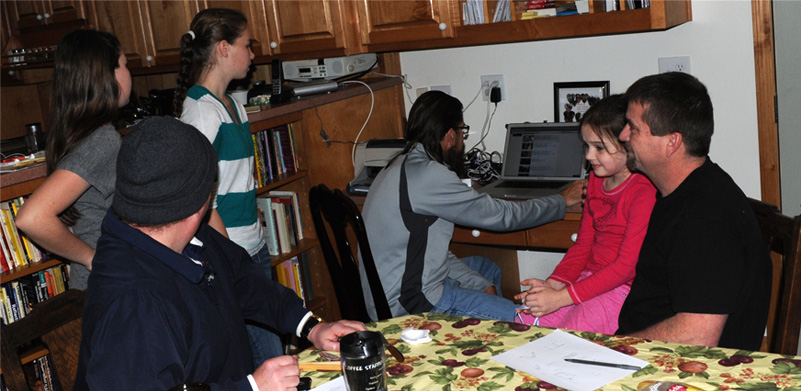 We were all pleased to be able to get together with Mark. We and Marty tried to help him brainstorm about designs for a fabrication job he was going to bid on. It gave us a good pretext for a pleasant visit together.

Mark was able to stay for lunch with us, so we enjoyed very much the time for a family visit.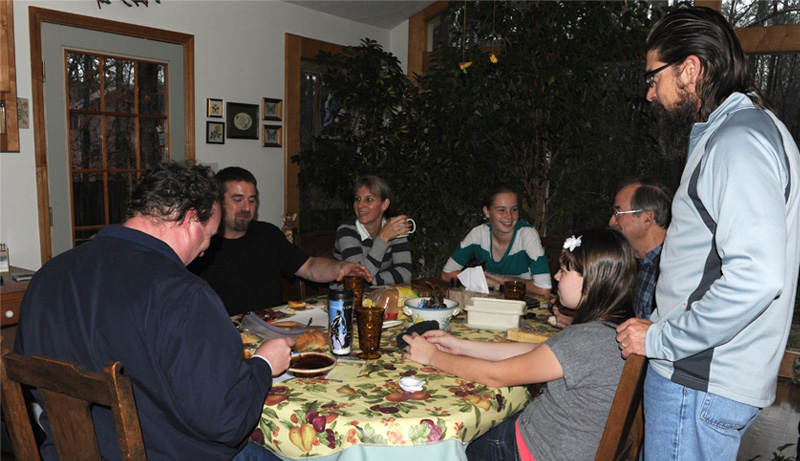 Tuesday, February 12, 2013
| | |
| --- | --- |
| | With the continuing rain, it was good that we had alternative indoor activities. One of those was the continuation of the video project that we had worked on at two previous times. We were able to add a couple of scenes with Jordan as Queen of Georgia, Elyse as a runaway Princess, and Ashleigh as Director. Granddad was the cameraman. |
| | |
| --- | --- |
| We were pleased that Mark could drop by again on Tuesday night for another visit. Although this visit was very short, we did very much enjoy the fellowship time together. | |
Index
2013