Family to Stone Mountain
June 17, 2014
| | |
| --- | --- |
| | The day after the arrival of Jeff and the girls, we headed out to Stone Mountain, arriving there about 4pm. This picture of the carving was taken about 8pm while we were waiting for the laser show. I thought it was interesting because of the warm lighting of the setting sun. |
| | |
| --- | --- |
| | Above is our more formal portrait about halfway up Stone Mountain. The rest of the time, it was more clowning around. The picture at left was taken on the tracks of the Stone Mountain Railway that circles the foot of the mountain. We had dropped Brenda at the village and were starting our climb up the mountain. |
| | |
| --- | --- |
| We headed up the hiking trail up the big rock, stopping briefly at the bubble gum pole. | |
| | |
| --- | --- |
| | Elyse Nave found her initials carved in Stone Mountain. There are many interesting carvings, some dating to near Civil War times. |
| | |
| --- | --- |
| Ashleigh about two-thirds of the way up the mountain in an are of jumbled boulders. | |
Jeff, Ashleigh and Jordan look back down the mountain after they had conquered the steepest point. Jordan and Elyse in a cave under the same rock formation.
The jumbled rocks at this height had collected enough soil to grow trees, which were a beautiful green. Note that Jeff made the climb barefoot.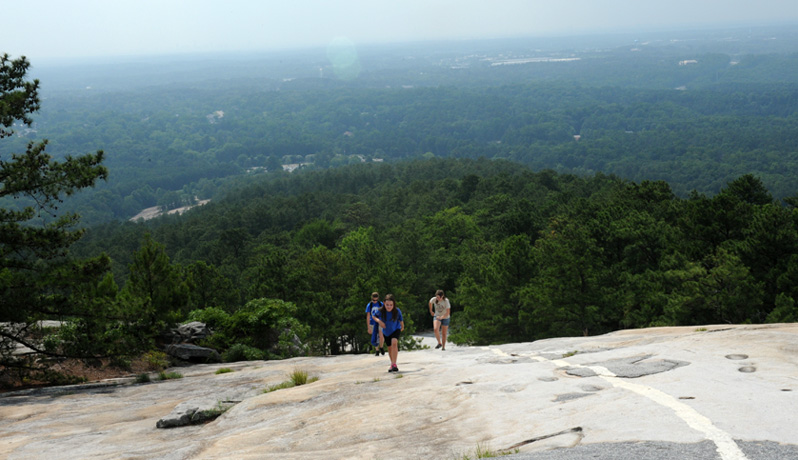 The girls approach the rounded part leading to the top, so it is not quite as steep as the portion just below it.
| | |
| --- | --- |
| | Barefoot at the top of Stone Mountain. Jeff had hiked all the way barefoot, and the girls wanted to have a go at it, but Jeff was concerned about them spending the rest of the trip with raw feet since they weren't used to it like he was. It took 49 minutes from the railroad to here. |
| | |
| --- | --- |
| The girls at the top of the big rock. | |
The view was not clear, and a thunderstorm had closed the cable lift, but it was still an impressive piece of solid rock at the top.
| | |
| --- | --- |
| | We spent about 25 minutes on the top and then headed back down. The descent took about 25 minutes. |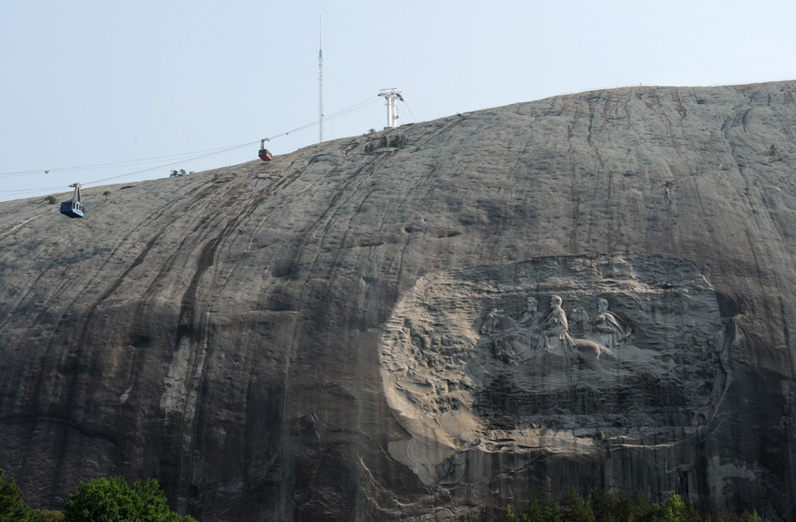 | | |
| --- | --- |
| We rejoined Brenda and found a spot on the grass where we could have a picnic and then watch the laser show. All six of us had a book, so we all read after supper. It was also nice to watch all the children playing. | |
| | |
| --- | --- |
| | The cablecars lifted right out of the woods on our left, so we got good views of them. |
| | |
| --- | --- |
| There were lots of laser tracings and good music, but the sight I liked best was the fireworks illuminating the carving. | |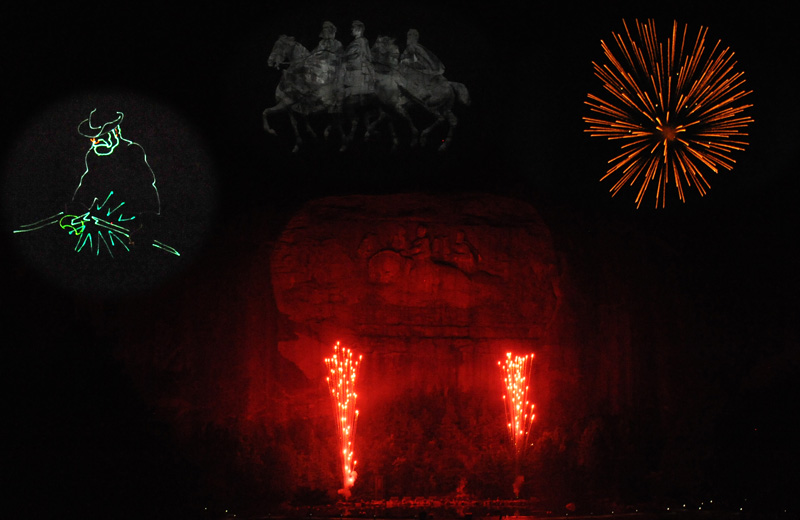 This is a composite with a sampling of the different kinds of lights and images. Besides fireworks, they had projections like the horsemen at top and laser tracings like that at left. The sound was quite good, so we could enjoy the music. The music ranged over types of Georgia music to jazz and patriotic music.
This shows how the fireworks could illuminate the whole mountain, and shows some of the other lasers that swept out over the crowd.
| | |
| --- | --- |
| | There was quite a variety of music and light sources, but my favorite was still the fireworks with illumination of the carving. |
Index
2014