June Family Activities
June 5-9, 2016
| | |
| --- | --- |
| | After an active May we made a quick trip to Arkansas and returned just in time for VBS. We stayed busy during MFBC's Vacation Bible School. The theme was "Submerged", and we had these bright yellow shirts with bubbles and theme images. Rod chased around making a photo record of the VBS and really enjoyed the kids. |
June 7
| | |
| --- | --- |
| Jeff and Darla took Ashleigh out to dinner at Antoine's as part of the celebration of her 18th birthday (which was March 23). Antoine's is one of New Orleans' fine restaurants, 175 years old. They plan to take each of the girls out to an old New Orleans restaurant when they turn 18 - a start of a beautiful tradition. | |
June 13
On Monday, June 13 Ashleigh flew from New Orleans to New York City for training and ministry in preparation for their trip to Quito, Ecuador. As a part of their week they visited several places of worship including a mosque, a Hindu Temple and a Sikh Temple. Ashleigh's team consists of Allison, Ashleigh, Jaymie, Jenna, Rachel and Sara. On June 18 they wrote "Even though we have just begun, we have already grown in our walk with Christ and expanded our comfort zones. We have tried new foods, new evangelism tools, and experienced new cultures. Please keep us in your thoughts as we adapt to the culture we will be a part of and that we lean on God for all our strength and discernment." Our understanding is that they spent most if not all their time in Queens, which is reputed to be one of the most multi-cultural areas in the U.S.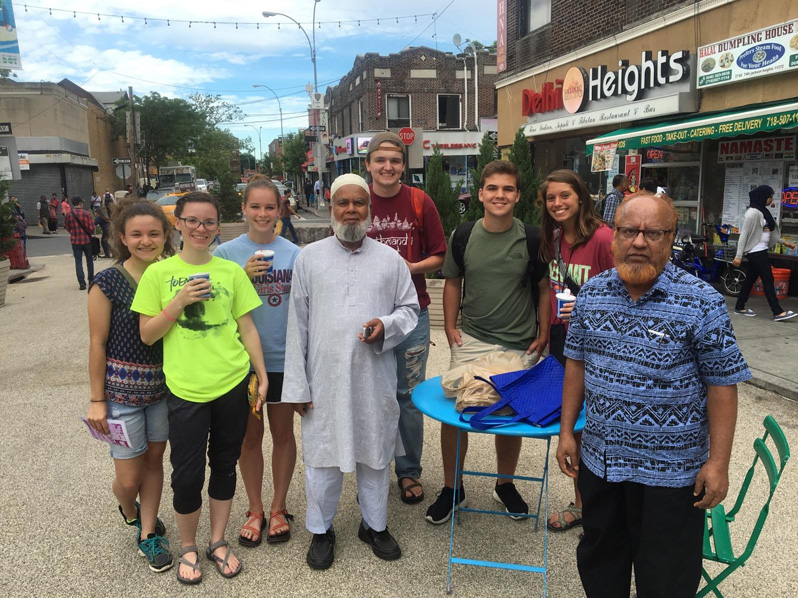 | | |
| --- | --- |
| | We'll have to await a fuller story on these times, but it certainly looks like Ashley and her team members are getting a good multicultural exposure in Queens. |
| | |
| --- | --- |
| This appears to be on the subway, so even there they got to meet folks of different nationalities | |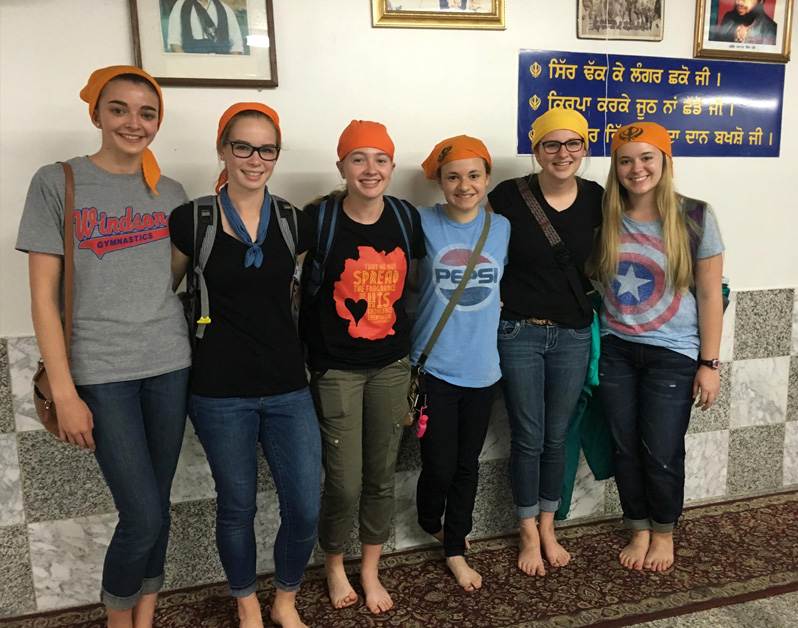 We'll have to ask for more details, but the head coverings plus the arabic writing tell part of the story. It will be interesting to see if being barefoot is also part of the requirement for entry in the photo above.





There are all kinds of indications of new experiences, and some of them are culinary.
| | |
| --- | --- |
| | The luxurious blooms of hydrangea, the best ever, are taken as a celebration of Brenda's great improvement with her back and neck symptoms so that she is able to get out and enjoy them more. We praise the Lord for the improvement, but I still fuss at her to be careful so we can enjoy this time. |
June 15
This luncheon gathering of ladies was labeled the "Vintage Ladies" gathering. It took place on June 15 at the Evans Mill Clubhouse in Dallas, GA. They celebrated the birthday of everyone who was over 80. Daughters and granddaughters decorated and served.
Front row: Shirley Griswell, Nell Lee, Anita Hardie, Lucy Durand, Sara Stipe, Sara Payne, Barbara Mann, Carolyn Smith.
Second row: Pat Townsend, Wanda York, Betty Davis , Carolyn Poole, Barbara Porter, Pat Peal, Evelyn Davis, Eileen Adams, Dolores Collier , Ruby Patterson, Dot Wilson, Janeth Abston.
Back row: Winkie Durand, Nadine Arnett, Bobbie Weaver, Brenda Nave, Ruth Floyd, Joyce Poole, Betty Barnes,Betty Trotter(hidden), Faye Sumners
June 19
Rod's next photography assignment was to take pictures of the Fathers on Father's Day in a "superhero" setting. Lana talked him into a picture, against his inclinations to stay behind the camera.

The setting, though a bit crazy, did work well in getting family units together for a fun picture.
June 23-25
| | |
| --- | --- |
| | Our Atlanta Chapter of Reasons to Believe assisted with the RTB table at a large education conference held at the Hyatt-Regency Hotel in Atlanta. We enjoyed spending time with Krista Bontrager, Dr. Jeff Zweerink, and Sarah Chien from the national RTB staff. Assisting from our local chapter were Colin Green, Tom Ellis, Ben Smith and myself. We talked with lots of teachers about RTB's position that science and faith are allies, and not enemies. |
June 24
Ashleigh made the trip to Quito, Ecuador for a four-week mission assignment with the International Mission Board. She had gone to New York on June 13 for a week in Queens for training and ministry and then flew to Quito, arriving 3am on Sunday, June 20. They said they got about two hours of sleep and then went to the church their host family is planting. I take the left photo to be morning coffee at the place where she is staying, and it certainly looks like a view of Quito similar to those we had last summer on our mission trip there. The houses are packed together up and down the mountains in this 9300 ft-high city.

Ashleigh will return on July 21.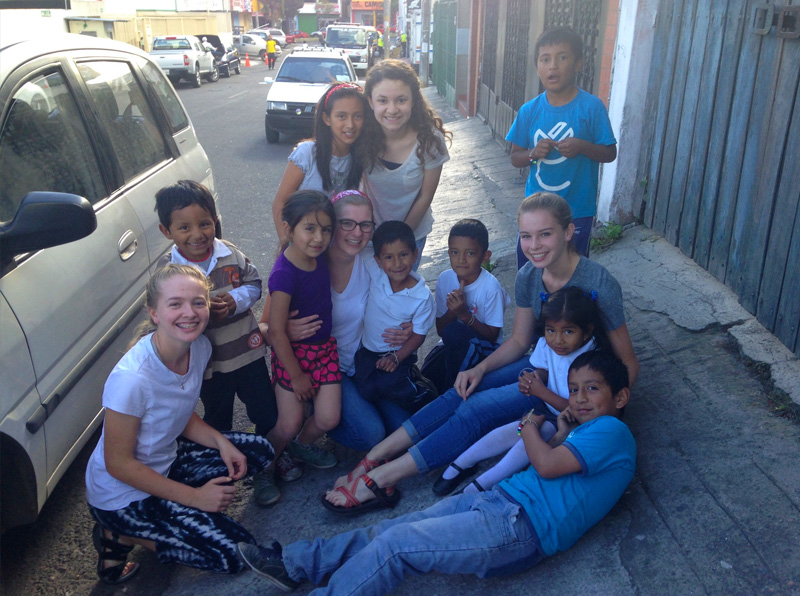 | | |
| --- | --- |
| On Friday, June 24, they were hampered by rain but were able to get out some. They did some shopping and familiarized themselves with the bus routes. They have shared at their ministry sites and are planning a study group. On Sunday they worshipped again, presumably at the same church. They | The photos above show the team with group of kids they met and played with on the street in Quito. They were also able to share with some young ladies in one of the stores. |
Meanwhile, Jordan left on June 26 for a week at Louisiana Girls State in Baton Rouge, and then she will be going to Quito, Ecuador July 16-23.


Index
2016