Wedding of Shirley and Rick Rowland

June 3, 2016
Rod, Brenda and Suzanne drove down from Newport to Benton, Arkansas on Friday, June 3 for the celebration of the wedding of Shirley and Rick. They will live in Cabot, Arkansas. The celebration was held at St. John's Chapel by the Creek about five miles west of Benton at 5499 Highway 5.
The wedding ceremony was performed in this beautiful little chapel placed in a spacious green area alongside this creek.

The chapel was reached by a footbridge across the creek. We approached it with beautiful music seeming to come from the trees, but we discovered speakers under the bridge and cleverly camoflaged in rocks along the bank.
Brenda and Suzanne on the grass parking area. I tried to get the rainbow above them, but just had to give priority to the most important subjects. We had had a pleasant visit on the two-hour-plus drive from Newport.

We walked to the bridge to the chapel and could see the reception location just up the creek from the chapel. Still thinking about the rainbow puzzle, I noted the shadow directions for the afternoon sun.
| | |
| --- | --- |
| | Walking across the bridge to the chapel, we could certainly understand why it was a popular place for weddings. |
| | |
| --- | --- |
| The chapel seated a little over a hundred people, and it was full of family and friends who really seemed to enjoy the entire process. Friends from their church served as ushers and grandchildren of Rick participated in the service. Rick and his best man contributed to the light-hearted atmosphere by skipping down the aisle to start the service. | |
| | |
| --- | --- |
| | Some of the guests visiting around the entrance to the chapel while others had their picture taken with the bride and groom. |
After the ceremony Rick and Shirley posed with some family and friends groups. This is beside the creek in front of the Chapel. You can see the parking area on the grass across the creek and get a feeling for this open rural area.
| | |
| --- | --- |
| Rick, Shirley and Suzanne beside the creek before we went down to the reception. | |
| | |
| --- | --- |
| | Then we all walked down the stone walkway to the reception area. |
| | |
| --- | --- |
| The reception area was open with nicely decorated tables. There was a really nice buffet supper. There was a DJ who played dance music and encouraged everyone to dance. | |
| | |
| --- | --- |
| | The cake was set up in the middle of the dance area, so sometime between dances, they cut the cake. |
| | |
| --- | --- |
| Then it was back to dancing. Everyone seemed to enjoy the very nice reception. | |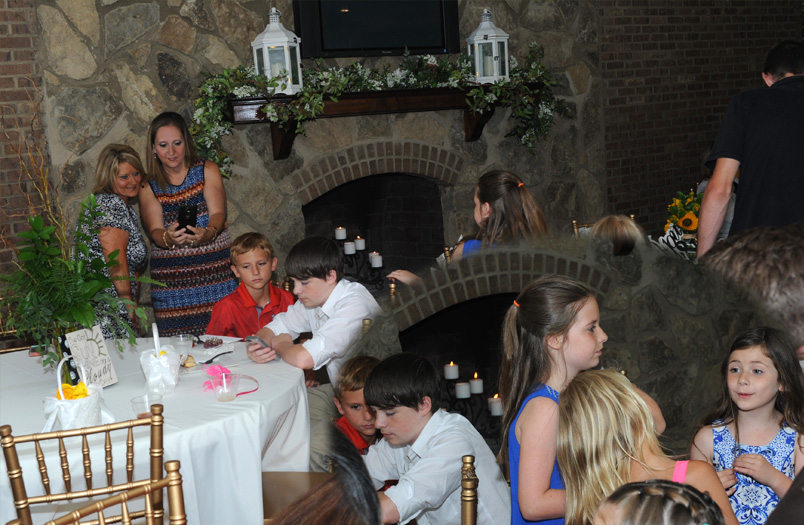 I particularly enjoyed the children. The two girls in the inset were the flower girls, and the young man assisted with the rings. A unique part of the service was to send around the rings asking that each person say a prayer of blessing for the couple.
| | |
| --- | --- |
| | We enjoyed the reception but didn't stay late because we had to drive back to Newport and faced the drive back to Georgia tomorrow. We were pleased to be a part of the celebration and to know where Rick and Shirley would live in Cabot. |
Index
2016