Vacation Bible School "Submerged"
June 5-9, 2016
Grade 3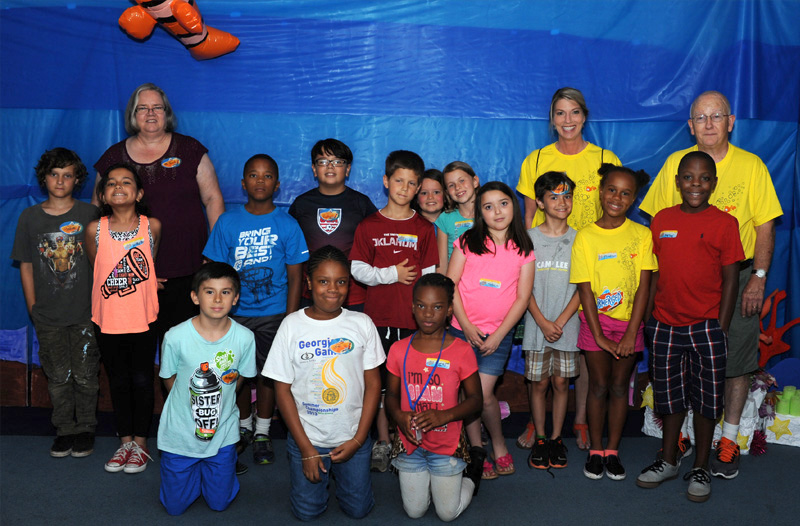 Leaders Gail and Bob Wade, Betsy Graham
| | |
| --- | --- |
| | Roger and Jesslyn Frater tell the story of Zacchaeus with props. But it's a stretch because at over 6ft, Roger is definitely not a "wee little man". Maybe his being taller than the "sycamore tree" is another example of Frater humor. |
Down from the tree and on his knees, maybe Roger can pass for the small-of-stature tax collector. Along with the humor and creativity is a lot of evidence of careful preparation and a passion for God's Word.

Bob and Gail accompanied this fine-looking group of 3rd graders.
| | |
| --- | --- |
| | Gathered in the music suite for music with Heather and Kelly. Leaders Gail and Bob Wade and Kim Krebs. |
| | |
| --- | --- |
| | Mission study with Jennifer Ridgway. |
| | |
| --- | --- |
| | Craft time with this large combined 2nd and 3rd grade group was a busy time. Billy and Elaine Ridgway and Evie Mode guided the process. Accompanying leaders were Rachael Wade, Robin Ford and Nan LaFlash. |
Evie Mode helps with the crafts, and had been a big help to Elaine in all the crafts. Gail and Rachael Wade are group leaders and also helped.

Below, Elaine, Billy, Robin, Kim and Nan all help with this large craft group.
Index
2016